David Bowie, Russ Hinze and the "intolerable" Brisbane concert
By Myles Sinnamon - Project Coordinator, State Library of Queensland | 10 November 2012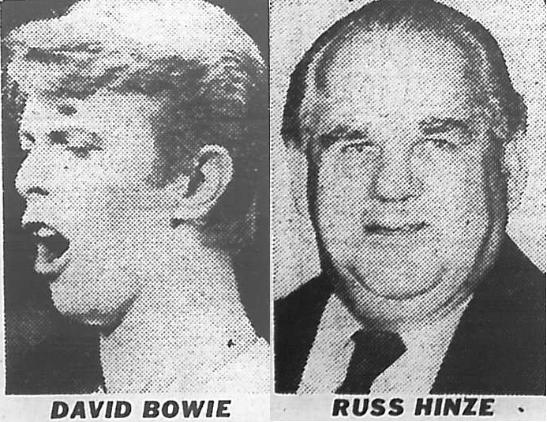 Pop star David Bowie (left) and politician Russ Hinze (right). Published in the Telegraph newspaper, 22 November 1978. Images in copyright
This is a tale of two concerts; one in 1978, the other in 1983. The first concert caused such controversy that Brisbane still hadn't recovered from it 5 years later.
UK pop star David Bowie arrived in Brisbane on 19 November 1978 as part of his Isolar II tour. He was scheduled to perform an open-air concert at Lang Park (now Suncorp Stadium) on 21 November, with The Angels as the supporting act. He was accompanied by 40 tons of equipment and a mobile stage, transported by 7 semi-trailers. Eager fans started queuing and camping out at Lang Park for over 4 days ahead of the concert so they could get in early to get good vantage points.
The concert was a success, attracting between 16,000-18,000 fans, however the extreme noise levels generated by the performance angered some local residents. According to newspaper reports, the noise was described as "intolerable" by residents in the suburbs of Paddington, Bardon, Milton, Ashgrove, Rainworth, Toowong and The Gap. People complained they could not hear their television sets and were forced to shut their windows and doors. Not everyone living in the area shared this perspective; some locals enjoyed the "noise", taking advantage of a free concert and sitting on their verandahs to listen. It was stated that the concert could be heard as far away as the top of Mt Cootha.
Russ Hinze, wearing his Minister for Noise Abatement hat, commented, "These pop singers come out here to make a quick quid by disturbing our peace and tranquillity. The fact that he's a Pommie as well wouldn't help". Mr Hinze said that the newly formed Noise Abatement Authority would investigate after complaints about the noise were received from residents around Lang Park. The maximum fine at the time was reported to be $500.
Russ Hinze said there were thousands of complaints, but concert promoters said they only received eight. A representative from the concert promoter stated they had received many phone calls congratulating them on the concert. She was also quoted as saying "It would be disappointing if Mr Hinze spoils it for other performers by acting on a few complaints. Queensland is the only place we have had complaints."
The Telegraph newspaper, which is available at the State Library of Queensland on microfilm, published two reviews of the concert. One covering the music and the other examining the conditions of the moshpit. Of the latter, the journalist, who found the whole open-air rock concert experience a bit daunting, said "Never before have I sniffed so many armpits, been abused so frequently or been trodden on so freely". He went on to describe the concert as being cramped and conditions as hot and humid, writing "I had lost sight of my two friends, had my soft drink can knocked from my hand and half my meat roll was plastered on the back of some guy's shirt". To make conditions even more uncomfortable he also stated that "gropers and bottom-pinchers had the time of their lives"
Headline from the Telegraph newspaper article (22/11/1978) regarding the David Bowie concert in Brisbane
Rory Gibson in his regular column gave a more critical eye to the music played. He described the concert as "vaguely disappointing" and pointed out that the set list missed a number of Bowie's big hits.
Nearly 5 years later to the day, David Bowie returned to Brisbane to perform once again at Lang Park, on 16 November 1983. Even after 5 years Brisbane officials hadn't forgotten (or perhaps forgiven) Bowie for the "noise" at his last concert. This time the Brisbane City Council imposed a $50,000 bond on the concert promoters which would be forfeited if the noise level exceed 80 decibels at nearby houses. An independent acoustic consultant was employed to monitor the entire concert.
This concert was very successful with an even bigger crowd, with over 27,000 fans attending. This time around there were residents who were hoping for another free concert, and who organised "Bowie Parties", but had to turn on their record players when the concert organizers stuck to the imposed noise limitations.
The State Library of Queensland holds a fantastic collection of historical and contemporary Queensland newspapers, most of which are available on microfilm. You can search our collection via our One Search catalogueopen_in_new.
Myles Sinnamon - Project Coordinator, State Library of Queensland
Comments
Your email address will not be published.
We welcome relevant, respectful comments.