Dame Nellie Melba in Queensland
By JOL Admin | 6 October 2011
I recently read of the passing of Dame Nellie Melba's granddaughter Pamela, Lady Vestey 1918-2011 in Mark McGinness' obituary published in the Sydney Morning Herald on 1 October.
McGinness writes that Lady Vestey was born Pamela Helen Fullerton on September 12, 1918, "the only surviving child of Melba's only child George Armstrong. Her mother, Evelyn Doyle, a Brisbane-born singer, was George's second wife, to whom Melba was devoted."
Dame Nellie Melba herself was born Helen Porter Mitchell on 19 May 1861 in Richmond, Victoria. She lived with her parents, Isabella and David Mitchell, and seven younger brothers and sisters, and attended the Presbyterian Ladies College in Melbourne.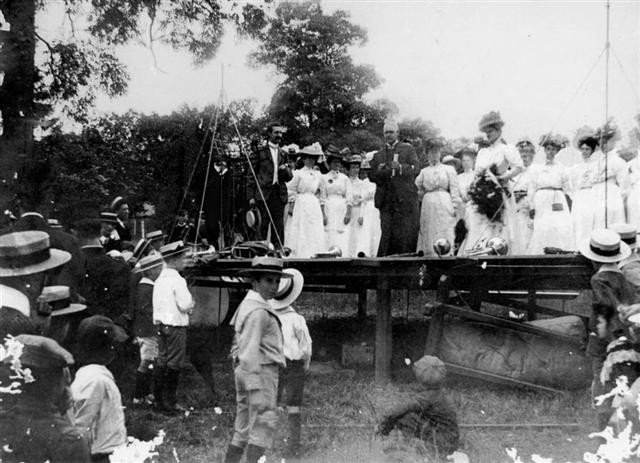 Dame Nellie Melba at a reception at Windsor, Brisbane, ca. 1908. John Oxley Library Image 54920.
Melba moved to Mackay with her father, who had purchased a sugar mill there, after the death of her mother and one of her sisters in 1881. In 1882 she married Charles Armstrong in Brisbane, and they had a son, George, the following year. Jim Davidson in his Australian Dictionary of Biography entry on Melba writes of Armstrong that he was "tall, blue-eyed, and three years her senior, a man who agreeably combined skills as a rough-rider with the recommendation of gentle birth: his father was a baronet." Davidson goes on to sum up Melba's life in Queensland... "Sequested in a tin-roofed house, Melba became bored with the incessant rain and frustrated with a foundering marriage. The birth of her son George did little to allay her growing ambition to sing professionally, and on 19 January 1884 she left Mackay for Melbourne."
An interesting collection from this time in the tropics is held in the State Library of Queensland's John Oxley Library. TR1797: Dame Nellie Melba Correspondence 1882-1986 consists of correspondence sent by Nellie Melba to her singing master in Melbourne Signor Pietro Cecchi. There are eight letters and one telegram, all addressed to him. The collection also contains several newspaper clippings on Melba, as well as original photographs of Sr. Cecchi and one of Melba dated 1921; an unidentified house associated with Melba and 5 cartes-de-visite of famous men including William Gladstone, Giuseppe Garibaldi and Thomas Carlyle.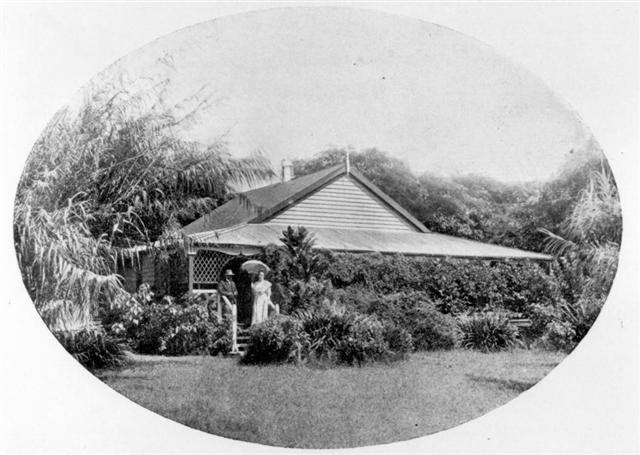 House built in 1883 for Charles Armstrong, manager of the Marian plantation and his bride, Helen Porter Mitchell, later the operatic diva, Dame Nellie Melba. Melba's letters reveal that the house was not finished when she returned from her honeymoon in April of 1883. Mackay Regional Council Image R0000168531.
One of these letters to Sr. Cecchi from 1883 toured Australia as part of the National Treasures from Australia's Great Libraries Exhibition in 2006. Melba wrote this letter from "The Hollow", home of the Rawson Family whose lives in Mackay in the 1870s and 1880s are well documented in the Oxley Library's Rawson Family Archive.
McGinness writes in his obit that Lady Vestey gave generously to institutions that honoured her grandmother's memory. "In 1998 she gave hundreds of Melba costumes, documents, objects andphotos to the Lilydale Museum (now the Yarra Ranges Regional Museum). She also gave 80 stage costumes, accessories and photos to the Victorian Arts Centre's performing arts collection and, in 2008, endowed the Melba Opera Trust with $150, 000 to sustain her grandmother's bequest in 1931 to 'find another Melba'."
From these original collections held in institutions in Australia and abroad we are able to gain a deeper understanding of Dame Nellie Melba's life and career. An Australian diva acclaimed by critics around the world as a ravishing voice of flawless purity and aflame with brilliance.
Simon Farley
Arts Librarian - Queensland Memory - State Library of Queensland
Comments
Your email address will not be published.
We welcome relevant, respectful comments.