Curd's Hill Estate, Greenslopes, 1925 (Map of the Week)
By JOL Admin | 24 October 2017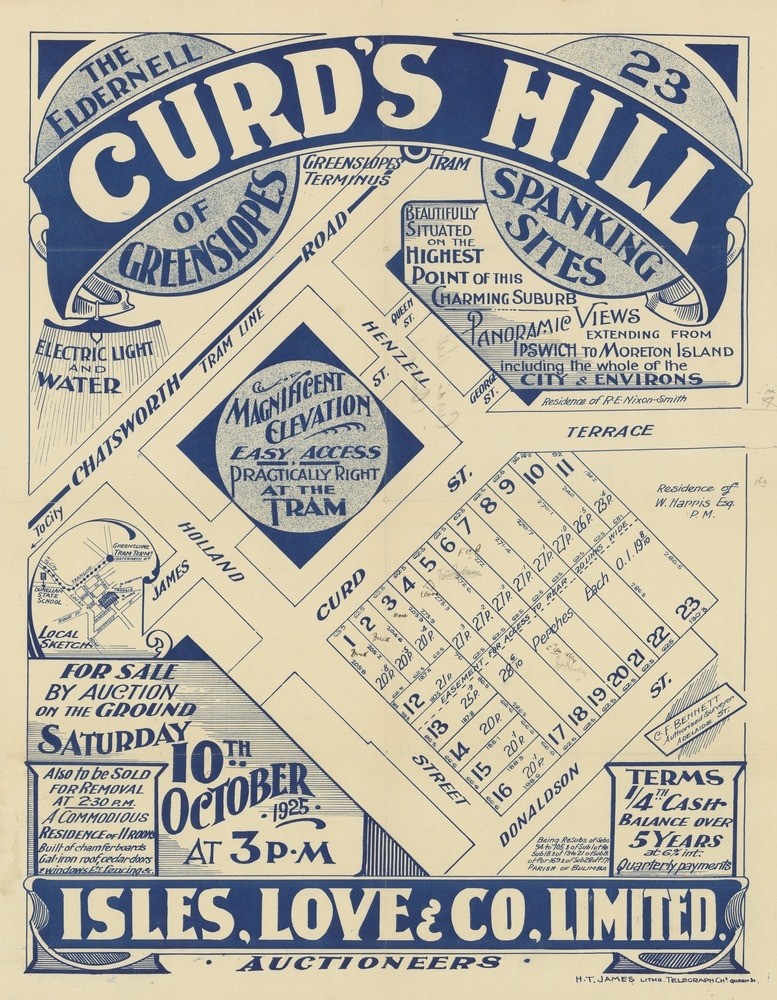 Curd's Hill Estate, Greenslopes, 1925. John Oxley Library, State Library of Queensland
State Library of Queensland has an extensive collection of historical maps of Queensland, some of which have been digitised and can be viewed online.
Curd's Hill Estate, Greenslopes, 1925. John Oxley Library, State Library of Queensland
This real estate map from 1925 advertises 23 allotments of land for sale at the Curd's Hill Estate in the Brisbane suburb of Greenslopes. The allotments were situated on Curd Street, Holland Street, Donaldson Street and Henzell Terrace.
Prior to the sale extensive publicity was published in Brisbane newspapers.
"This estate is beautifully situate on the highest point of the charming district, with wonderful panoramic views of the whole of the cities of Brisbane and South Brisbane and Environs, extending from Ipswich to Moreton Island. Its elevation and general aspect give the estate the advantage over any estate yet offered to the public, being easy of access and right at the tram - no climb to get there, and yet as high as Toorak, and Eldernell, Hamilton." (Brisbane Courier, September 12, 1925)
Brisbane Courier, September 12, 1925
A public auction was held at the site on the afternoon of October, 10 1925. The Brisbane Courier newspaper reported the results of the sale.
"Curd's Hill Estate, described as the Eldernell of Greenslopes, was offered for sale by Messrs. Isles, Love, and Co., Ltd., on Saturday afternoon, when the 23 allotments submitted were sold for £3757, the prices ranging from £70 to £300 per lot . The blocks had 40 feet frontages to Curd, Holland, and Donaldson streets. In addition a building and some fencing were disposed of for removal, making the total sales £4063. Keen competition and spirited bidding were features of the sale." (Brisbane Courier, October 13, 1925)
A higher resolution image of this map can be viewed and downloaded through our One Search catalogue.
Prints of this map are also available through the Library Shop.
You can browse a compendium of our previous maps of the week on our blog.
Myles Sinnamon – Engagement Officer, State Library of Queensland
Comments
Your email address will not be published.
We welcome relevant, respectful comments.