The Crimson Flash! : Arthur Postle from Pittsworth
By Simon Miller, Library Technician, State Library of Queensland | 31 July 2012
Born on March 8, 1881, at Pittsworth on the Darling Downs, Queensland, my first recollection of anything at all is a dismal outlook of drought, sunburnt fields and starving stock in the district where I lived.
My parents used to speak of rain, but I had never seen rain that I could remember. All of our horses and cattle died during that wretched drought, and I remember that Dad had to take the sheep many miles away to find grass for them. Meanwhile we were left alone with our mother - four of us, mere youngsters at the time - in what must have been then the wildest and most desolate place on earth.
So writes Arthur Postle in his autobiography The Crimson Flash, originally published in weekly installments in The Sporting Globe, a Melbourne weekly newspaper, in the 1930s and republished by Gary Parker in 1995. Fortunately things improved on the Downs and "The lonely wilderness was transformed into the garden of Queensland."

Portrait of Arthur B. Postle State Library of Queensland Negative number: 186929
Young Arthur developed a passion for running early on and was always keen to compete in events around the district. Just how keen he was to compete can be seen by his effort to run in the Caledonian Sports at Toowoomba in New Years Day 1895. He got up early to walk the seven miles to the station to catch the only train to Toowoomba, unfortunately he had not got up early enough and only just missed the train. Determined to take part anyway he set off to walk the 26 miles to Toowoomba. "So I decided to trudge along, bathing my feet in a creek, and as I watched a swagman munching 'Johnnie' cake I longed to ask for one but did not have the courage." Arthur was 13 and was entered for the under 15 championship. Stiff and sore after his long walk he struggled at the start of the race but "made a wonderful recovery nearing the line, and hurling myself at the tape was beaten only by inches."
Postle left school at 15 and went to work full time on his father's farm but was full of energy and was never too tired to practice running and jumping at night. His uncle had an adjoining property and they chipped out a rough dirt track where Uncle Fred took on Arthur's training. Two years after his epic hike to Toowoomba, Arthur once again competed in the Caledonian Society games but this time made the journey by buggy and now he competed in the Caledonian Grand Handicap against full grown men including champion sprinter Jim McGarrigal and, given a generous handicap due to his age, won the race.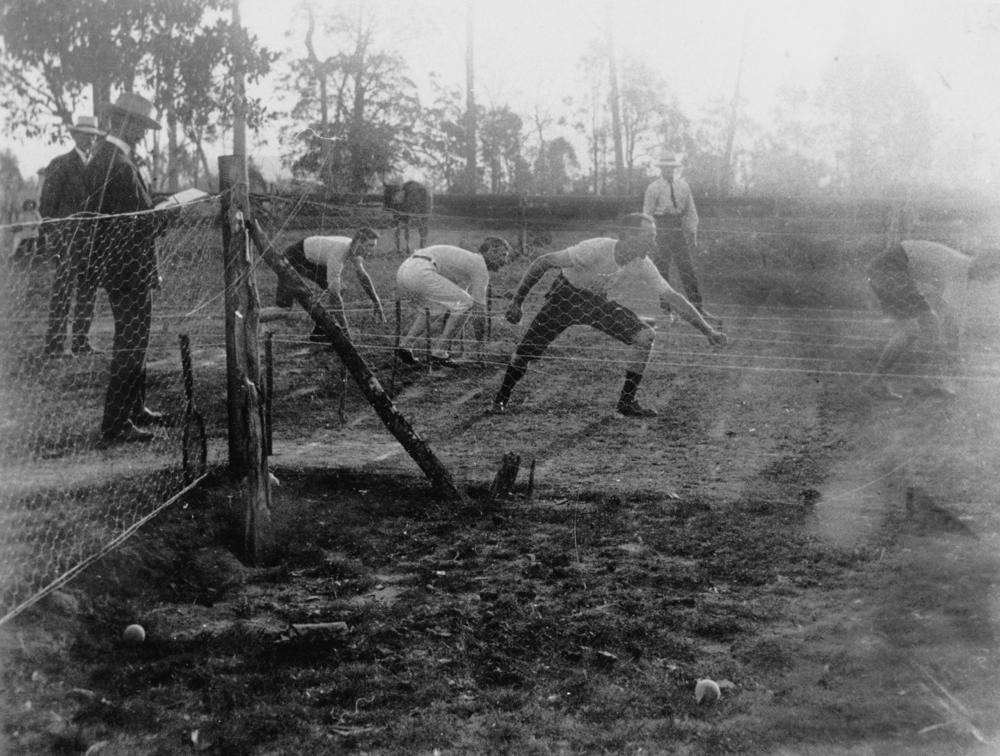 Athletics at Woodford, Queensland, ca. 1915 State Library of Queensland Negative number: 38220
Thus Arthur Postle set off on his professional running career. Professional running was taking off in Australia with handicap races around the country drawing similar interest, and gambling revenue, to horse races. Postle competed in Victoria and big events at Toowoomba and Charters Towers but made his name in a series of events in the Western Australian goldfields in 1905. It was here that he acquired his nickname. "The Crimson Flash - watch that streak of red - he flashes along the track like a meteor through space" the posters read.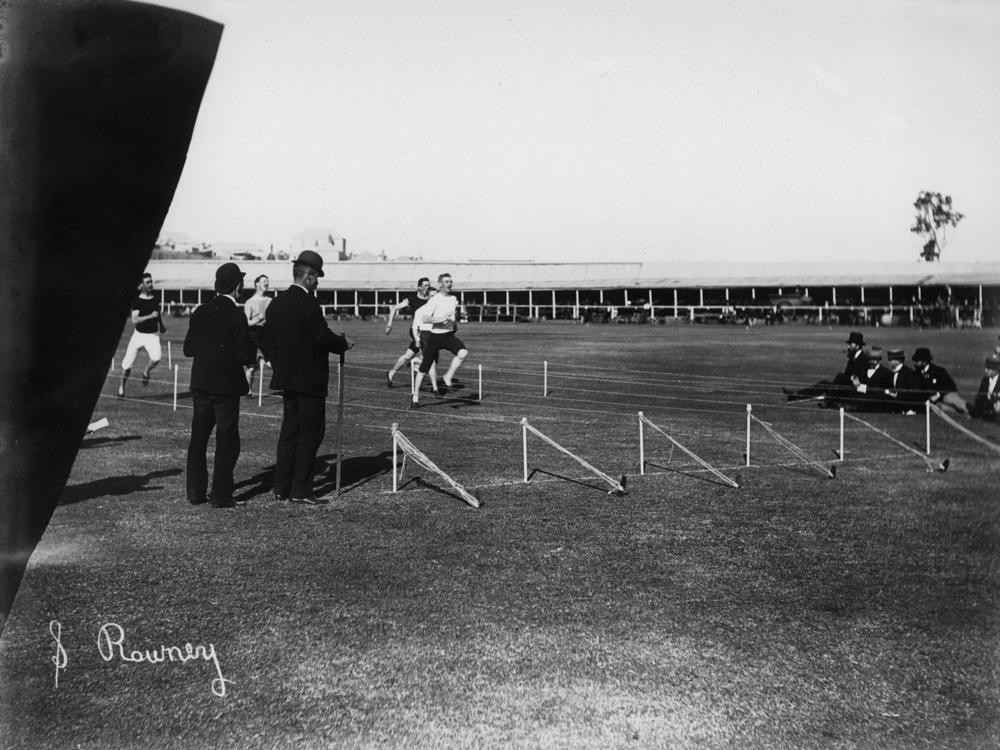 Runners competing at an athletics event in Brisbane, ca. 1896 State Library of Queensland Negative number: 191699
Promoter Rufe Naylor arranged for the world professional sprint champion, Irishman B. R. Day, to come out to Western Australia to race against 'The Crimson Flash'. The contest was in three races over 75, 130 and 300 yards. Bert Day was favourite to take out the best of three contest but in the first race over 75 yards Postle ran away by 6 yards in a world record time of 7 and one fifth seconds. He then went on to win the 300 yard race comfortably and take out the contest. Day challenged Postle to a return match over 200, 300 and 440 yards. Day was running fast times over 440 yards and Postle was a better runner over shorter distances but in the event Postle won easily in the 200 and went on the beat Day in the 440 as well to firmly establish his world class credentials.
Arthur Postle travelled to South Africa and England. He raced against whippets, horses and men on bicycles as well as taking on class runners from yards handicap all around the world. In England he defeated the English champion sprinter Bill Growcott in an epic race in the rain at Manchester. This was in 1908 and the Olympic Games were being held in London. Arthur Postle was there in England but, as a professional athlete, could not compete for Australia. The Olympic 100 metres was won by young South African Reggie Walker and he and Postle happened to travel together to South Africa afterwards and became friends. There was a lot of interest in trying to bring the two sprinters together for a match but the South African was not interested in running professionally. Postle had run a 100 metre race on the Olympic track after the games but a hamstring injury prevented him from running a good time.
Postle suffered injuries and setbacks through his career but his best was still to come. He built up a rivalry with another Australian sprinter, Jack Donaldson, known as the Blue Streak. Donaldson was a very good sprinter and had got the better of Postle on several occasions. In 1912 the two men went to New Zealand for a contest that was to be the highlight of the St Patricks Day Sports in Auckland. They would meet in three races over 75, 150 and 200 yards.
Postle was in good form and was very taken with Auckland. The appearance of the running track at Auckland pleased me tremendously, and I know of no other such stretch of flawless, beautiful, level turf, 300 yards straight anywhere else in the world. It was wonderful to be out training there on those beautiful sunny March mornings in 1912. When it came to the first race everything seemed to come together.
The thousands of gay spectators, men, women and children; the splendour of the running track; the brightness of the day - they all come back to me now as I think of St Patricks Day of 1912. We were not racing for any fortune, but a goodly purse. From a good start, we swept like the wind over that smooth track of green, but my nimble feet were never more shifty than on that day, and they carried the crimson colours more quickly and further away from the blue than ever before.
Arthur Postle won all three races in world record time finishing off with a blistering 200 yards in 19 seconds. Soon after this Arthur Postle went to England to marry Edna Leadbeater, the sister of the Lancashire girl who had married his former coach Jack Todd. Arthur ran a few more races but soon returned to Queensland to retire. Arthur Benjamin Postle died in 1965. Throughout his life Postle maintained a passionate interest in running. Until his death he was a familiar sight in the Wynnum Memorial Park, giving advice to any youngsters who cared to attend his regular coaching sessions.
This video from Southern Queensland University includes footage of Arthur Postle beating Jack Donaldson in Aukland
http://youtu.be/4N00-KyAgmw
Simon Miller - Library Technician, State Library of Queensland
Comments
Your email address will not be published.
We welcome relevant, respectful comments.