The convict 'exiles' who came to Moreton Bay 1849-1850: some lesser-known sources
By Stephanie Ryan, Research Librarian | 14 October 2020
Convict question
One of the most common questions regarding convicts is: how can I find out parents' names? It is quite rare to find them because most convicts were born before the detail and obligation of civil registration of births, deaths and marriages in the UK in 1837; they married in Australia before civil registration, which along the eastern Australian coast began in March 1856; when they died, even if after civil registration, parents' names often were not given. In criminal proceedings in the UK there would be no reason to mention parents' names unless parents were implicated in the crime. Some little-known records may, however, provide that information. These records apply to convicts who came later. Graziers and pastoralists lobbied for cheap convict labour while workers did not want to compete with a poorly paid convict workforce, creating a tense background. As convict transportation had ended, the new convicts were renamed 'exiles'.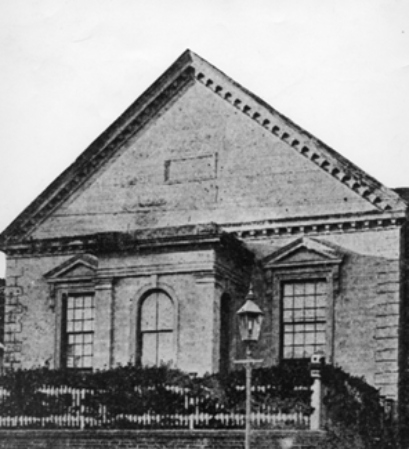 Doctor Lang's United Evangelical Church, William Street Brisbane, Source: David Parker
Brisbane 1849-1850
Brisbane retained a number of convict buildings, such as the Female Convict Factory even a decade after transportation officially ceased. When transportation was briefly reintroduced with male prisoners only in 1849-1850, John Dunmore Lang opposed it. This new church, for which money had been raised by 1850, indicated his strong position in the colony and represented resistance to transportation.
Convict exiles
Only two convict ships came directly to Moreton Bay, as the settlement's foundation in 1824 was as a tough prison for secondary offenders. Those ships were the Mt Stuart Elphinstone in 1849 (230 prisoners) and the Bangalore in 1850 (297 prisoners). During 1849, about 130 other exiles came in small groups from other vessels which arrived in the south. These were the Adelaide, Randolph, Havering and Hashemy. Moreton Bay was originally intended for those who committed further offences when in Australia and so most convicts came to the settlement from elsewhere in the country before 1840, which is when convict transportation to the east coast of Australia officially ceased. Most exiles had already served two years in English prisons, so they received tickets-of leave upon arrival. They could then work for themselves, but their movements were limited and monitored.
John Martin Bangalore 1850
John Martin had been on the floating prison ship York. Because crime was so rife that prisons were overcrowded, prisoners were housed on decommissioned ships as seen in the illustration.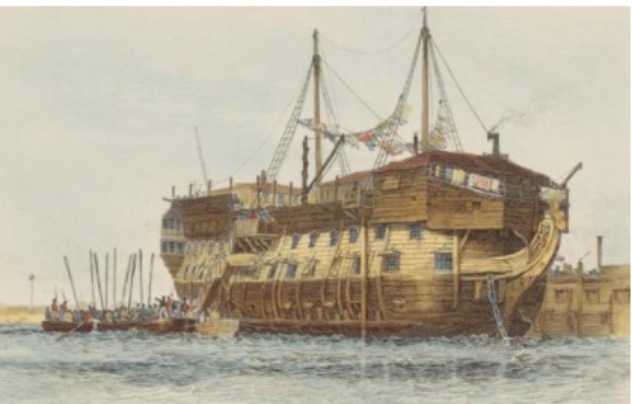 What more can we find out about him? A source of information beyond the limited personal information recorded at the time is located in Part 6 Air Ministry, Board of Trade, Exchequer & Audit Department, Treasury and other Record Groups. P Com 2 - Calendars of prisoners held for trial at quarter sessions and assizes for the period 1816-1866. It includes Millbank, Pentonville, Portland, Portsmouth and Newgate prisons as well as the prison hulks Defence, Stirling Castle, York and Retribution. The records are now online via the National Library of Australia's AJCP project.
Fortunately, there is an index at State Library Index [microform] : Australian Joint Copying Project Prison Commission registers, AJCP P. Com. 2, reels 5971-5991open_in_new The microfilms that are referenced in the index can be found online via the National Library of Australia (NLA) website. One way is to search the NLA catalogue for Prison records [P Com 2] 1817-1866, 1945-1946 [microform] The catalogue entry indicates the documents are online so when the catalogue record is opened there is a hyperlink to the record set. After clicking on it, it is then possible to see, in this case, for John Martin: the film by number - 5987 and piece -136 and then search on the right side for the individual record number - 2803. Once the files are opened, various navigation tools become available such as a browse function at the top right side. There is also an option to browse in sets available on the top left. Two viewing options are also available: grid and list.
John Martin, we learn from this indexed Prison Commission record, was born in Beckington, Somerset and had been convicted of a few offences and imprisoned in Pentonville, then transferred to the hulk, York before transportation on the Bangalore. This is also more specific information about his birthplace and place of origin than we usually get in convict records.
Frederick Be(e)ston, Mt Stuart Elphinstone 1849
In relation to Frederick Beston/Beeston, in addition to the usual detail, the following extra information can be found: an address where he was born as well as his father's name and occupation.
Did Rev Walpole assess Frederick Be(e)ston's conceit correctly? It appears he might have done judging from this news item.
Further records
There are a few informative records for this period of Moreton Bay. Find more in the following resources and dip into more original records onsite at State Library.
Check State Library of Queensland's website for more information about opening hours and access to collections.
Comments
Your email address will not be published.
We welcome relevant, respectful comments.