A conversation with Kathleen Jennings
By Reading and Writing | 28 September 2020
With our Queensland Literary Awards finalists not able to gather at State Library this year, we approached award-winning illustrator and writer Kathleen Jennings to craft portraits of the winners. Kathleen joins us to share inspirations, insights on her process, and ways to create the sense of stories about to happen.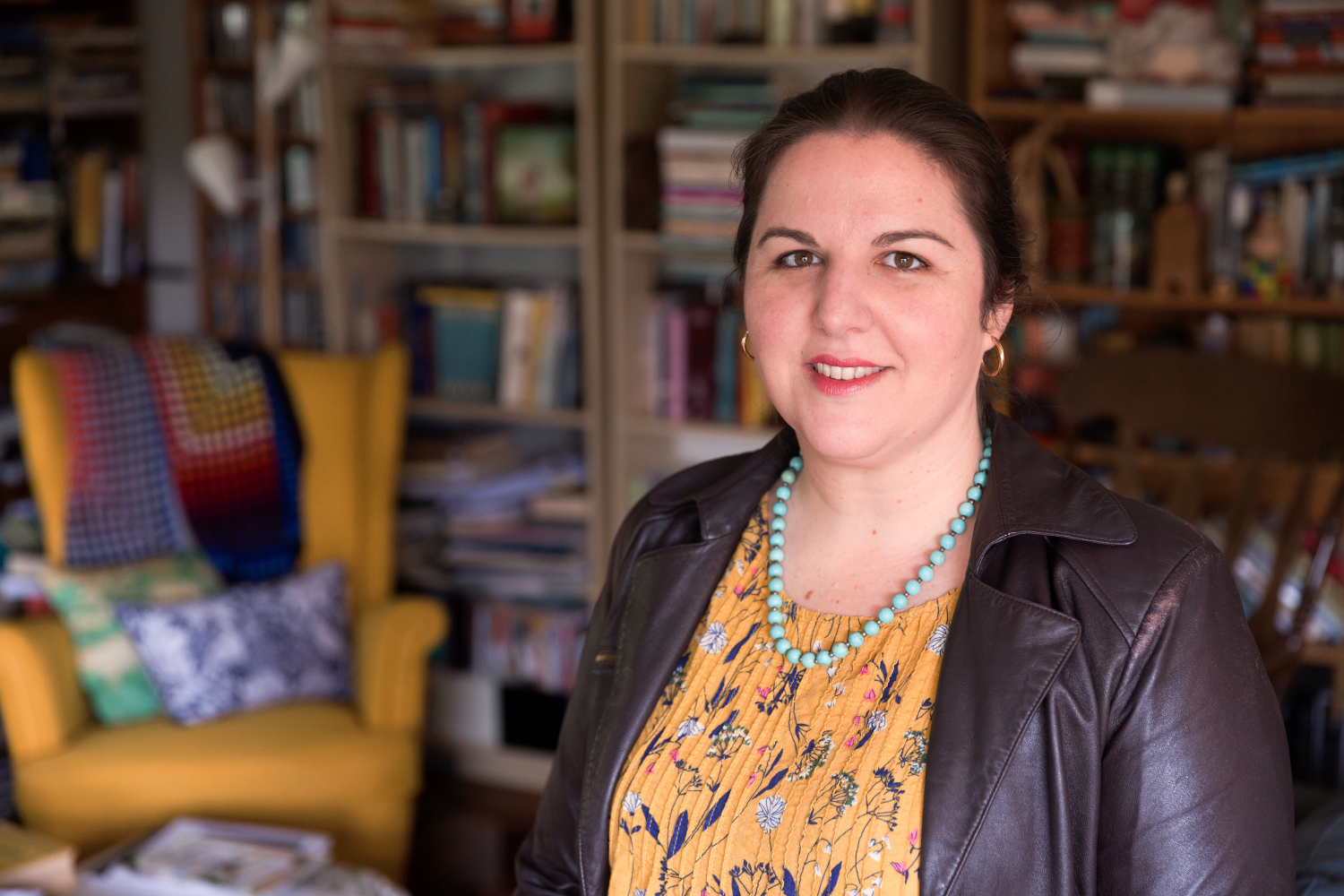 Kathleen Jennings, photographed by Ngaire Naran
Can you please describe the process for creating your beautiful Queensland Literary Awards illustrations?
First of all, I panicked. This is actually a set part of my process, now — I will fly up into the rafters at some point, so I build in time for it, and then when I start to get anxious it just means everything is going to plan. This works for me.
In this case, part of the worry/resistance was because of how I approach drawing people. I do draw recognisable people, but I don't approach it thinking of taking a portrait or a likeness — it's more like… capturing the shape they make in the world as they pass through it. And my live-drawing process is also very observational and chatty.
So first I had to work through that. I began by making sketches, testing pens, loosening up, making up characters.
I'm really glad I did this step! There hadn't been much opportunity to sketch people this year (although I tried to find some other ways to keep in practiceopen_in_new). Unused, my pens had started to dry out and their colour was too concentrated for the effect I wanted. So I had to dash around town in search of pens.
The next stage was just staring. Taking the time to sit with the photos, get comfortable with them, start doing some tests, and looking for photos online that might give me more dimensions on people.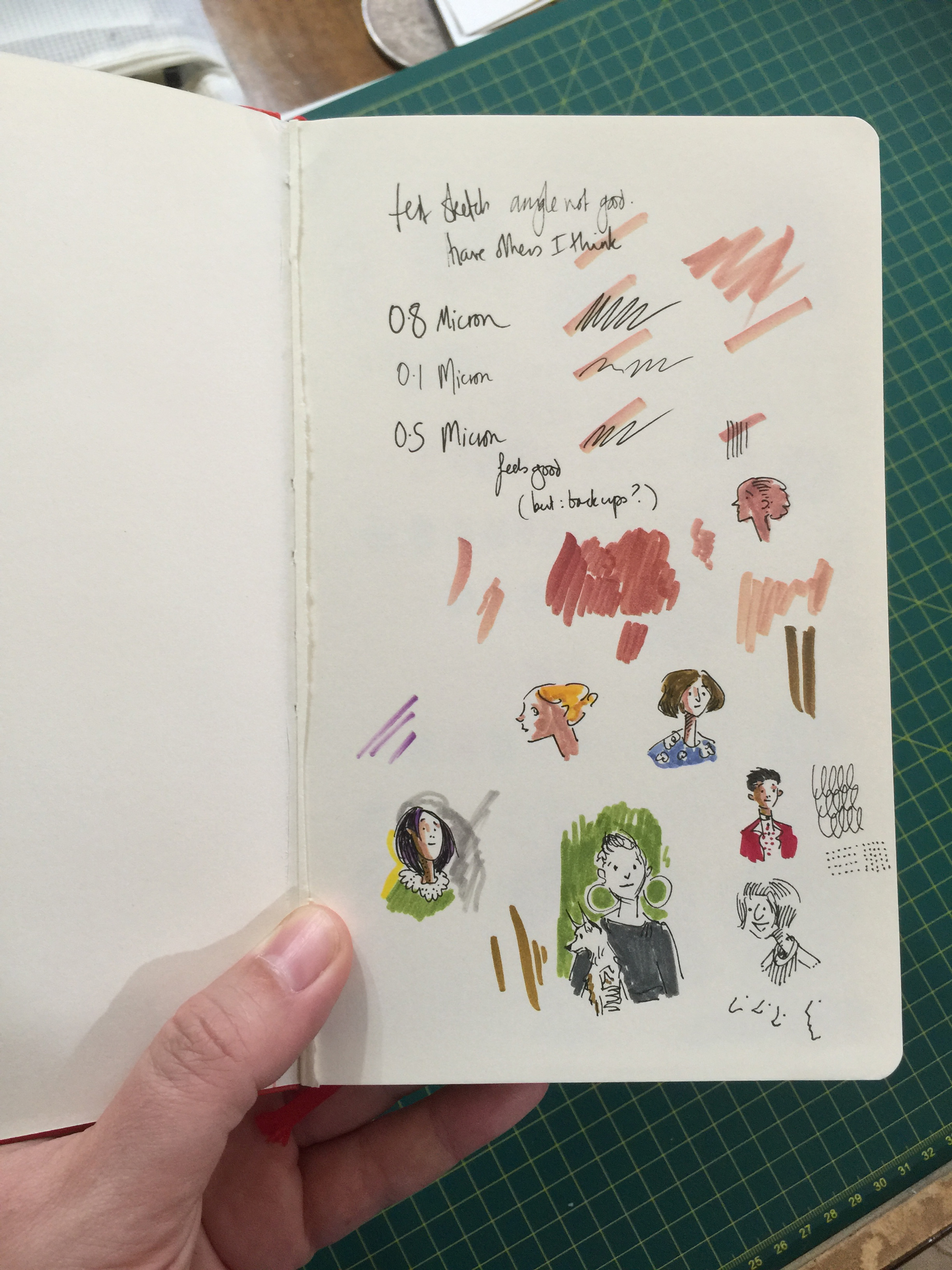 After this, I had to trick myself into being casual. I did this by saying I was going to do a page or two of sketches of each person. One of those might be the final — who knew?! But the weight of being the final didn't rest on any single drawing. Doing this meant I could work through different aspects at different paces, until they all came together.
Some people had very strong poses — cats and dogs helped with this! In other cases, I got caught up in detail and had to work back, making progressively less detailed drawings.
2020 Queensland Literary Award winners Yen-Rong Wong, Tabitha Bird, and Joey Bui. Illustrated by Kathleen Jennings.
I scanned these pages in, selected a few of the strongest and made sure there were a few thematic approaches that were consistent across the examples. These I sent off for approval, and the final illustrations were chosen from those.
The final stage happened after the awards. I started keeping an observation journalopen_in_new at the beginning of the year, and one of the exercises I do in that is an occasional post-mortem on a project, collecting the lessons learned. Part of the journal process has been working out the best questions for me to ask myself — a big one is always "what ideas does it give me for future projects".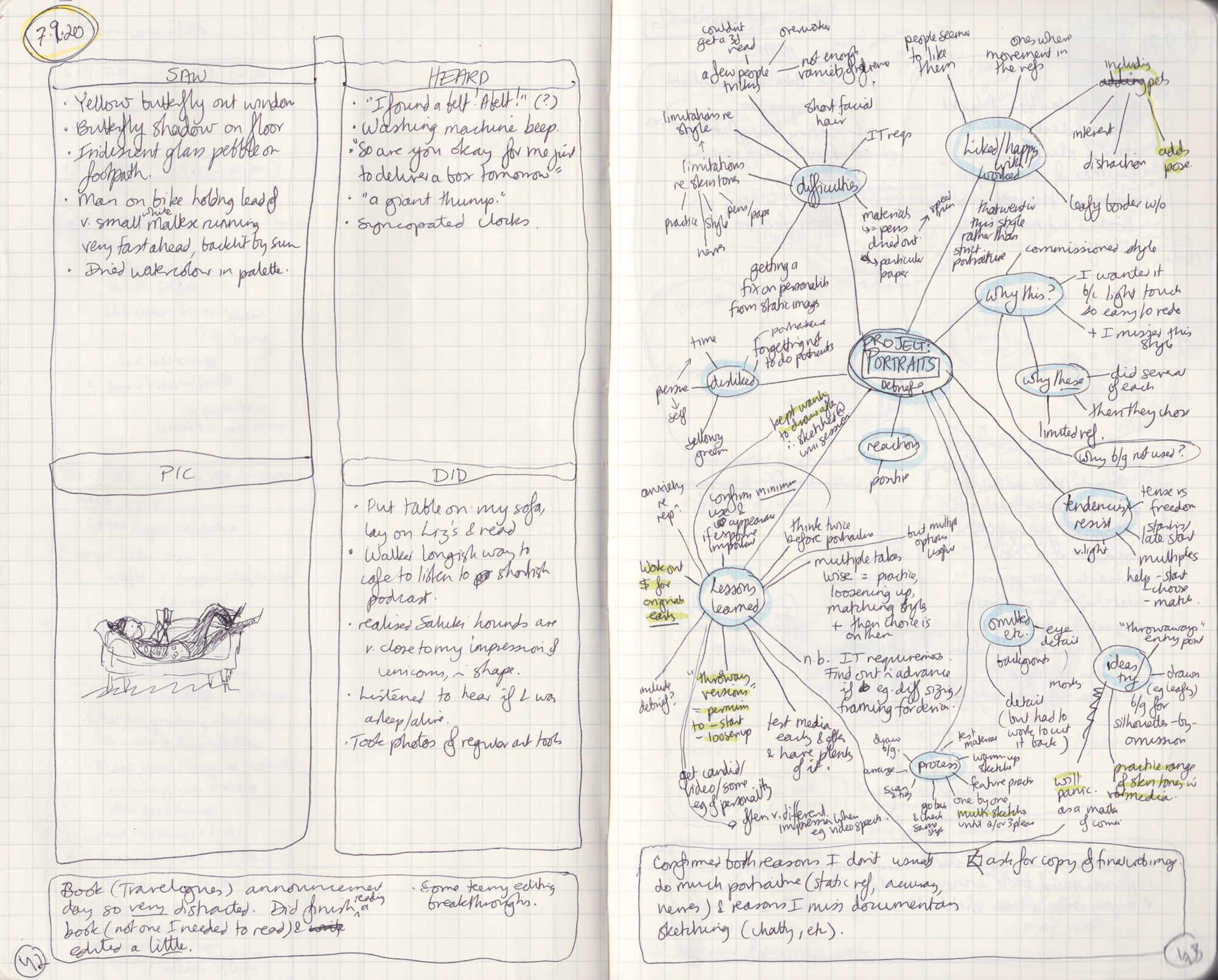 Which drawing was a favourite and why?
Anything with fabulous hair and pets! These lend such a through-line to this sort of sketch — holding anything tends to exaggerate a pose, and long flowing lines are pleasing to draw.
What were the biggest challenges?
Facial hair! I realised I just don't have that much practice with it. I used to hang out in cafes drawing hands and shoes, so that's something I should go out and spend a day sketching.
Also, just remembering to loosen up. But I've done a few projects now where I've had to include a step of consciously removing detail and accuracy from my pedantic early drawings, so it was at least something I knew to plan in.
How was this process different from your regular artistic practice? What new things did you learn?
I learned more about my own approach to portraiture — why I often side-step it, but what I like about it: not a photographic likeness, but something of the spirit of a person, and why that's difficult to lift off a photo. Also about the need to trick myself by leaving time to do several versions of a thing! And, of course, about how much my sketching — like my writing — has been a conversation with and about books and the people who write them.
How do you like to approach illustrating humans?
I like to start with the movement and/or a few distinct angles.
My natural inclination is to be very cautious and work with a light touch. Because of this, (quite) a few years ago I made myself take markers (Pitt artist pens) and a pocket sketchbook (Moleskine), sit in a café, and only draw people who were walking by. I had to move quickly, and I had no choice but to commit. Gradually I added very limited colours to this sketching kit. Then I deliberately de-skilled with photography, and made myself use the sketchbook instead of a camera when I travelled (I still only really take photos of stiles and significant historic trees).
But that sense of motion, and a few telling details (the angle of an elbow, how someone holds their coffee), and the power they have to conjure a character or a story still fascinate me. Besides this, pushing things into motion, moving them just a little out of balance, can immediately create the sense of a story about to happen. (I use a lot of sketching principles now when I write, too).
But because my focus isn't on careful, precise accuracy any more, I do have to be careful with how I approach portraiture, and actively use the lessons I've learned over the years.
What is your favourite non-human thing to draw?
A quantitative analysis would suggest "interchangeable canids" — dog-fox-wolf characters who show up in many projects. There's a joy to how they move, and the tails are useful for counterbalancing contributions.
I don't often have commissions with unicorns in them, but I like working on the design of them, trying to find a shape that pleases me: at the moment I'm inclined to a fine-limbed, quasi-medieval goat-borzoi hybrid.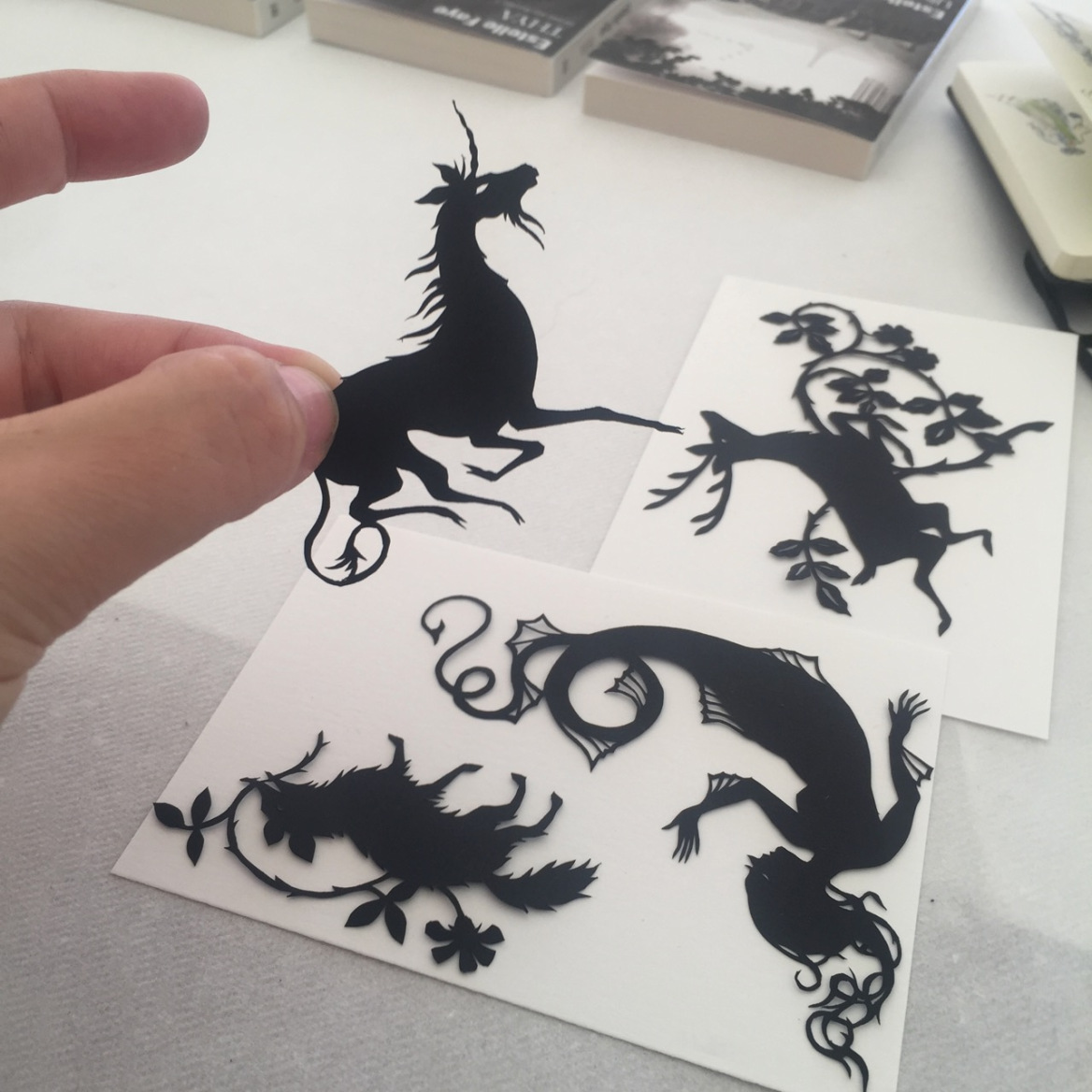 But for drawing from life, there's little that beats the shapes and shadows and long faces of sheep — although it turns out there's a vibrant corner of Twitter full of shepherds who will find and follow you if you draw them.
Do you remember your first foray into illustration?
I've always drawn on things (lecture notes, friends), but even though I drew pictures for a few smaller journals and anthologies along the way. I love stories, playing in them, ornamenting, and I always assumed I'd be a writer rather than an illustrator — at all, rather than just "a writer first".
So while I have old drawings around, I wasn't usually thinking of them as illustrations. I was trying to draw my way into a style of story, or a world I wanted to recapture, or a physical thing I wanted to make.
My first book cover, however, was for Small Beer Press, for Greer Gilman's Cloud & Ashesopen_in_new. My mother had the dust jacket framed for me. The book won the Tiptree Award, and I've never stopped being entirely willing to bask in the reflected glory of "my" authors.
I do have one older picture framed in my house, from before I became an illustrator. It's a pen drawing of a mermaid wearing a raincoat and carrying an umbrella and shopping bags, with the words, "Queensland — beautiful one day, underwater the next." It amuses me (although since the floods it's had different associations). But I still think it works as an object: its own picture, and that cranky expression, and the hint of a story on its own terms.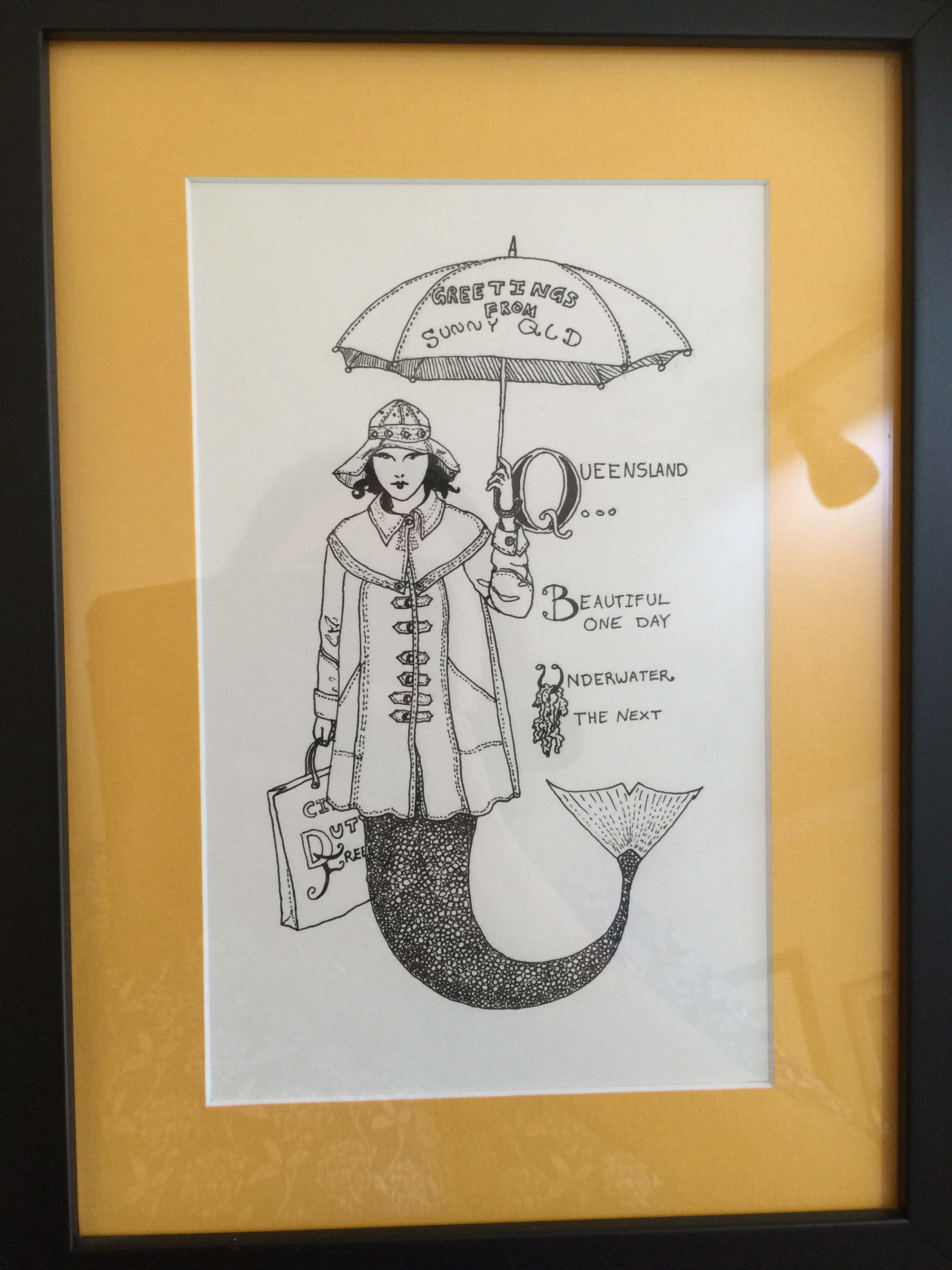 How did you get your start?
My sister and I used to draw and make things while my mother read out loud to us and my father did leatherwork or smoked his pipe on the step outside, and I never stopped drawing in margins at university. But I accidentally became a lawyer and suddenly had too many interests and too little time. So one day I stopped and worked out which pursuits I could do, would do, and wanted to do every day. I lived in an Auchenflower sharehouse and often got home at midnight, so with the best will in the world I couldn't keep learning the bagpipes (although they do show up in my stories still).
But I could write 100 incoherent words and draw a smiley face, even if I got home at one in the morning. It was a bit like doing scales, and even if I didn't make anything big, I couldn't get to the end of a month and feel like I hadn't drawn anything at all. Also, I very quickly got frustrated by just drawing smiley faces! So I started taking part in a weekly illustration challenge — every week, illustrating a prompt from outside my own head, and putting it (however dreadful) on my blog. The practice, the encouragement, the feedback, and the very visible accumulation and development of work were, I think, where I got that start.
Well, that and the people I met through conventions and university and writers' groups and blogs, who passed links around to pictures they liked and led to Small Beer Press first contacting me. I still work with them now, and so many of the opportunities I've had and friends I've made I can trace back to them.
And ever since then I've continued to learn more. Publishers and art directors have encouraged me and given me new scope to explore. I've studied things on my own and at masterclasses and through working with people. I've kept observational sketchbooks and actively thought through my process (currently I'm keeping a very deliberate Observation Journalopen_in_new just for this).
It's always been deeply entwined with writing for me, too. Not just illustrating books and sketching at writers festivals. That's the outcome of that particular physical expression (drawing). But it's also way of sorting through how I see the world, and which bits I want to pick up and look more closely at — I do the same thing with writing, and in fact Travelogues: vignettes from trains in motion, although shelved as poetry, is functionally an observational sketchbook using words instead of pictures.
And of course my Australian Gothic debut Flyawayopen_in_new came out this August! I very much used a sketchbook approach when writing it, but I also did a set of silhouette illustrations, including the one used on both the US (Tor.com) and Australian (Picador) covers.
Comments
Your email address will not be published.
We welcome relevant, respectful comments.