Constables on the front line
By Simon Miller, Library Technician, State Library of Queensland | 15 November 2013
2014 marks not only the centenary of the outbreak of WW1 but also the 150th anniversary of the Queensland Police Service. The John Oxley Library holds a copy of a book Their glory shall not be blotted out by former Queensland police officer Paul Ruge detailing the service history of thirty Queensland police constables who died on active service after taking leave of absence from the police force to join up. These 30 were not the first members of the Queensland police to have been killed in military service. W. Ross Johnston's history of the Queensland Police, The long blue line tells us that nine police volunteered as part of the mounted infantry contingent in the Anglo-Boer War in 1899. Three were killed in action.
The police were an exempt occupation in 1914 and there was no expectation that serving police would enlist, nevertheless by the end of 1914 sixty-six police had enlisted out of a total police strength of 1112. Those police that enlisted with permission were assured that their entitlements would be preserved on their return and they would not lose seniority or promotion. Police fought in all the theatres of the war from Gallipoli to the Western Front and Palestine.
Landing places at Gallipoli, Turkey, ca. 1915
Landing places at Gallipoli, Turkey, ca. 1915
Private Patrick James Moynihan was killed on the first day of the Gallipoli landings, 25 April 1915. Moynihan was born in Allora and worked on the railways at Wallangarra before joining the Queensland Police Force. He was stationed at Fortitude Valley when the war broke out and was granted a leave of absence to join the 9th Battalion AIF. The 9th Battalion was part of the covering force that was first to land at Gallipoli. They were to secure the beachhead for the following troops. Small groups fought their way across the scrubby plateau underneath a hail of Turkish shrapnel and Moynihan is believed to have been one of the 9th Battalion men who advanced to the third ridge, one of their main objectives. This group was forced into a desperate fighting withdrawal in face of a Turkish counter attack. Patrick Moynihan's mates reported that he along with others, advanced too far and was shot in the head and killed during the retreat that followed. His body was never recovered and he is believed to have been buried by the Turks. He was 26 years of age.
Patrick Moynihan was one of six Queensland police constables killed in action at Gallipoli. Two other police volunteers died of illness in 1915. Private Robert Ritchie died of meningitis on the troop ship only weeks after leaving Australia and was buried at sea. Lance Corporal Phillip Vowles died on 2nd October 1915 of pneumonia after contracting influenza at Gallipoli, having been part of the first landings on 25 April.
Nineteen police servicemen died in trench warfare in the muddy fields of France and Belgium at Pozieres, Flers, Ypres, Passchendaele and other battlefields. Many were wounded several times before returning to the fighting.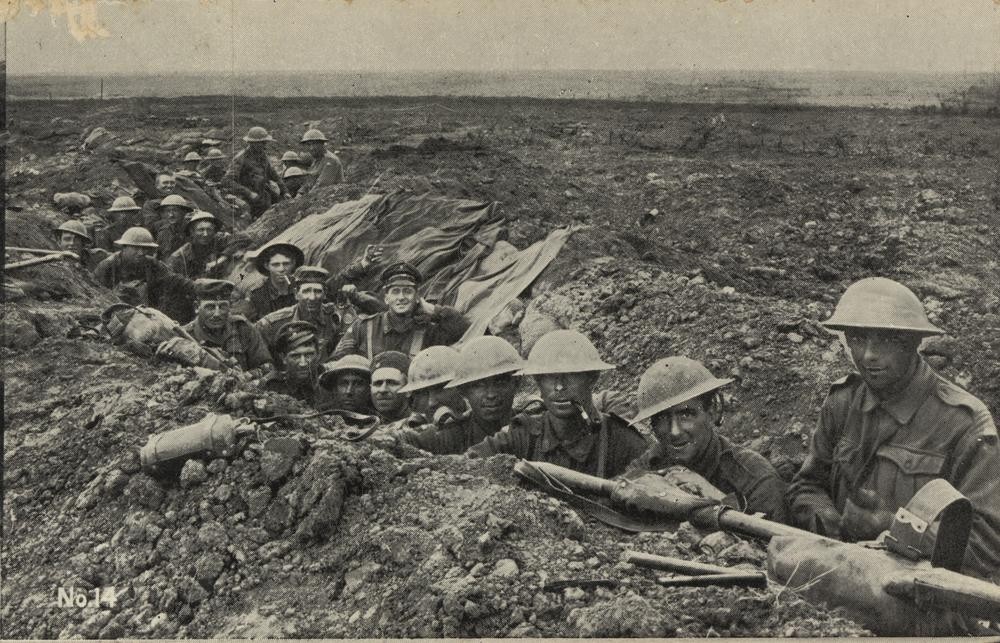 Australian troops in the advance trenches, ca. 1917
Australian troops in the advance trenches, ca. 1917
Sergeant Frederick Alexander White, 25th Battalion, AIF, was killed in action at Morlancourt on 10th June 1918. Fred White joined the Queensland Police Force in 1909 and served as Constable at Mungindi and Gladstone before joining the 25th Battalion in 1915. Although he had spent 7 years in the Australian Light Horse and Mounted Infantry, he joined an infantry Battalion to be with his half-brother Albert, who joined with him. With the withdrawal from Gallipoli, the White brothers embarked for England where they trained on Salisbury Plain before going into action in France. Frederick White was wounded in action near Flers in November 1916, receiving gunshot wounds to the right ankle. He returned to the front four months later only to be wounded again in action near Vaux-Vraucourt in March 1917 with shrapnel wounds to the right shoulder. He returned to the fighting on 31st July 1917. This time he contracted trench fever which required hospitalization in England for six months. Despite still suffering periodic symptoms, White requested to be returned to active duty and rejoined his Battalion in France on 25th March 1918. The 25th Battalion was involved in heavy fighting at Morlancourt on 10th June 1918. Sergeant White's family was told that after a successful advance, Albert had been wounded in front of the captured position. Frederick crawled out under fire to bring in his brother and crawled back to the trench with Albert on his back. They were both machine-gunned and killed as they reached the parapet of the new trench. Both are buried a short distance apart in Beacon Cemetery near Sailley-le-Sec.
Sgt. F.A. White, one of the soldiers photographed in The Queenslander Pictorial, supplement to The Queenslander, 1916.
Sgt. F.A. White, one of the soldiers photographed in The Queenslander Pictorial, supplement to The Queenslander, 1916.
In addition to these 19 men Gunner Ernst Richard Pastorelli died of illness after being taken as a prisoner of war on The Somme in March 1918. He was reported to have died from exhaustion whilst a prisoner at Lagensala War Hospital Camp just one month before hostilities ended.
Trooper Darryl James Gilcrest Dodds served with the 11th Light Horse Brigade in the Sinai and Palestine. Trooper Dodds was killed in what was probably the last cavalry charge of the war with swords at Semakh. Hostilities in Palestine ceased a week later.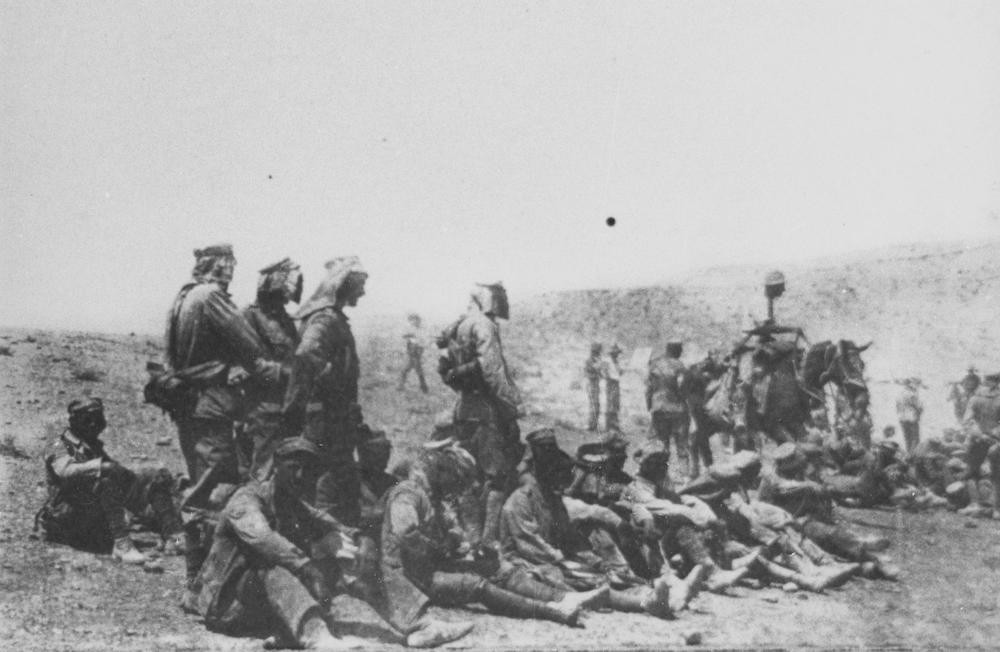 Australian troops in Palestine, 1917-1918
Australian troops in Palestine, 1917-1918
The last police casualty of the war was Driver John Paterson Taylor who at 41 years of age was also the oldest of the thirty Queensland Police Officers who died in active service during World War One. Taylor was born in Sydney and was a commission agent before joining the Queensland Police Force on the 5th February 1909. He was stationed at New Farm before transferring to the Water Police in 1911. He injured his back lifting a boat and after being laid up for six months was transferred to Roma Street Station. Taylor joined the Australian Field Artillery in February 1917 but sustained another injury to his back and was transferred to the Service Corps as a driver. He was assigned to the 38th Company which supported the Australian Mounted Division in Palestine. About four weeks after hostilities had ended in Palestine Taylor became ill with dysentery. He was in hospital when the war ended. He died on the 21st November 1918 in the 87th General Hospital at Alexandria. John Taylor was married and had one child. He was buried at the Hadra War Cemetery.
I can recommend There glory shall not be blotted out not only as a comprehensive record of the thirty Queensland Police Officers who died on active service in World War One but also as a cross section of the wartime experiences of Australian soldiers.
Simon Miller - Library Technician, State Library of Queensland
Comments
Your email address will not be published.
We welcome relevant, respectful comments.