Conference reflections: a spotlight on State Library resources
By Stephanie Ryan, Research Librarian, Library and Client Services | 9 November 2022
Our librarians are always committed to building their knowledge and expertise to best support our research services. After a three-year postponement due to COVID-19, the Queensland Family and Local History Conference, Sands of Time 2022, 21-23 October 2022, hosted at Redcliffe, brought major family history groups and societies from Beenleigh to Caloundra as well as interstate family historians together in a buzz of excitement. Our librarians attending the event had the opportunity to be part of valuable discussions and the exchange of diverse knowledge and resources while building important connections within the community.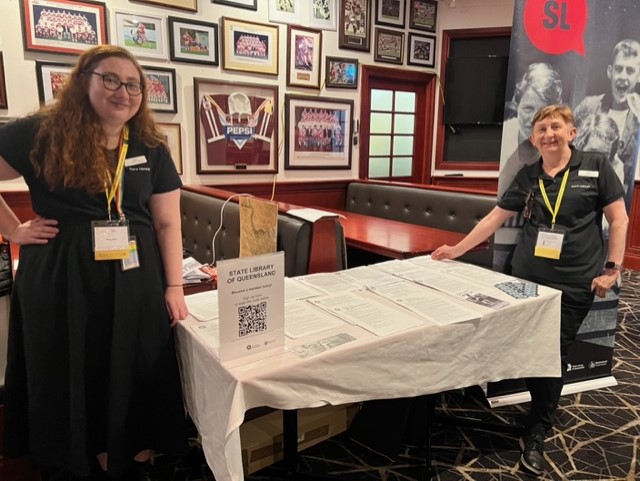 Kara (left) and Jennie (right), two State Library librarians who together with Eileen and Ellen (not pictured), promoted State Library services and collections at the Sands of Time 2022 Conference exhibitors' area.
A key State Library project: Colonial Secretary's Correspondence 1822-1860
State Library Research Librarian, Stephanie Ryan presented the paper, Moreton Bay convicts: find out more at the conference. It was an opportunity to promote a key State Library project, Colonial Secretary's Correspondence 1822-1860–its primary source evidence from the beginnings of Queensland, accessible structure and potential for development through the public's correction of optical character recognition (OCR) text. This project represents one of State Library's significant activities for the celebrations of the Bicentenary of Queensland's beginnings in 2024. The correspondence to, from and about extraordinary celebrity convict James Hardy Vaux (below) is an example of how we can become much more aware of Moreton Bay convicts.
The Records of the Prison Commission as filmed by the AJCP are now directly available online via the National Library of Australia. The records provide more personal detail on later convicts, such as the names of fathers, spouses and children, than for earlier convicts. Combined with the Colonial Secretary's Correspondence, Trove and other documents such as the chaplain's assessment of convicts coming to Moreton Bay on the Mount Stuart Elphinstone we can get a more vivid, complete sense of some convicts beyond dates and convict sentences.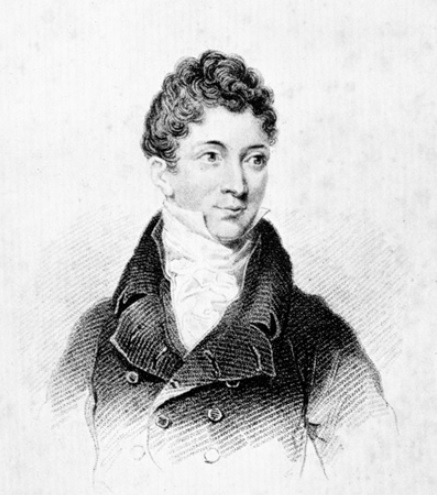 Portrait of James Hardy Vaux
A key State Library resource: Real estate maps
State Library's unique collection of real estate maps were featured everywhere at the conference: in frames, as posters, in books combined with other maps and accounts. They also mark the 'sands of time', the conference theme. These often beautifully illustrated maps, created by real estate firms, can be valuable sources of information for family and house histories–how land was subdivided, first auctioned and who the surveyors were. The local sketch map of Redcliffe (below) shows how this holiday destination was scarcely developed in 1886. These colourful lithographs highlight Redcliffe at a certain point: transport to the Redcliffe peninsula was by boat. Land sale time was usually the holiday season such as Christmas and Easter. Free lunch and a boat ride turned the sale into a celebratory event. Digitised real estate maps are available through our One Search catalogue and through the online platform Historypin.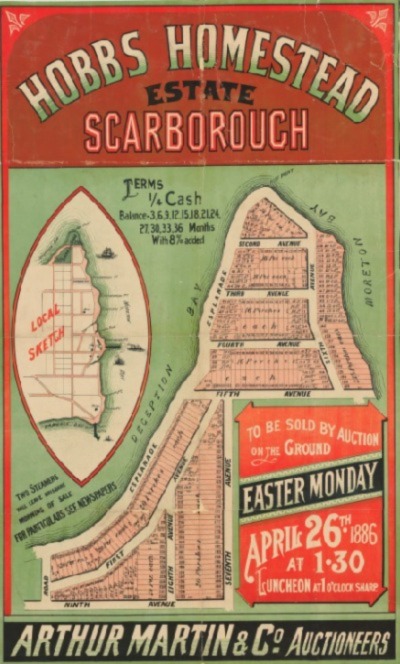 Hobbs Homestead Estate Scarborough 1886
Future trends in family history research
Redcliffe was chosen as a venue to foreshadow the Queensland Bicentenary. European Queensland, at the time named Moreton Bay, began there with a small convict settlement in September 1824. Where will family and local history be by 2024? The explosion of electronic information and ways of navigating it were dominant issues. Engaging with discussion about research methodology, new information and the ethical challenges of using it was a common theme in many presentations. It's never been more important for our librarians to be aware of and to engage with community discussions around these emerging trends, for the delivery of quality library services.
Didn't get to the conference? State Library staff can help answer your questions and research guidance online, onsite or over the phone.
Comments
Your email address will not be published.
We welcome relevant, respectful comments.