The Coltons of Lutwyche
By JOL Admin | 12 June 2014
On a humid day in December 1979 a large group of people gathered for the auction of the contents of a home which had become a closed archive of items from another era. The house at the end of Colton Avenue sat on a large but wedge-shaped piece of land. The narrow street frontage fanned out beyond the house to a nook heavily shaded in poinciana and mango perched on a ledge above Kedron Brook.
Miss Mary Colton had died in January that year and was buried the day before what would have been her 93rd birthday. She was the youngest of 9 children and the longest lived child of Charles Colton and Elizabeth McKeon. She had a fall on her way to Mass at the Holy Cross Wooloowin, knocked over by an over-exuberant dog in 1972. She was admitted to care and the house closed up.
One of the new owners, Elizabeth described what they found when they looked at the house: "Mary's hair brush was on her dressing table and her tiny slippers were near her chair. The house looked as though she had just walked out. The kitchen had a calendar dating back to 1972. The hallway was filled with a collection of large photos of football teams and ancestors, antiques and historic collections rather like a museum." Those who knew the Coltons' place well added details of the horse hair lounge, the piano illuminated with lights from the Lutwyche Estate, and the flowers in a Victorian glass dome. It was a time capsule of an earlier age.
The contents of the house, the possessions of a family who had been in the area since the early days of Queensland and who had owned much more land around the house were dispersed.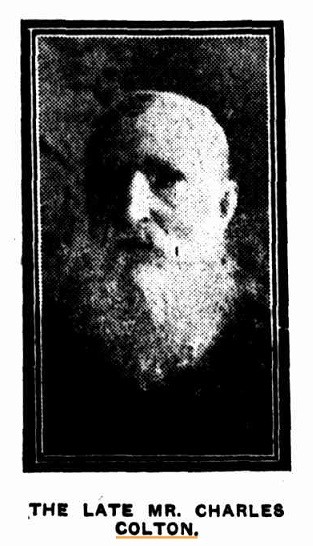 Brisbane Courier, 24 June 1916, p.4
Charles Colton arrived in the colony of Queensland in August 1862 with his brother William on the immigrant ship, Helenslee, which departed from Glasgow with Scottish migrants. In 1862 within 10 days, 2034 migrants had arrived in 6 ships. The Brisbane Courier stated on 16 August 1862 "they are, for the most part, just of the right stamp to assist in the work of colonization and in building up the future prosperity of Queensland." It was noted later that the passengers brought £30 000, a considerable amount of money that put them above the pauper immigrants the government wanted to avoid. Charles Colton was originally from County Tyrone in Ireland where he was born C1822. He went to Ipswich initially but returned to Brisbane where he purchased 4 acres, 2 roods and 10 perches from John and George Harris in July 1864 on Kedron Brook where he took an early role.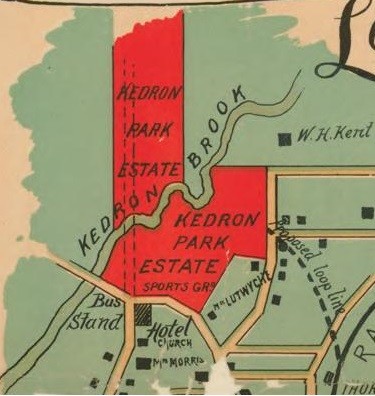 Coltons' place across the road from the hotel and St Andrews Church 1888: Kedron Park Estate. State Library of Queensland collection
The plan for the landmark, St Andrews Anglican Church, Lutwyche was launched at Coltons. The Brisbane Courier reported on 12 March 1866 on "a meeting of members of the Church of England residing in the neighborhood of Kedron Brook … at Mr. Colton's, opposite the church reserve, Bowen Bridge Road. The meeting was well attended; his Honor Mr. Justice Lutwyche took the chair". The Colonial Architect, Charles Tiffin and the later colonial architect, F D G Stanley, were also in attendance providing advice. It was an eventful year for Charles Colton: his brother, William died and he married Elizabeth McKeon.
Charles Colton was also a member of the committee to build the Catholic Church at Wooloowin and was listed at the laying of the foundation stone as reported in the Brisbane Courier 15 March 1886.
Charles and Elizabeth had 9 children, 5 sons and 4 daughters, born 1867-1886. His sons were busily involved in sporting activities and the newspapers were peppered with their results in athletic events and football, from the 1880s to the early 1900s. Two sons, Alfred and Tom, played international football. The State Library has an image which includes 2 of the Coltons.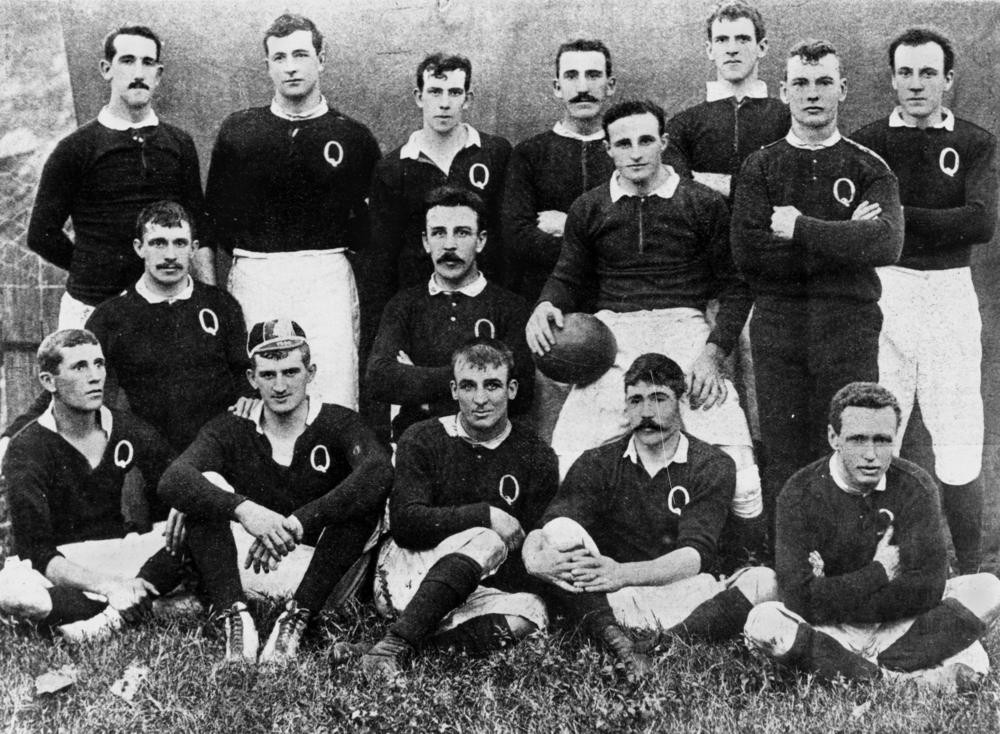 Battlestained Queensland Rugby Union Team photographed after the match in July 1899. John Oxley Library. State Library of Queensland. Neg 12023
William Colton was a blacksmith then later a bus driver. He was fined for "furious driving" at 10pm Saturday night, 4 June 1887 when he was racing a driver of an opposition line on Lutwyche Road. He was found guilty of driving the horses "at a speed of between ten and twelve miles an hour." The senior-constable called out to them to stop, but they did not until eventually the other driver pulled up to take a passenger. The Colton daughters followed the domestic pursuits of the time, including fine needlework and tatting as well as helping at church fetes.
Charles was involved in various activities on his land. In September 1866, the month after his brother's death, he advertised a market garden under cultivation on Kedron brook with a 2 room cottage. In April 1871 he wanted "a young man to take charge of a horse and dray.. a good axeman". In March 1880 Charles took out a mortgage for £150 and built the large home, still in existence today. In September 1880, 14 years after William's death, letters of administration were granted to Charles and a solicitor in the matter of William's property. The heir had been William's brother, Bernard Colton of Paisley Scotland. In 1885 Charles applied unsuccessfully for a slaughterman's licence. He died in 1916 aged 93½ (10 years older than his shipping record indicated). His youngest son, Nicholas pre-deceased him in 1915. Elizabeth, his wife died in 1928 and most of his sons and daughters during the 1930s and 1940s.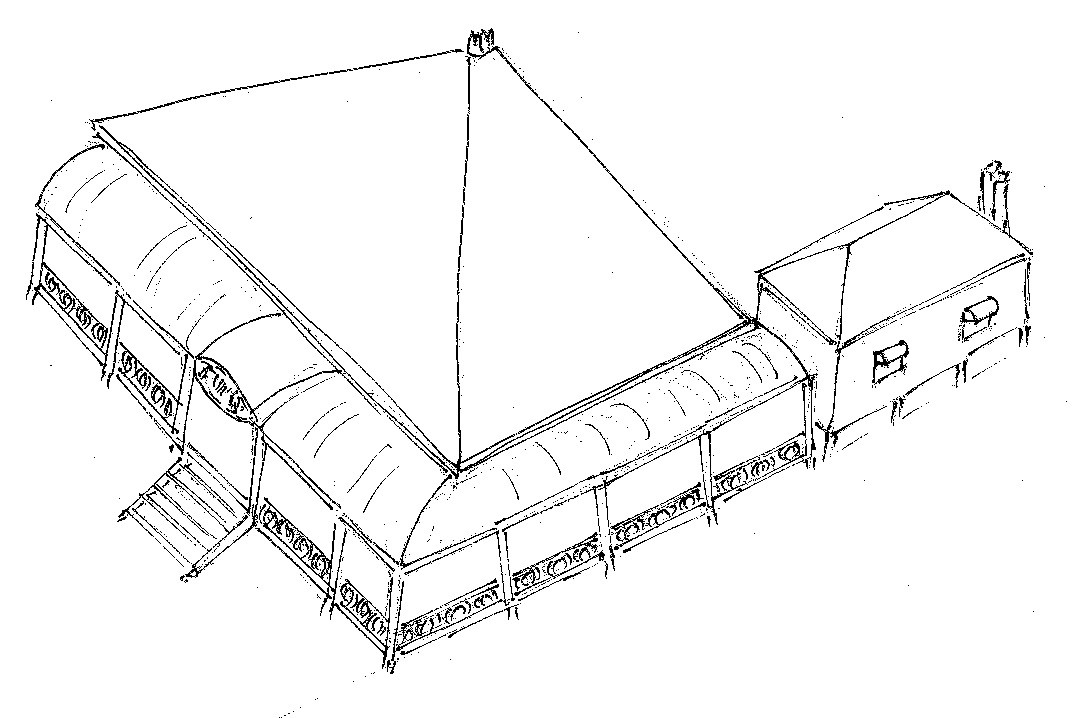 The Colton's home on Lutwyche Road C1880-1939 in Colton Ave 1939-1982. Drawing courtesy of Clive Porritt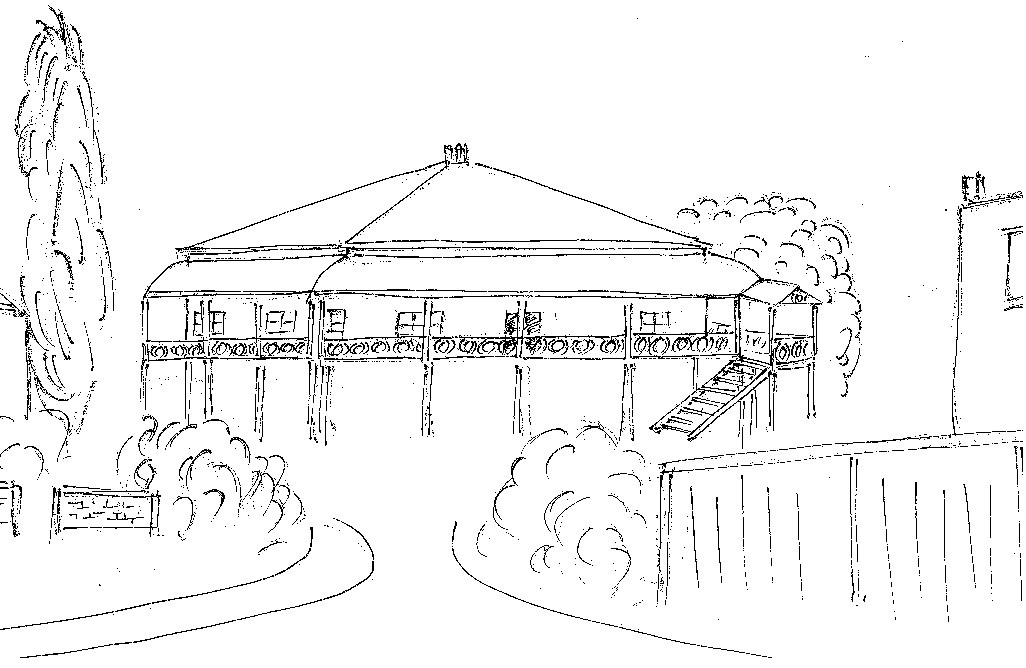 The Colton's home on Lutwyche Road C1880-1939 in Colton Ave 1939-1982. Drawing courtesy of Clive Porritt
In 1937 the Colton property was surveyed in preparation for creating housing blocks. A road, Colton Avenue, was dedicated on 22 February. The Colton home, with the family living in it, was moved on logs, over a period of about a week, from 672 Lutwyche Rd to a cul-de-sac on Kedron Brook at the end of Colton Avenue. The family sold off the blocks gradually until 1947 when there was only their own residential block and home among much newer buildings. Mary Colton and her brother, Thomas, remained from this large family. Mary had been a milliner then a saleswoman in a department store. Thomas was a saddler and made horse collars. He had also been a grocer living at Sylvan 600 Lutwyche Road but returned to the family home in his later years and died in 1958.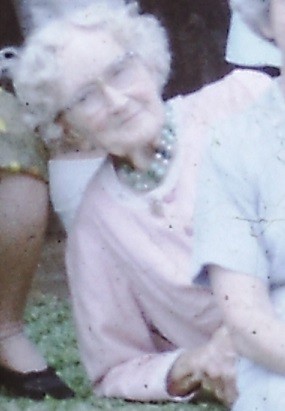 Mary Colton c.1968. Image courtesy of Hargraves family
Mary lived another 21 years, her home and its contents increasingly at variance with the developing suburbia around the property. The large, dark house, lined with honey-coloured, unpainted beaded board and with a wide central hallway and wrought iron verandahs on three sides, differed markedly from the small, more modern homes in the street.
The new owners of 1979 turned the house around and settled on Kedron Brook for 24 years until council changes to the Lutwyche area prompted a move. A house removalist took the home, on 2 huge black trucks, to Narangba. The house was later moved to Murrumba Downs. In 2010 it was moved again, to Redcliffe overlooking Scott's Point. Predictably, if ironically, no longer owned by the Coltons or on their former land, it was now called 'Colton House'.
Stephanie Ryan - Senior Librarian, State Library of Queensland
Thanks to Elizabeth Ryan; Robert Riddell and Don Watson architects; Mrs Helen Colton; the Wildie and Hargraves families; Qld State Archives; and Windsor and Districts Historical Society.
Comments
Your email address will not be published.
We welcome relevant, respectful comments.