The Collinson Index
By JOL Admin | 2 September 2011
How many times have you walked past the old timber cabinets in the John Oxley Library Reading Room without noticing the pink labels on the old wooden card catalogue that reads 'Collinson Index'?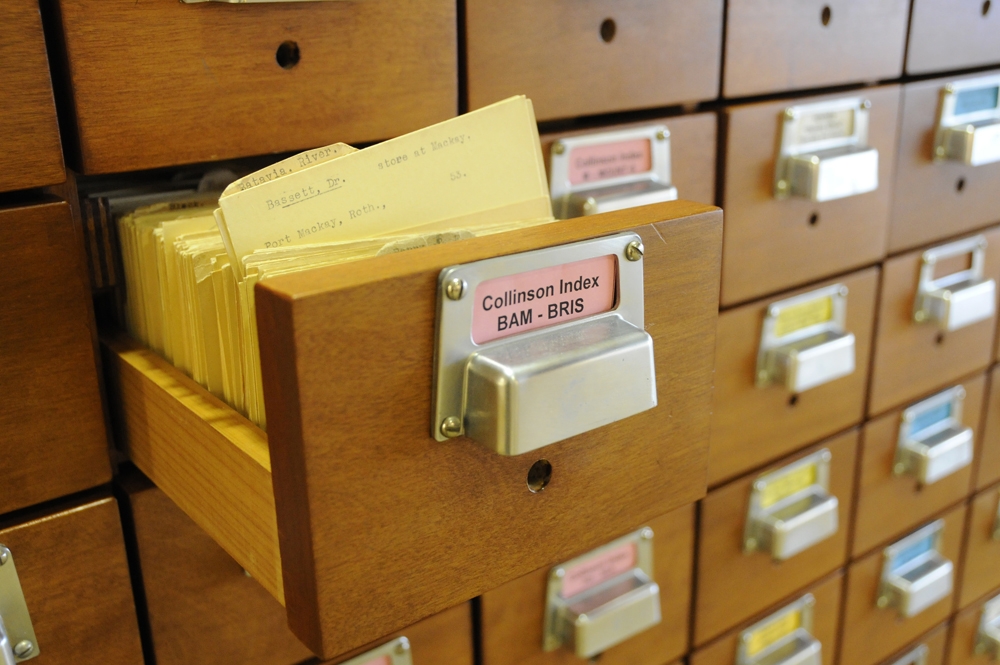 If you pull out any one of these drawers, you will find hundreds and hundreds of carefully-typed and hand-written index cards relating largely to the history of North Queensland, but also to Brisbane and other Queensland towns and ships. The index cards are the life work of a Mr. J. W. Collinson (1877-1966) who spent the first 4 decades of his life in what he called the 'magic North'.
The cards span the years from the 1888 - 1964, and index a wide range of sources – magazines that Collinson probably subscribed to himself, like Queensland Figaro and Punch, Cummins & Campbell's Monthly Magazine for Education and Amusement, The Steering Wheel and the Journal of the Historical Society of Queensland; newspapers including The Cairns Post, Delta Advocate, Townsville Advocate, Townsville Daily Bulletin, The Queenslander, Cooktown Courier, North Queensland Register, plus sundry interstate papers.
Collinson also combed through the volumes of the Queensland Parliamentary Papers, Hansard and Pugh's Almanac. There are innumerable book references to classics like Jack Logan's Northmost Australia (1921) W. H. Corfield's Reminiscences of Queensland, 1862-1899, and Tom Petrie's Reminiscences of Early Queensland details of his own correspondence with various Queensland identities and references to his 6 volumes of cutting books which he called "Historical Data Cairns and North Queensland Generally" (also held by the John Oxley Library). A key to the abbreviations used in the cards appears in the first two cards. This is an index card relating to the "Pearl" ferry disaster: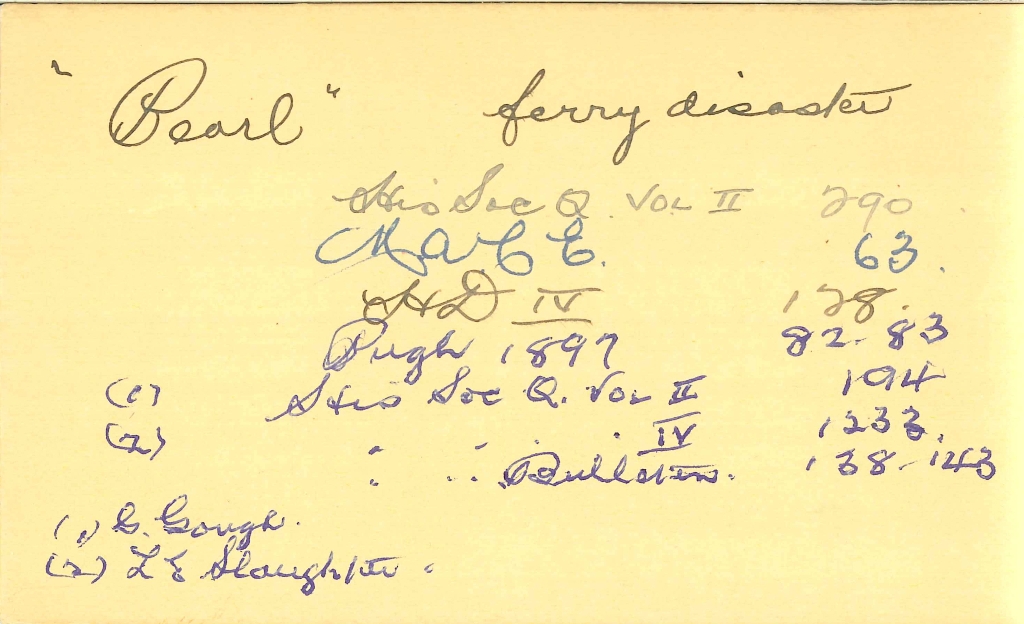 The Collinson Index is thus a unique resource for the study of Queensland history, supplementing early works like the Aldine History of Queensland (1888) and later bibliographies like Margaret Zerner and Ross Johnston's Guide to the History of Queensland : a bibliographic survey of selected resources in Queensland history (1985). Collinson's index also fills in the indexing gaps of the Australian digitised newspaper repository Troveopen_in_new, and the Informit databases like APA Full Text and its hard- copy precursor, Australian Public Affairs Information Service.
So who exactly was J. W. Collinson? This portrait of Collinson appeared in his book Tropic Coasts and Tablelands of 1941:
The initials J. W. stand for James Warren, known by his friends as Jim, a native of Reddish, Cheshire, born 31 May 1877. Collinson set sail for Australia as a babe in arms on the Saraca from Greenoch, Glasgow on 26 August 1877. With him were his parents Charles and Mary, and infant brother Henry, who tragically died of typhoid on the voyage and was buried at sea on 4 November. The family arrived in Maryborough on the 14th of December of that same year, and after various moves to Pialba, Tiaro and Townsville, moved north to Cairns in 1886. Here Collinson attended the Cairns State School, leaving in his 15th year. He became a writer and widely-respected chronicler of North Queensland history.
Collinson's encyclopaedic knowledge of the North was gained first hand in the places he lived - Cairns, Atherton, Port Douglas, Cooktown, Townsville as well as New Guinea and the Torres Strait. He worked in a variety of occupations - gold prospecting, clerk in the Railways Dept Cairns and Mareeba (1899), journalist and editor for the Tableland Examiner (1910-13) and the Port Douglas Record (1913), clerk for Burns Philp (1916-18). Collinson was transferred to Brisbane in 1919 where he worked for 27 years as Inspector of Stamps in the Stamp Duties Office of the Queensland Treasury Department until his retirement in 1946. He married Annie Hutchinson in 1921.
Nothing escaped Collinson's attention. One imagines evenings and weekends preparing his lantern slides for his illustrated lectures, clipping from piles of newspapers and magazines and puzzling at how best to reference each item in the days before computers. Each entry was given an author and title entry and carefully cross referenced under subject or geographic location. Three of these cards record the drowning deaths at different times and places of his three siblings who had been born in Australia: Daisy who was barely 2 years old; Robert, 12 and Walter, 13 - the brevity of these entries poignantly express the impartial professionalism of the indexer:
Collison was not just an indexer of others' work. He wrote 5 books of his own, as well as many journal articles, book chapters and lectures. The most autobiographical of these writings can be seen in his Tropic Coasts and Tablelands (1941) about life in Cairns - the 'magic' place where he had his "bare leg days". He was scrupulous in gathering every review and mention in the press of his publications. Many, now yellowing, appear affixed to his index cards and pages in his Cutting Books: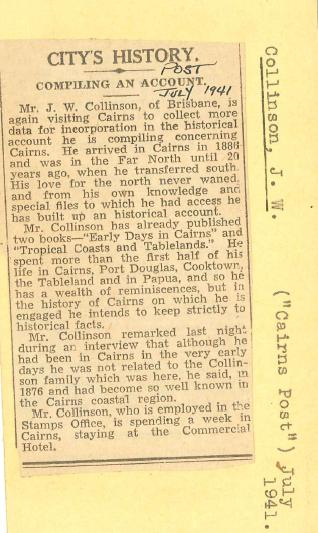 This considerable body of work was acknowledged by a Diploma of Fellowship of the Royal Geographical Society of Australasia (Queensland branch, 1946) and an honorary life membership of the Royal Historical Society of Queenslandopen_in_new (1963). Collinson was also a Justice of the Peace -not bad for someone who left school at 15.
Collinson employed his hard-earned postnominals at every opportunity – in any journal in which he published or in any news item which mentioned him. The FRGSA also embellished his bookplate which is fastened to several of his volumes of Cutting Books Data relating to Cairns and North Queensland: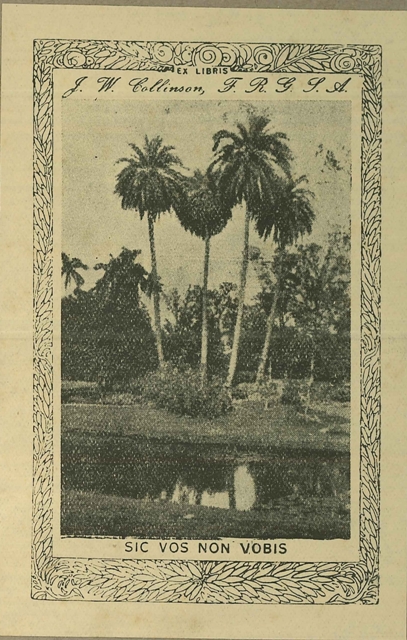 At the base of this bookplate in bold capital letters appears the motto Sic Vos Non Vobis which translates from the Latin as 'Thus do ye, but not for yourselves' –a reference to the unselfishness of the indexer whose labour is largely for the benefit of others, without personal gain.
James W. Collinson died at age 89, on the 31st May, 1966 in Brisbane.
We, the State Library of Queensland and all those interested in the history of this state, are the beneficiaries of that long life of inquiry and selfless industry.
Below is a list of Collinson's books and journal articles. Many of the articles that were published in the Journal of the Royal Historical Society of Queensland can be read via the UQ eSpace Library:
Books:
Early Days of Cairns Brisbane. Brisbane: Smith & Paterson, 1939open_in_new
Tropic Coasts and Tablelands. Brisbane: Smith & Paterson, 1941
More About Cairns Volume: 1. The second decade; Volume 2. Echoes of the past.;
Volume 3, Recollections of a varied life : the autobiography of Joseph Greetham Eastwood (with appendices) Brisbane : W R Smith & Paterson, 1942-1946.
Key-tapping in the tropics : early days of the electric telegraph, Australia. Brisbane : Post Office Historical Society, Australian Postal Institute, Queensland Division, 1953
Journal articles:
Cairns: its rivers and mountains Queensland Geographical Journal Vol 49 No. 35 1944-45: 59-63
The Origin and Growth of the Sugar Industry in the Cairns District JRHSQ Vol 3 No. 4 Feb 1945 : 260-264
http://espace.library.uq.edu.au/view/UQ:207932
From the Downs to the Don and the Dee: The Story of the Brothers, Leith-Hay JRHSQ Vol 3 No. 6 Dec 1947 : 466-471
http://espace.library.uq.edu.au/view/UQ:241114
Cardwell, a gateway to the west JRHSQ Vol 4 No. 2 1949 :182-189
http://espace.library.uq.edu.au/view/UQ:210201
'The goldfields of Queensland', in: Gold in Australia; edited by Charles Barrett. London, Cassell, 1951. pp. 41-55.
Rise and Decline of Port Douglas JRHSQ Vol 4 No 4 Dec 1951 : 559-567
http://espace.library.uq.edu.au/view/UQ:212791
Innisfail JRHSQ Vol 5 No. 1: 804-819
http://espace.library.uq.edu.au/view/UQ:211508
Those Roads and Bridges: Genesis of Local Government in Queensland JRHSQ Vol 5 No. 2 1954 :930-935
http://espace.library.uq.edu.au/view/UQ:211530
Rockingham Bay River System JRHSQ Vol 5 No. 2 1954 : 947- 952
http://espace.library.uq.edu.au/view/UQ:211533
Building the Cairns Range Railway JRHSQ Vol 5 No. 3 1955 : 1069-1075
http://espace.library.uq.edu.au/view/UQ:211543
Economic Development, North Queensland JRHSQ Vol 5 No. 4 1956 : 1192-1200
http://espace.library.uq.edu.au/view/UQ:212861
Brief synopsis of the life of Albert Charles English JRHSQ Vol 6 No. 3 1961 : 580-593
http://espace.library.uq.edu.au/view/UQ:212609
Given the importance of Collinson's index the State Library's Queensland Memory and Resource Discovery teams plan to index these cards as a future digitisation project.
Jennifer Freeman
Reference Librarian - State Library of Queensland
Comments
Your email address will not be published.
We welcome relevant, respectful comments.