Climbing the Mountains
By JOL Admin | 7 May 2015
Guest Blogger: Peachester History Committee - Sunshine Coast Region
Series: Changing Landscapes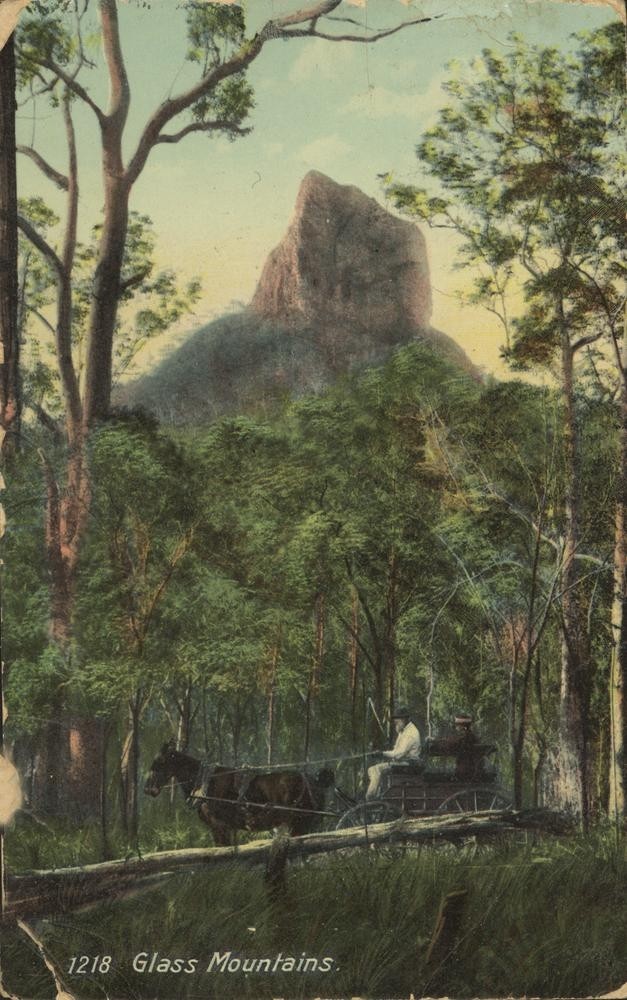 Glass Mountains, John Oxley Library, 4831 postcard collection
While those of us who live in Glasshouse Country may take them for granted, the Glasshouse Mountains have always been a focus of interest and speculation.
Professor Michael Meadows from Griffith University is an avid mountain climber and scholar who has made a special study of the climbing history of the Glasshouse Mountains. Peachester History Committee invited Michael as guest speaker at the group's December meeting in 2014. The theme of his talk was the story of the mountains and their place in climbing history, as well as sharing his wonderful collection of photographs.
Old Queensland newspapers (available through our favourite website Trove) abound with stories of locals and visitors who have relished the challenges posed by the Glasshouse peaks. Many of these people and their climbing feats have become legendary.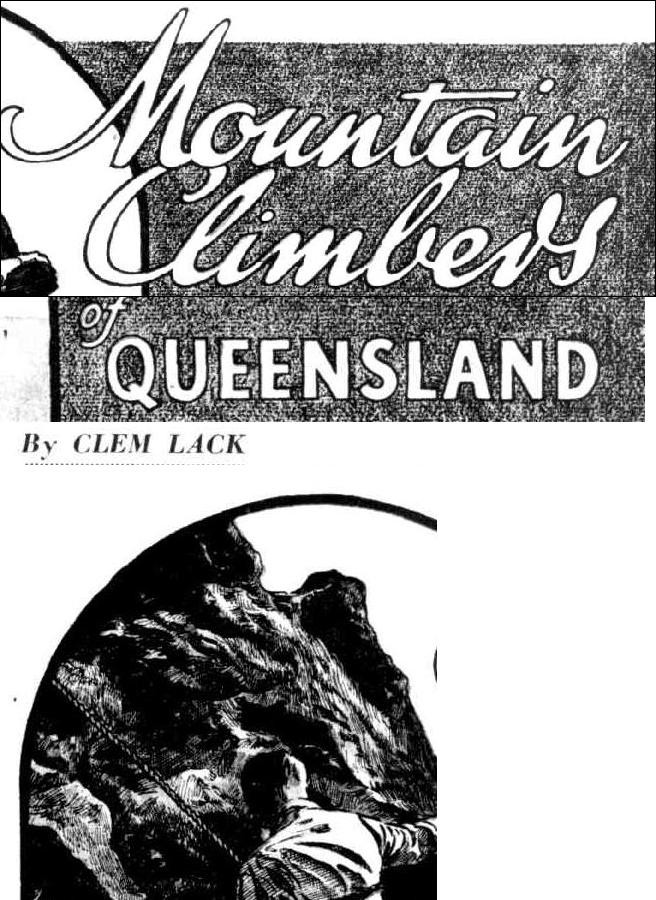 Article captioned 'Mountain Climbers of Queensland', Sunday Mail, 10 July 1938
An interesting review of climbing achievements and identities was published in the Sunday Mail, 10 July 1938, " Mountain Climbers of Queensland " by Clem Lack:
"What is it that gives mountain climbing its thrill? To most of us who suffer from vertigo even at low heights from the ground, this scaling of steep mountain sides seems a foolhardy game. But your real mountain climber, who scorns the use of ropes or other aids, relying only on finger and toe holds, finds in it the joy of achievement, the thrill of triumph over difficult and dangerous obstacles".
"...Mr A. A. Salmon, one of Queensland's most notable mountain climbers, told me that he climbs for exercise and the mental and physical stimulus it gives him, to say nothing of the view from the top!"
"...Some remarkable feats of endurance have been achieved by Queensland mountain climbers. One of the most notable in recent years was carried out in August last year when a party of three, comprising Dr F.W. Whitehouse, Jack Tregenza and Lloyd Gamble, succeeded in climbing the entire ten of the Glasshouse peaks in one day".
"...Mr Salmon says he gets a great 'kick' out of it and would rather cling like a fly to the side of a rock then cross a Queen Street intersection at the peak traffic hour. Mountain climbing, he says, is much safer than dodging motor cars!"
The Peachester History Committee and visitors met at the Peachester Hall to share mountain photos and memorabilia on display, including this image which was posted on the Peachester History Committee Facebook page. We invite you to comment and add your stories!
Helen Page, Peachester History Committee
Comments
Your email address will not be published.
We welcome relevant, respectful comments.