Christy Freeleagus, Prince of Commerce
By JOL Admin | 23 February 2017
Guest blogger: Toni Risson, 2016 Queensland Business Leaders Hall of Fame Fellow
Freeleagus brothers ca. 1929 (Christy front right). John Oxley Library SLQ neg. 50133
Prospects were bleak on the windswept island of Kythera in 1900 so twelve-year-old Christy Freeleagus set sail for Australia. He was put to work opening oysters in a café basement.
Christy believed that, if he opened enough of them, he would succeed in his new homeland, and by his mid-twenties he was head of a family empire that saw all ten Freeleagus brothers migrate to Brisbane.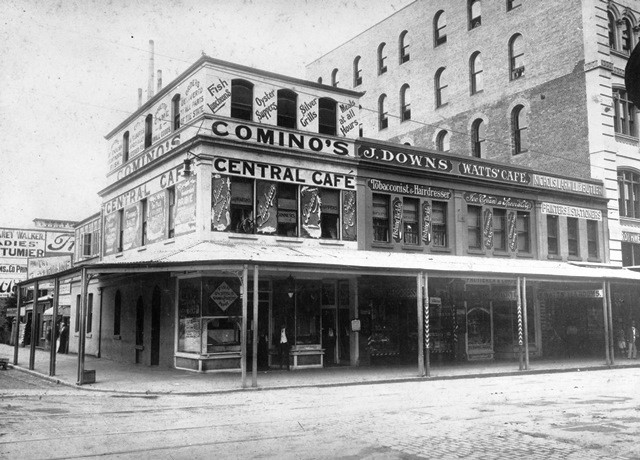 Cominos Central Cafe on the corner of Edward and Adelaide Streets Brisbane ca. 1910. John Oxley Library SLQ Neg. 67011
Christy and two older brothers set up shop in Brisbane in 1903, trading as Comino's—from Sydney. By 1914 the partnership operated the Paris Café in George Street, the City Café (formerly Central Café and Oyster Palace), a milk bar and a fish shop near the City Café, a large wholesale food business in South Brisbane called Fresh Food & Ice, a steam laundry, a café in Brunswick Street, and a café in Boonah.
Freeleaguses also owned a spacious home on the river, a house in Stanley Street where employees lodged, and the property on the Adelaide/Edward Street corner where, in 1929, they built the six-storey Astoria Café building. Freeleagus Bros provided the first Queensland employment for hundreds of Greek migrants.
Christy fathered Brisbane's Greek community and was Consul for Greece from 1919 until his death in 1957.
He strengthened ties when Greek neutrality caused unrest during WWI, and defended Greek shopkeepers in the wake of the Ferry Report (1925). He was also a high-ranking Freemason, leader of the Chamber of Commerce, and a founding member of the RACQ.
Christy (right) with Archbishop Timotheos ca. 1937 John Oxley Library SLQ. neg. no. 49880
"When I came here, there was so little," Christy said, looking out over Brisbane just before he died, "but I knew it would grow, and I would grow with it. Everything a migrant boy could dream of doing this wonderful country has given me the opportunity to do, it has been like a dream that has come true."
To hear Toni speak about Brisbane's Greek cafes, come along to A Year as an SLQ Fellow event at SLQ on Thursday 9 March at 5:15pm. Follow the links here for bookings
For more reading:
Johnston, W. Ross. Greek Emigration Research ca. 1930 - 1990, State Library of Queensland
Conomos, Denis. The Greeks in Queensland: a History from 1859-1945. State Library of Queensland
Comments
Your email address will not be published.
We welcome relevant, respectful comments.