Chinese cuisine comes to the Coast
By Simon Miller, Library Technician, State Library of Queensland | 8 February 2016
FROM as far south as Sydney, guests are arriving at Surfers' Paradise tonight for the official opening of the South Coast's first Chinese restaurant, the Cathay. An eight-course dinner will be served buffet-style to 700 guests, including the Deputy Premier (Mr. Duggan), the Attorney-General (Mr. Power), and Mrs. Power, Mr. M. Brosnan, M.L.A., and Mrs. Brosnan, the Mayor of the Town of the South Coast (Ald. L. Peak), and leading Brisbane business men, who are motoring down for the occasion. Ald. Peak, who will open the restaurant, will be welcomed by the manager (Mr. T. W. Young) and the assistant manager (Mr. M. Kilmartin). A full-length Chinese romantic movie will be filmed in the oriental tea-garden at the conclusion of dinner. Each dish served will be itemised for the benefit of the guests, each of whom will receive a souvenir programme with the recipe provided for each course on the menu at tonight's opening. Brisbane Telegraph 28 June 1952
A copy of this souvenir menu recently arrived at State Library for inclusion in our extensive ephemera collection. Part of this collection includes a number of boxes of Menus and Toast Lists consisting of restaurant and shipboard menus and menus and toast list for government functions and official dinners. The recipes included in the souvenir menu show that the food was not very authentic by contemporary standards with a lack of the kind of genuine Asian ingredients that are now readily available, but any kind of Asian cooking was thrillingly exotic in early 1950s Australia.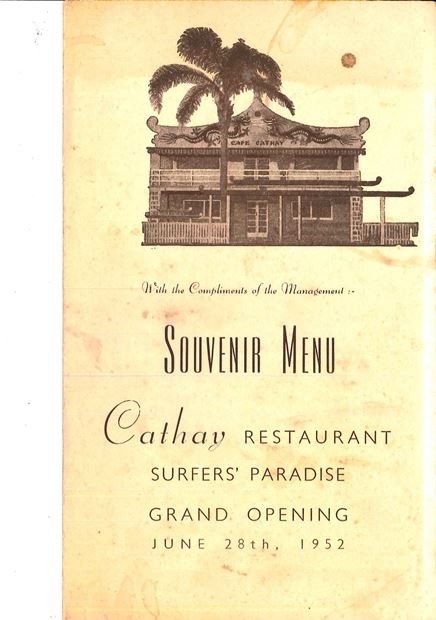 Souvenir menu Cathay Restaurant Surfers' Paradise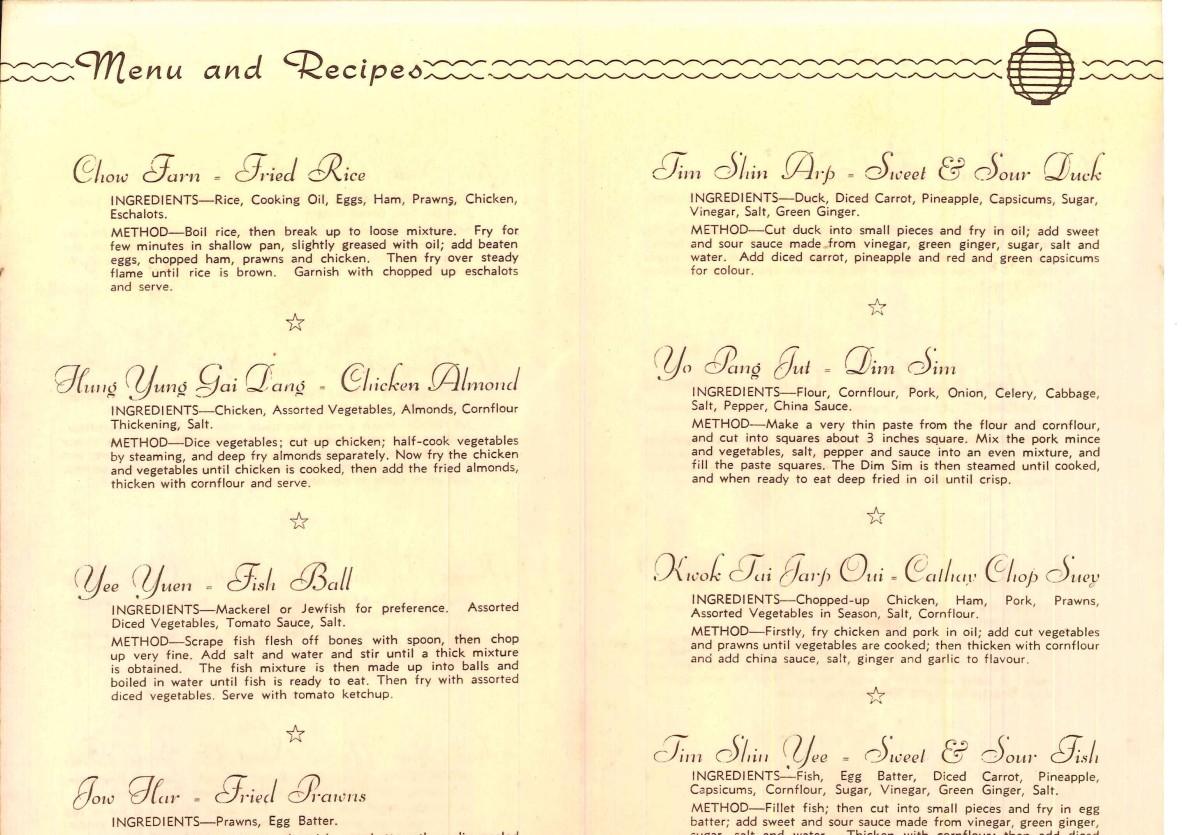 Souvenir Menu Cathay Restaurant menu and recipes
Souvenir Menu Cathay Restaurant menu and recipes
The Cafe Cathay was built by Tommy Wong Young, a Chinese-Australian entrepreneur who already ran a restaurant of the same name in Fortitude Valley. An article in the Sunday Mail gives some further detail about the building of the restaurant and the man behind it.
The Cathay has been built by South Coast tradesmen and technicians in the last three months, on a 100ft. frontage to the Pacific Highway. Its ground floor has a milk bar, novelty shop, and public dining-room, with seating capacity for 100 people, opening on to an Oriental tea garden, which seats 200 people. The man behind the enterprise is Chinese-born Mr. T. W. Young, now in his 70's. In 1909 he began a cafe business in Tenterfield (N.S.W.) with a capital of £140. Since then he has owned cafes from Brisbane to Melbourne.
In 1953 Tommy Young expanded the restaurant complex, spending £40,000 developing the block next door to create the Cathay Square complex which included a shopping arcade, tropical gardens with pools and a bridge and the Cathay Chalet holiday flats. A photograph of Cathay Square was featured in a 1956 article in The Australian Women's Weekly.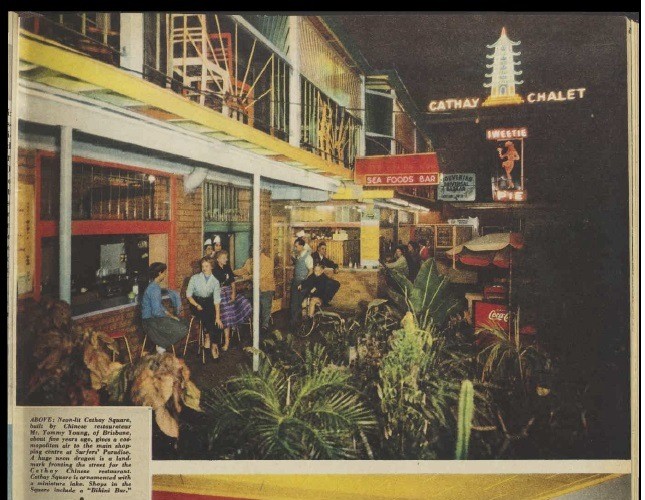 Cathay Square illustration from The Australian Womens Weekly 24 October 1956
Cathay Square illustration from The Australian Womens Weekly 24 October 1956
The Cafe Cathay boasted a huge neon sign in the form of two dragons. At the time this was the largest neon sign in Queensland. The Cafe Cathay soon became a favourite photograph spot for tourists.
More information about Tommy Young can be found in the catalogue of an exhibition The perfect fit : multicultural entrepreneurs of the Gold Coast which is available in the PANDORA digital archive.
Part of his skill came from his links with the Chinese community, which in the face of institutionalised racism, benefitted them all by raising funds unavailable from banks. He also had a gregarious and hospitable personality which enabled him to develop and sustain friendly links with people from the broader Australian community which also assisted his business ventures.
Photographs of Tommy Young and his family can be found in the Chinese-Australian Historical Images in Australia (CHIA) database
After Tommy Young died in 1965 the restaurant complex was demolished to make way for the Centre Arcade.
Simon Miller - Library Technician, State Library of Queensland
Comments
Your email address will not be published.
We welcome relevant, respectful comments.