Chermside
By JOL Admin | 5 June 2009
Chermside is a well known location to Brisbane's northsiders, especially due to the popularity of the large Westfield Chermside Shopping Centre.
The suburb of Chermside was named in honour of Sir Herbert Chermside a former Governor of Queensland (1901-04). The area was previously known as Downfall Creek however the name was changed to Chermside in 1903, due to the efforts of James Youatt, a local teacher.
The early settlers and residents in the area included:
Andrew Hamilton and family (1866) who purchased land in an area that was then known as Deadman's Gully.
William Bell who purchased a property adjoining Andrew Hamilton's.
Aaron Adsett.
German immigrants settled in the period after 1860 in the area adjacent to the present intersection of Hamilton and Webster Roads. These included the Hermann Family, Frederick Lenz and Christian Bachmann.
Blacksmiths and coach builders. Andrew Hamilton's Five Mile Town Shoeing Forge and General Smith.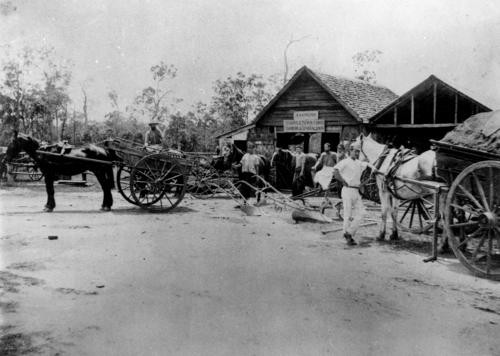 Andrew Hamilton's blacksmith shop on Gympie Road, Chermside, ca. 1890, John Oxley Library, State Library of Queensland, Image No: 6105
Charles Murr's Blacksmith's Forge.
August Vellnagel who worked for Murr in the 1890s offered to purchase the forge but was unsuccessful. He eventually opened his own forge on a site in Gympie Road near the entrance to Marchant Park.
Slaughter Yards. Dow and Slack; Alonza Sparkes; Bert Robinson.
General Stores. John Patterson (1870s) in Gympie Road; Gottlieb Conradi's Potsloe Store (1880, named after an adjoining land subdivision); William Sammell; Joe Fisher's Noah's Ark Store; J. & K. Lemke, Butchers.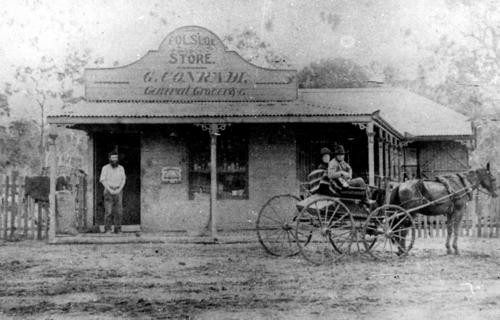 Gottlieb Conradi's general store on Gympie Road, Chermside, ca. 1888, John Oxley Library, State Library of Queensland, Image No: 6096
The Chermside Theatre was opened in 1928 with the first feature being The man who laughs. The theatre later changed its name to the Dawn Theatre, which has subsequently closed.
Horse Buses. The first horse bus service commenced October, 1886 with the awarding of a mail contract to David Goodrem of the Edinburgh Castle Hotel.
The tram service was extended to Chermside in March 1947.
Some local sites of interest include:
Marchant Park. William Edward Murphy purchased approximately 204 hectares in 1868 for £372. Soon after, George Marchant bought a portion of this land for use as a spelling paddock for his horses. Later, in 1918, the Kedron Shire Council, under public pressure to develop more parkland in its area approached George Marchant and he eventually donated land as a park.
Kidston Park. Named in honour of William Kidston, former Premier of Queensland.
Annand Park. Named in honour of Colonel Frederick William Gadsby Annand, an early Town Clerk.
Bradbury Park. Named in honour of Alderman F.W. Bradbury, an early Brisbane City Council Alderman.
Chermside Garden Settlement. Opened in 1936.
United Free Methodist Church, on the Adsett Property (1873).
Church of England, in the School of Arts Building (1910).
Assemblies of God (1922).
Congregational Church (1932).
Presbyterian Church (1961).
Catholic Church (1962).
Lutheran Church (1963).
1859 – only a few residents in the area. Early survey maps show that the Chermside section of the track which would later become Gympie Road, existed.
1864 – The Queensland government requested Edgar Huxtable, a surveyor, to draw subdivision plans for the Chermside/Aspley area.
1865 – First land sales took place.
1867 – Gympie Gold Rush has a positive impact on the area, particularly the areas along the road to Gympie.
1900 – Chermside State School opened on 7 July 1900.
1947 – Tram service extended to Chermside.
1957 – The Allan & Stark Drive-in shopping centre is opened – the first such shopping centre in Queensland.
Interior of Allan and Stark Limited, Chermside, ca. 1957, John Oxley Library, State Library of Queensland, Image No: 119383
1959 – The Chermside Hospital is opened as a chest clinic. It was later re-named the Prince Charles Hospital.
1975 – The area encompassing North Chermside is gazetted as being within the suburb of Geebung.
View more photographs of Chermside on our One Search catalogue.
Comments
Your email address will not be published.
We welcome relevant, respectful comments.