Chasing Alexander McKee (1872-1927) - Architect
By JOL Admin | 2 October 2012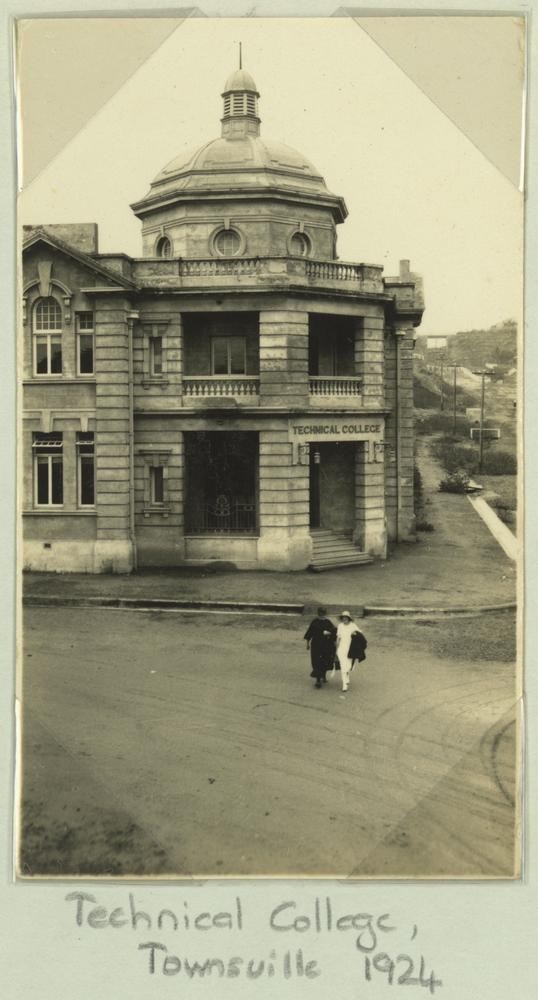 Townsville Technical College - designed by architect Alexander McKee. Built in 1920/1 Townsville Technical College is an example of an interwar public building in the classical style and is an excellent intact example of an early 20th century educational building designed by the Architectural Branch of the Queensland Department of Works. State Library of Queensland. Image number: APA-063-0001-0017
Researching the careers of architects who died prematurely, or unmarried, or childless, or without records of their employment is not easy. One such architect is Alexander McKee who was born and trained in Glasgow and who migrated in 1908 to Queensland where he joined the Public Works Department. He rose through the ranks of the Architectural Branch to the role of Architect in 1923. In Brisbane he married Maude Elizabeth Harrison in 1908. Their only child Jean Elizabeth Douglas was born in 1913. In 1916 Maude died and in 1926 McKee became ill with cancer of the pancreas which led to his premature death in April 1927 leaving Jean an orphan. Records of the Works Department held by the Queensland State Archives include the second of two batches relating to his employment. Unfortunately the first of these batches which would probably have contained information on his Scottish training and career has not been found.
Where else might this missing information be found?
Did Alexander leave anything for his fourteen year old daughter Jean which explained his background? When he died, Beatrice, the wife of a friend John Bell became Jean's guardian. Before Alexander's death Jean had attended the Yeronga State School and from 1922-26 the Brisbane High School for Girls (now Somerville House). Her report card indicates that she was "A very promising little pupil" but when McKee became sick she left the school. In 1939 Jean is listed as a typist of Lytton Rd, East Brisbane. She may have worked for the Postmaster-General. A Jean McKee was bridesmaid at the wedding of Lucy Atherton and William McAlister in 1937. Someone of the same name attended the GPO Ball in 1938. Her picture appeared in the Courier-Mail. A Miss Jean McKee worked for the Broadcast Division of the Department of Information during World War 2. It is not known if Jean married or where she died. Do any surviving children of the McAlister's know what happened to their mother's bridesmaid?
If not Jean, might a descendent of her guardian know something? Jean's guardian Beatrice Bell died in 1958. She had a son and daughter – Sylvia Mary born in 1912 and Frederick John born in 1914. It is not known if they married. Any children born to them could still be living. They may have known Jean as 'an aunt'.
Might any descendents of Alexander's family in Scotland have information? In 1891, Alexander had two brothers, James (b. 1871) a bookseller's clerk; and Henry Logan (b. 1877), then a scholar, but by 1901, a student of chemistry. Perhaps descendants have a letter in which Alexander McKee describes what was doing in Brisbane?
Don Watson - John Oxley Library Fellow, State Library of Queensland
Comments
Your email address will not be published.
We welcome relevant, respectful comments.