Chalk's top hat now adorning JOL
By JOL Admin | 29 January 2009
Sir Gordon Chalk's top hat, recently been acquired by the John Oxley Library.
A top hat and neck tie once owned by former Queensland Premier, Sir Gordon Chalk, has recently been acquired by the John Oxley Library.
Sir Gordon Chalk (1913 – 1991) was the 30th Premier of Queensland, being sworn in on 1 August 1968 after the sudden death of then Premier Jack Pizzey. Chalk was Premier for only a week, as Johannes Bjelke-Petersen was elected Premier on 8 August 1968. He was the first, and so far only, Queensland Premier drawn from the modern day Liberal Party.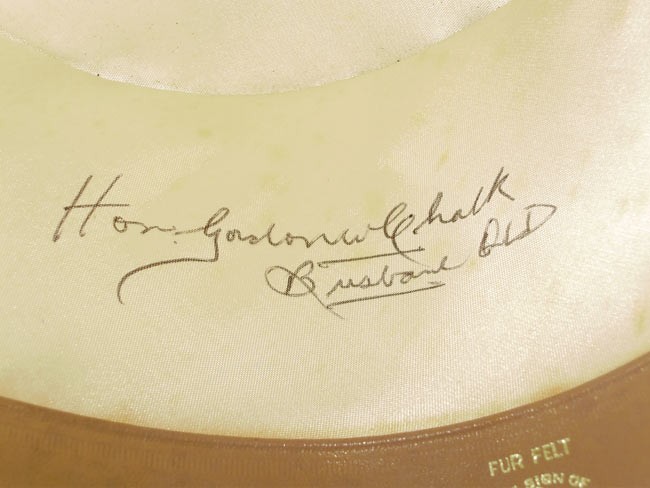 Signature of Sir Gordon Chalk, former Premier of Queensland, on the inner lining of his top hat.
The top hat, made in England for Henry Bucks of Melbourne, was originally owned by optometrist Trevor Henderson. It was given to Sir Gordon Chalk by Charles Augustus 'Big Bill' Edwards, then president of the Lawn Tennis Association of Australia. The signatures of all three owners of the hat appear inside the lining.
After Sir Gordon Chalk's death, his suits were donated to the Brisbane Arts Theatre by his wife, Lady Chalk. The suits were used as costumes for many productions at the theatre, but the top hat was never used, being kept in pristine condition in an antique leather hat box.
Comments
Your email address will not be published.
We welcome relevant, respectful comments.