"Cannon Hill" what's in a name
By JOL Admin | 26 February 2015
After some interest in the suburb of Cannon Hill from local residents regarding the origin of its name and some investigation into its history, I have put together a summary of my findings on the subject from records available at the State Library of Queensland.
Cannon Hill is a residential suburb on Wynnum Road and approximately 5 kms as the crow flies from central Brisbane. The name is variously thought to have come from two tree stumps, noted by a surveyor, as resembling cannon. Mr. Woods, an early settler, claimed that the name was in honor of his son Ernest, who in 1864 took shelter in a hollow log on the hill, just outside the gates of where Cannon Hill House was later built. Others say its name more likely originated, from Cannon Hill House (1867) which was built by the Weedon family, opposite the present primary school.
In the 1860's, when the area between the township of Bulimba and the farming district of Tingalpa began to be settled, much of the available land had been acquired by prosperous landowners – Henry O'Reilly owned a large slice of Murarrie, Charles Coxen owned 44 acres where K-Mart stands today, David Longland owned the Morningside Estate, and Richard Weedon owned over 120 acres between Wynnum Road (or New Cleveland Road as it was known until the 1950's) and Junction Road.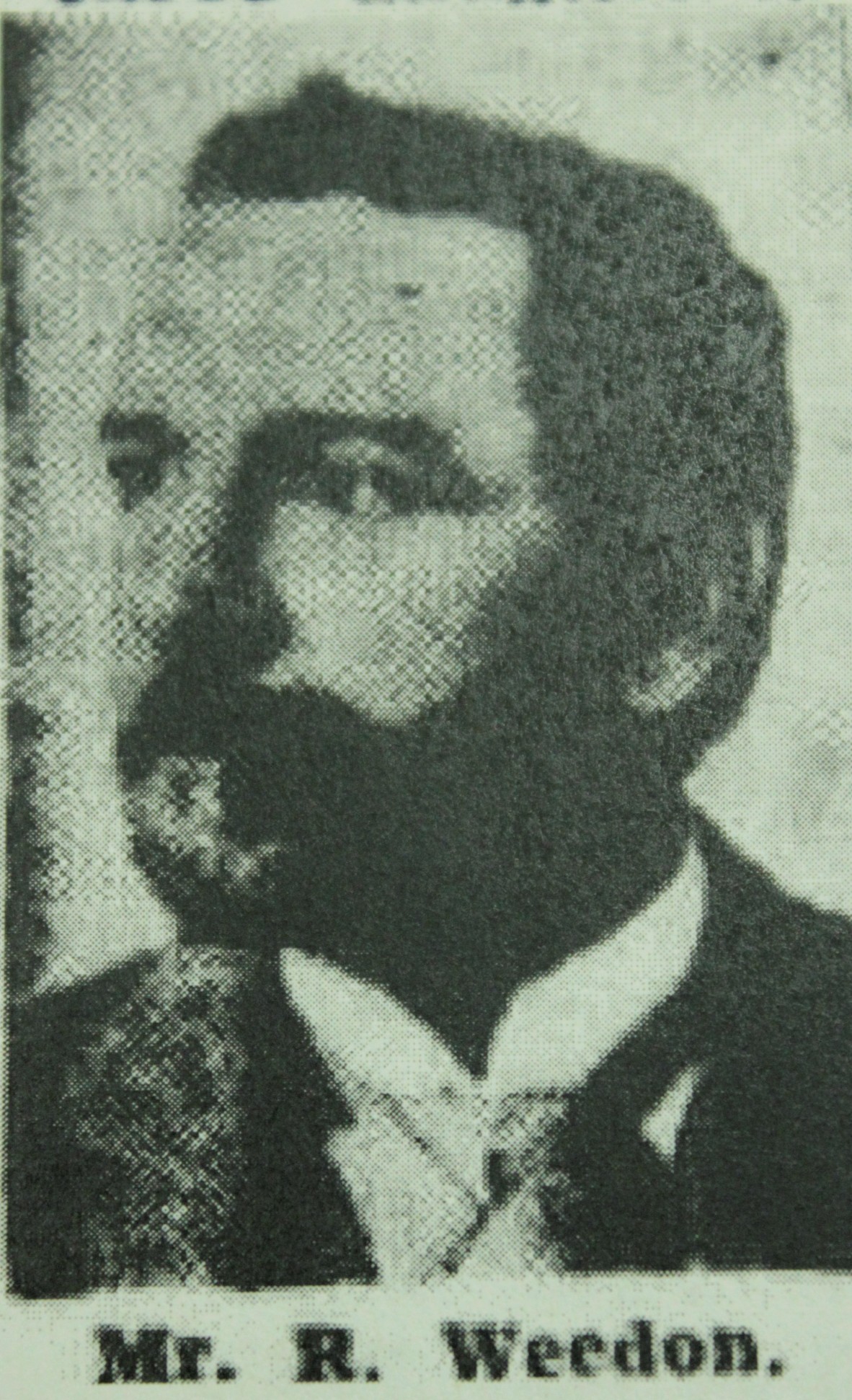 Mr. Redman Weedon
Mr. Redman Weedon's obituary published in the Queenslander on 13 December 1934 stated that his family had arrived in 1866 and purchased land at Cannon Hill, Springfield and Oxley. Richard Weedon and his mother, Susannah, built a 24 roomed house on the New Cleveland Road property, which consisted of a considerable estate held on three deeds. The house was built of cedar, with a roof of split hardwood shingles and iron. It had several bedrooms, a drawing room, an ante room, a dining room, kitchen, pantry and a closet attached at the rear. There was also an adjoining smaller building at the rear which housed three servants; consisting of a cook, housemaid and a gardener.
Richard's wife, Elizabeth Redman, came from a family who had been arms manufacturers to Royalty and were connected to the Birmingham Small Arms Company. It is believed that Richard Weedon was BSA's first chairman.
Cannon Hill House
It is possible that Richard was inspired to adopt the name "Cannon Hill Park" for the house that he and his mother had built on the Cleveland Road land after a botanical reserve near the BSA factory in Birmingham. "Cannon Hill House" with its steep roof and two tall chimneys was a landmark in the area for many years. The spectacular gardens were the location for many grand parties, entertaining Brisbane's social set and occupying the Weedon family on most weekends. Through the precise collection and cultivation of a variety of plants and trees an amazing garden was created. In the grounds there was a maze, whose design was replicated from that which is in the grounds of Hampton Court, beside the River Thames in England. There were exotic trees, ornamental plants as well as fruits grown on the property, some of which were still in cultivation in the 1930's. The garden remained long after the house had gone. The Weedon's sold the house after Richard's death and its new owner, Mr. Wragge, changed it's name to Jolimount. Sadly this house and most of its contents, except a grand piano and a carpet, were destroyed in March 1926 by fire.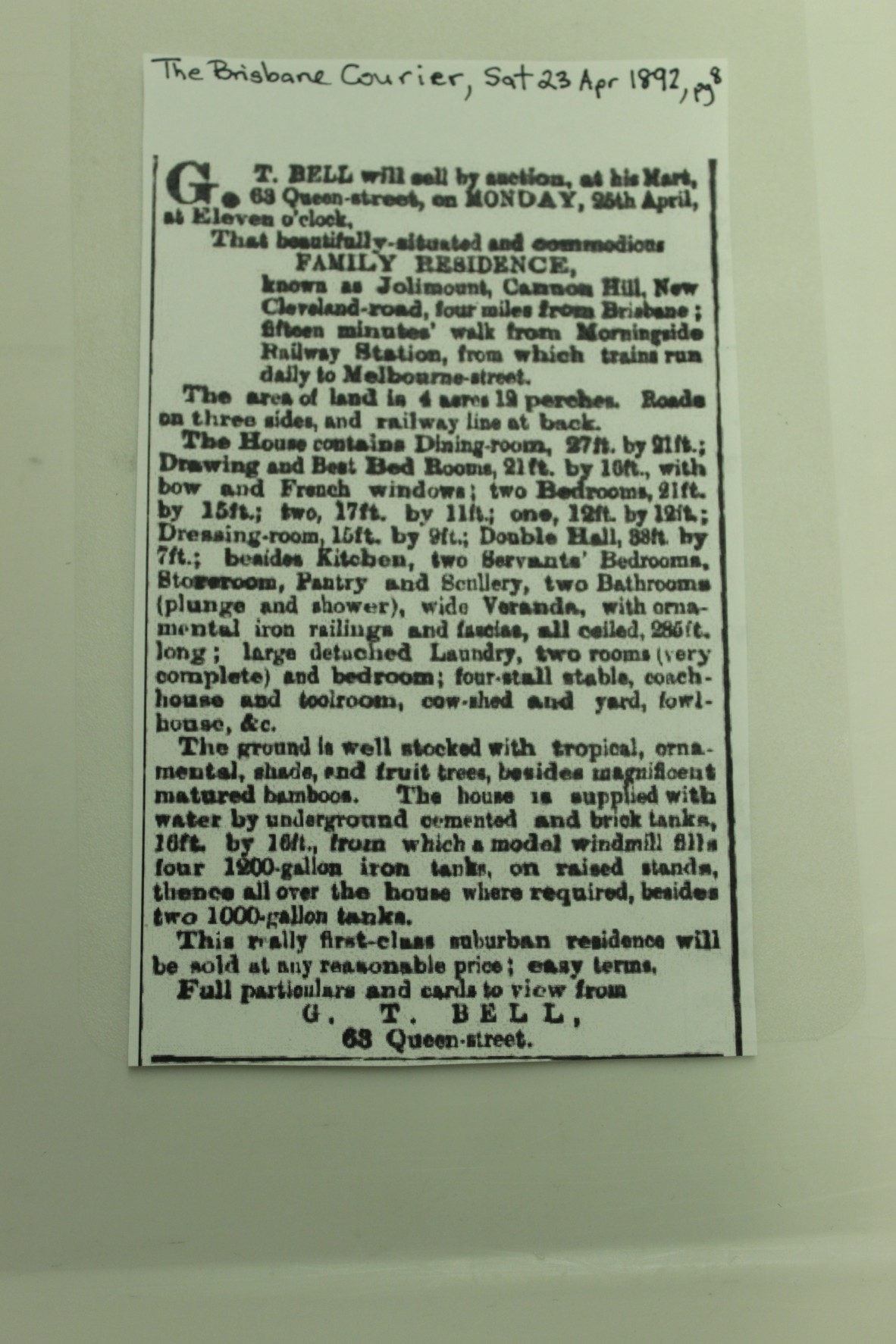 For Sale - Jolimount
Comments
Your email address will not be published.
We welcome relevant, respectful comments.