Bulcock Estate, Caloundra, 1917 (Map of the Week)
By Myles Sinnamon - Project Coordinator, State Library of Queensland | 22 August 2016
State Library of Queensland has an extensive collection of historical maps of Queensland, some of which have been digitised and can be viewed online.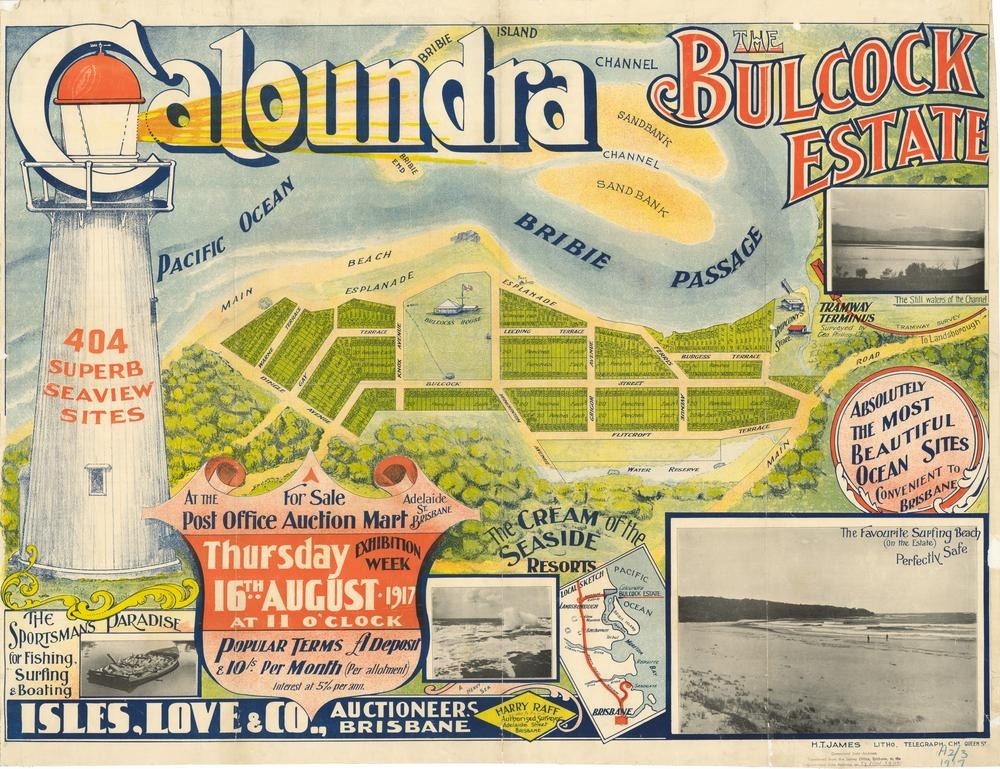 Bulcock Estate, Caloundra, 1917. John Oxley Library, State Library of Queensland
This real estate map from 1917 advertises 404 allotments of land for sale at the Bulcock Estate in Caloundra on the Sunshine Coast. There is a discrepancy between the map and newspaper advertisements for the sale which report 353 allotments being available.
The allotments for sale were situated along Bulcock Street, The Esplanade, Warne Terrace, Dingle Avenue, Knox Avenue, Minchinton Street, Leeding Terrace, Grigor Avenue (now Otranto Avenue), Flitcroft Terrace (now Omrah Avenue), Ferris Avenue (now Tay Avenue and Centaur Street), Burgess Terrace (now Maloja Avenue) and Gay Terrace (now Lower Gay Terrace).
The map also shows the property Bulcock's House (also known as The Homestead). The house was built in 1878 by Robert Bulcock.
Prior to the sale extensive publicity was published in Brisbane newspapers -
"The only seaside in South Queensland where mosquitoes and sandflies don't pester your life out. The Bulcock Estate has also the advantage of the smooth-water frontage inside the bar, and the fishing, bathing, are unequalled.". (Daily Mail, August 11, 1917)
Advertisement for the Bulcock Estate. Published in the Daily Mail newspaper, August 11, 1917
A public auction was held at the Post Office Auction Mart in Adelaide Street, Brisbane on the morning of August 16, 1917. The Daily Mail newspaper reported the results of the auction -
"Messrs. Isles, Love, and Co. held three important sales during the week. The first was the Caloundra Estate... There was a large attendance of buyers, and keen competition prevailed throughout. Upwards of £3500 worth of land was sold [approximately $320,000 today), the prices for the allotment ranging up to £40 each (approximately $3,700 today). Buyers came from Gympie, Maleny, Kingaroy, Palmwoods, Mooloolah, Rosewood districts. Since the sale the auctioneers have disposed of 10 allotments; the balance are available, and are being held for private sale." (Daily Mail, Brisbane, August 22, 1917)
A higher resolution image of this map can be viewed and downloaded through our One Search catalogue.
You can also browse a compendium of our previous maps of the week.
Myles Sinnamon – Project Coordinator, State Library of Queensland
Comments
Your email address will not be published.
We welcome relevant, respectful comments.