Brisbane's First Street Markets – the Spring Hill Fair 1973
By JOL Admin | 7 October 2016
Having located a snippet of ephemera in the Centaur Memorial Fund for Nurses collection at SLQ, Madonna Grehan, guest blogger and 2015 John Oxley Fellow, revisits the Spring Hill Fair, a vibrant community event.
Local identity and antique dealer, Celia McNally MBE, has been credited with the idea of holding a fete at Spring Hill, initially as a community-building exercise for the suburb and later as an event open to the broader public. Held on Saturday 20 October 1973, Spring Hill's first "official" Fair was promoted as Brisbane's inaugural open-air street markets, the city's answer to the famous Portobello Road markets in London.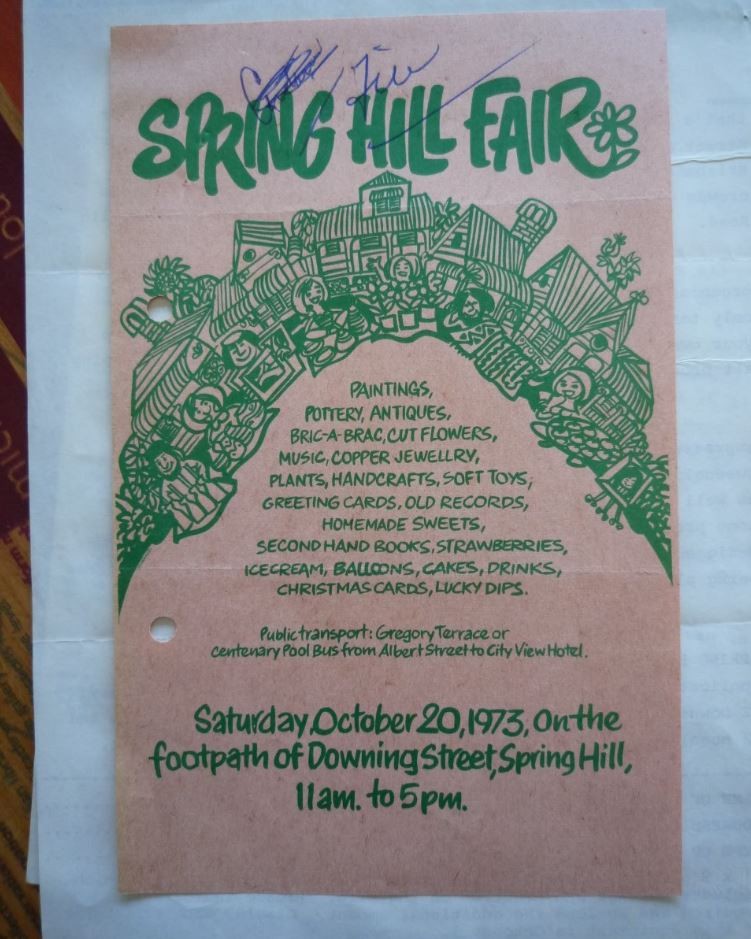 Flyer from the first Spring Hill Fair (SLQ collection)
At Spring Hill, the Fair was staged on a footprint of Downing, Birley St and Leichardt Streets. These thoroughfares were closed to traffic from 11am to 5pm, to allow stalls to operate on the roadways. A range of locally-produced goods and crafts were on offer to discerning buyers: paintings, pottery, antiques, bric-a-brac, cut flowers, music, copper jewellery, plants, handcrafts, soft toys, greeting cards, old records, sweets, art works of copper, home-made food, and Christmas cards. Proceeds from the first market went to two organisations: Youth Hostels Australia and Project Concern Australia, the latter affiliated with the Australian Council for Overseas Aid. Perhaps indicative of Celia McNally's connections, cultural organisations supported the Fair. Among them were: the Design Arts Centre, the Reid Gallery, the Royal QLD Art Society Gallery, and the Young Australian Gallery.
In 1973, the Centaur Memorial Fund for Nurses was a new comer to Spring Hill. The organisation had relocated to 391 Wickham Terrace the previous year, having sold its substantial property Centaur House at 337 Queen Street. The Fund purchased two substantial homes and subsequently demolished them. Sydenham was a former reception venue; Glenrowan had been a boarding house, owned and operated by the well-regarded Miss Laura W Fiori. In their place, a six-storey Centaur House was constructed at the corner of Twine Street and Wickham Terrace, with a view to Albert Park, now part of the Roma Street Parklands.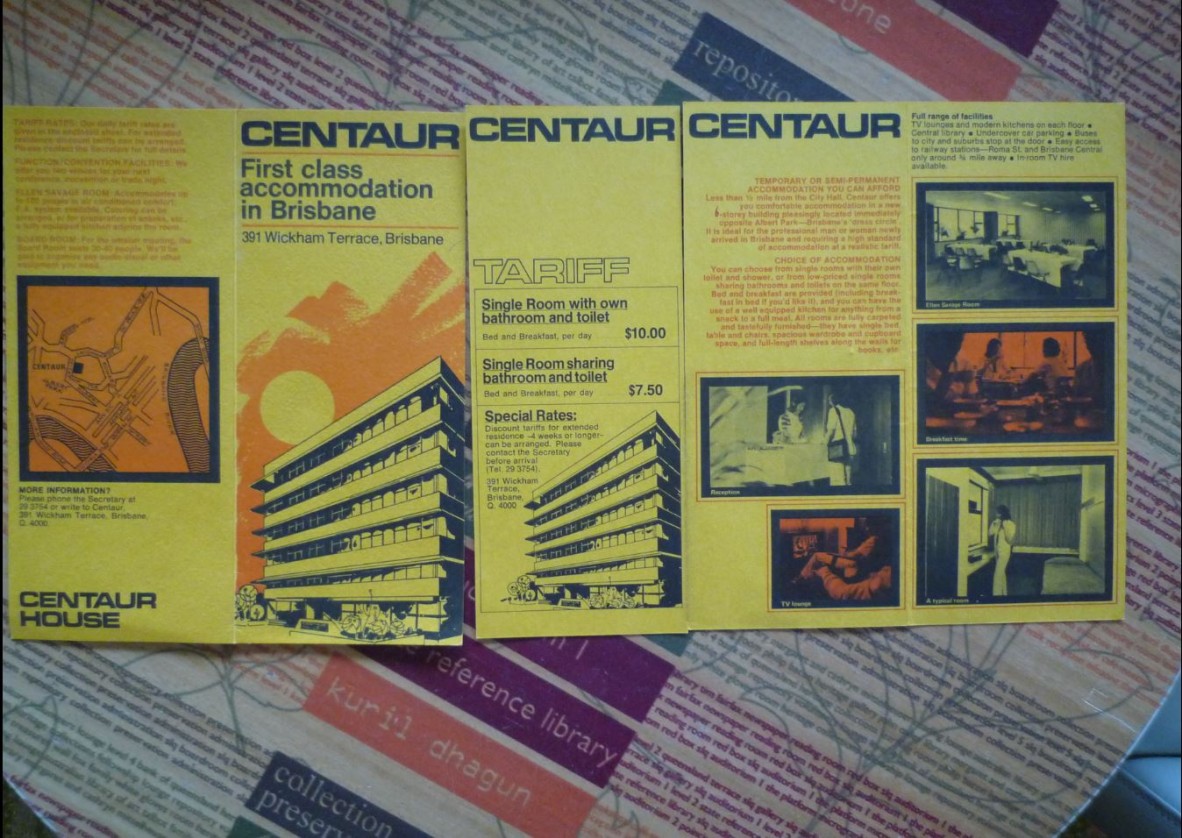 Centaur House (SLQ collection)
Grace Tingey of Project Concern wrote to the Centaur Memorial Fund in September 1973, just four weeks before the Spring Hill Fair, inviting the Fund's to join in. A stall or exhibit then cost $10. By 1976 the Spring Hill Fair had expanded to two days, and was marketed as a colourful bonanza for young and old alike, with a Miss Springtime Quest, fence painting, merry-go-rounds, and dodgem cars adding to existing stalls. Hire of space for a stall had risen considerably in three years, to $25.
Spring Hill's Fair operated for around 20 years. In 2013 it was revived by the Brisbane Central State School. In 2014 and 2015, the suburb celebrated a new event with Spring Hill Alive.
Resources
Dr Madonna Grehan was the recipient of the 2015 John Oxley Library Fellowship.Her research articles on the Centaur Memorial Fund can be found here:
Comments
Your email address will not be published.
We welcome relevant, respectful comments.