Brisbane Radio Station 4ZZZ - 40th anniversary
By Myles Sinnamon - Project Coordinator, State Library of Queensland | 5 December 2015
"The initiatives to apply for a broadcast licence came from a group of young Brisbane people who were dissatisfied with the existing local media, and who felt that this could only be remedied by community control of a mass media outlet... We felt that radio could be both creative and informative - that it could provide for our needs in music, humour and satire while also providing accurate news and community information". (4ZZZ letter, 1975, SLQ ephemera collection)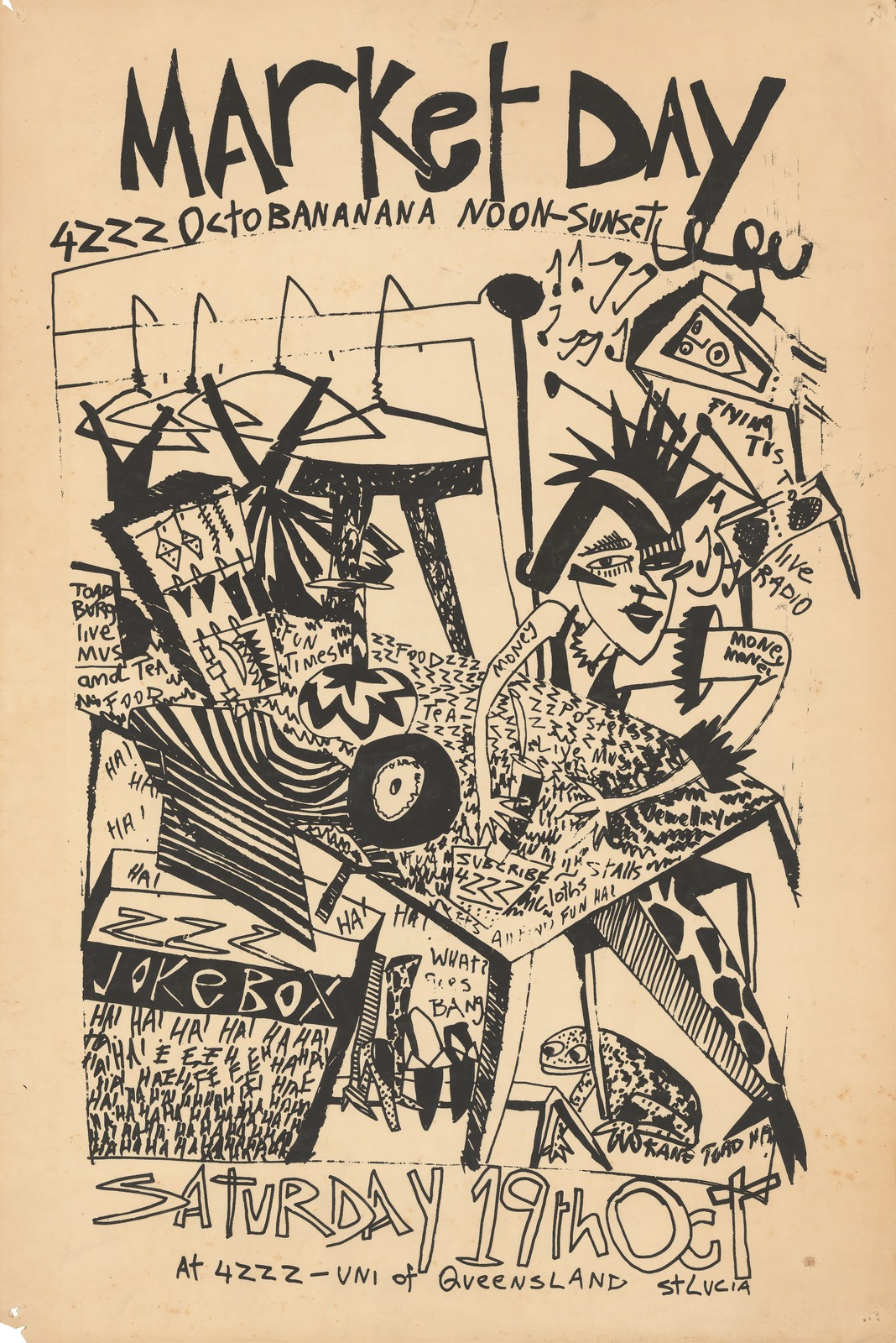 Market day : 4zzz Octo Bananana Noon-Sunset, 1985. (In copyright). State Library of Queensland collection
On December 8, 1975, Brisbane community FM radio station 4ZZZopen_in_new first went to air (under their original call sign 4ZZ-FM). Since that time the station has provided an outlet for Brisbane's alternative music scene and community news. It is also a forum for the voice for Brisbane's youth.
State Library is active in acquiring and preserving published and unpublished materials (such as posters, flyers, tickets and photographs) documenting Queensland's music history - 4ZZZ is of course no exception.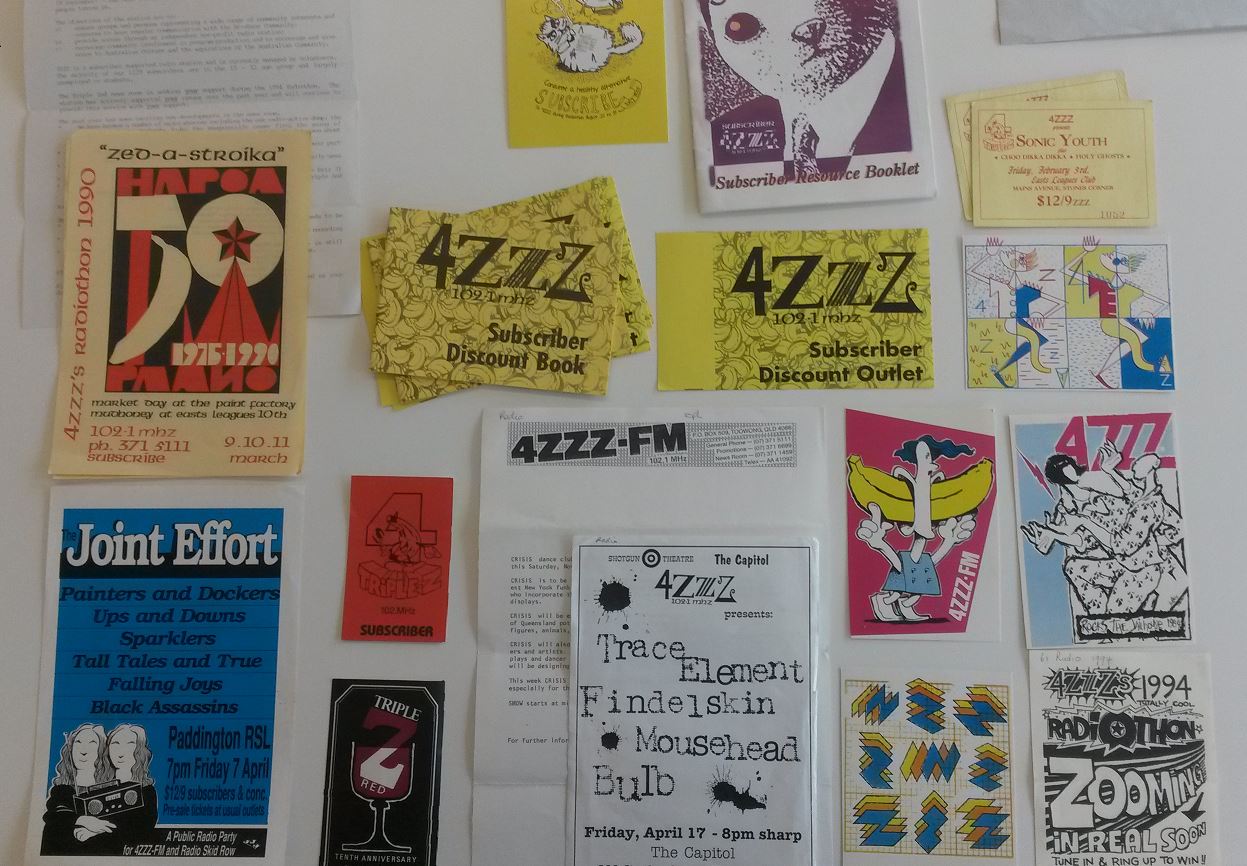 4ZZZ ephemera collection. State Library of Queensland
Among our ephemera collection for 4ZZZ are two items produced just prior to the first broadcast. One is a flyer promoting the new station, how it worked as well as asking for subscriptions.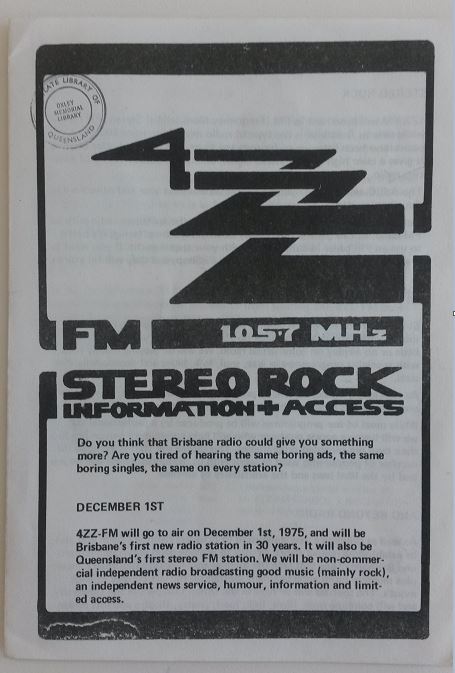 Promotional flyer prior to 4ZZ-FM's launch. SLQ ephemera collection
"While most of our programmes will be produced by a professional staff, we will have an access producer who will help community groups produce their own pre-recorded programmes...We will be making ourselves self-supporting in a number of ways, but the most important means of fund-raising will be the 4ZZ-FM Subscription. Basically your Subscription is to help keep the station on air".
The second item is a letter which was sent out to community organisations by the access producer a month prior to the launch asking for support.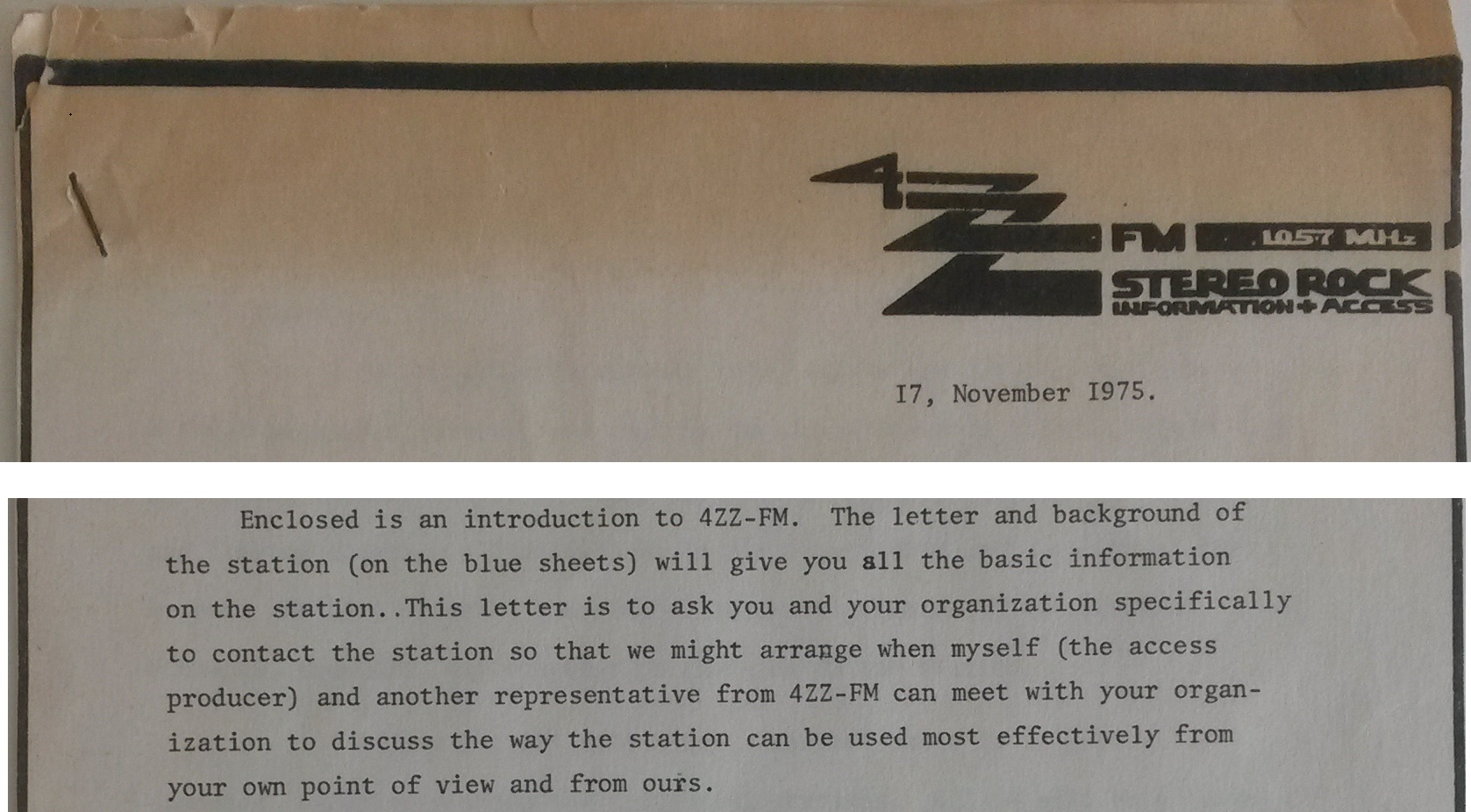 Extract of a letter from 4ZZZ, November 1975. SLQ ephemera collection
"We wish the station to work as a coordinating centre in Brisbane as part of the overall idea of an 'alternative' radio station, the only way the former is possible is with your help and participation".
The letter also details their target audience -
"...it was decided to cater to the 13-30 year group. Contrary to popular opinion, the musical tastes of this group are not catered for by existing commercial radio. Rather, they are bludgeoned by an outlet that plays only two and a half minute 'Top 40' singles (to allow for endless commercials)".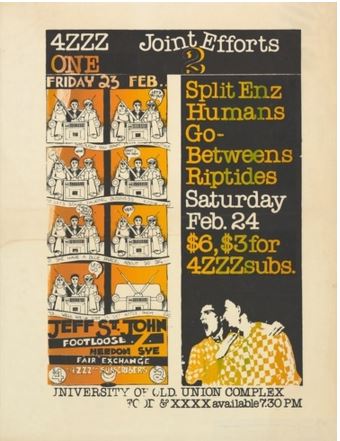 4ZZZ joint efforts : one 2. (In copyright). State Library of Queensland collection.
Our collection also includes a number of 4ZZZ posters. On example is a poster from February 24, 19??, promoting New Zealand band Split Enz appearance at the University of Queensland Union Complex. Also on the bill were two influential Brisbane bands, The Go-Betweens and The Riptides.
SLQ is also active in collecting Queensland produced LP's and singles. Two examples from our collection related to 4ZZZ are the 45 single of Pig City and the LP compilation, State of Emergence. The 1984 political protest song, Pig City by the Brisbane band, The Parameters was recorded at 4ZZZ. The 1986 LP, State of Emergence, was produced by 4ZZZ, and promotes Brisbane bands such as Trash For All Nations, Post No Bills and Mop And The Dropouts.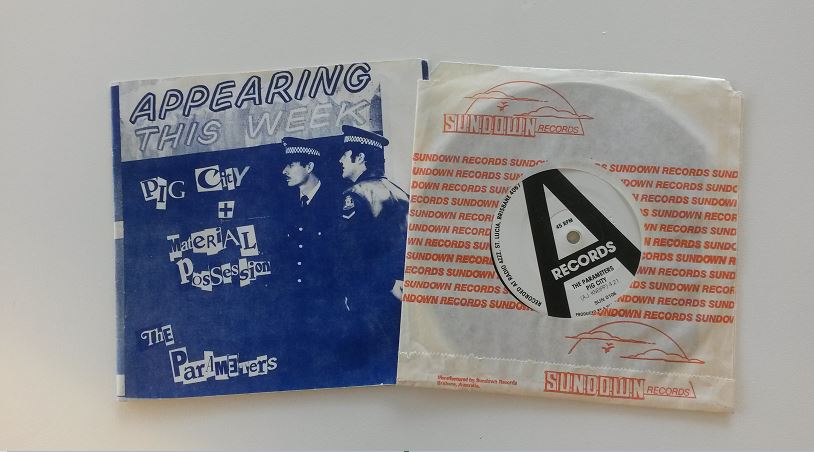 Pig City single - The Parameters (1984). John Oxley Library, State Library of Queensland.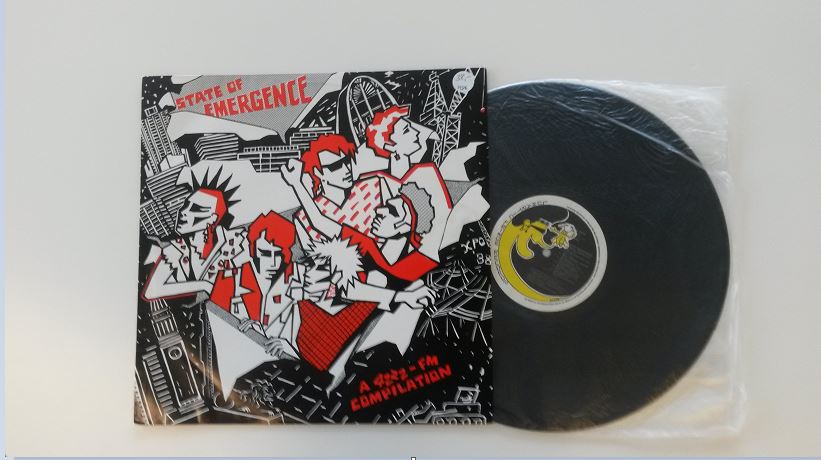 State of Emergence LP (1986). John Oxley Library, State Library of Queensland
Do you have any materials (recordings, flyers, posters, reviews, tickets, films, videos, photos, letters, and other memorabilia) from Queensland's music scene gathering dust at home? This material would have a valuable place in our music history and cultural heritage and should be looked after and preserved for current and future generations. Please contact us about any material you think should come to the library.
You can discover more about the origin story behind 4ZZZ in this 2006 documentary which was produced for the Taking To The Streets exhibition at the Museum of Brisbane.
Myles Sinnamon - Project Coordinator, State Library of Queensland
Comments
Your email address will not be published.
We welcome relevant, respectful comments.