Brisbane Hunt Club
By JOL Admin | 17 June 2011
Looking at the book Moreton - Bay Sesqui - Centenary 1824 - 1974, I was amazed by an article on the history of the Brisbane Hunt Club. The first club began in April 1867 and was started by Captain Creagh of the 50th Brisbane Foot Regiment stationed in Brisbane. He and his friends procured some hounds and periodically indulged in dingo and kangaroo hunts. The initial club, known as the South Brisbane Hunt Club, started with 30 members.
Judge Pring, D. T. Seymour and Captain Creagh were its leading supporters with many good meets held at Rocklea, Cooper's Plains and Eagle Farm. The club ran for a short period and was disbanded in the 1870s. (Queenslander, July 16 1931 p 15.) In 1888 Adolph Feez, a keen judge and breeder of horses, was founder and Master of the Brisbane Hunt Club. (ADB online Adolph Frederick Milford Feezopen_in_new). This club had a large following with a "Master", a "Whip", a pack of English foxhounds, pink-coated huntsmen and all the assorted paraphernalia! In the early years the riders hunted dingoes and kangaroo but eventually the hounds followed an aniseed drag.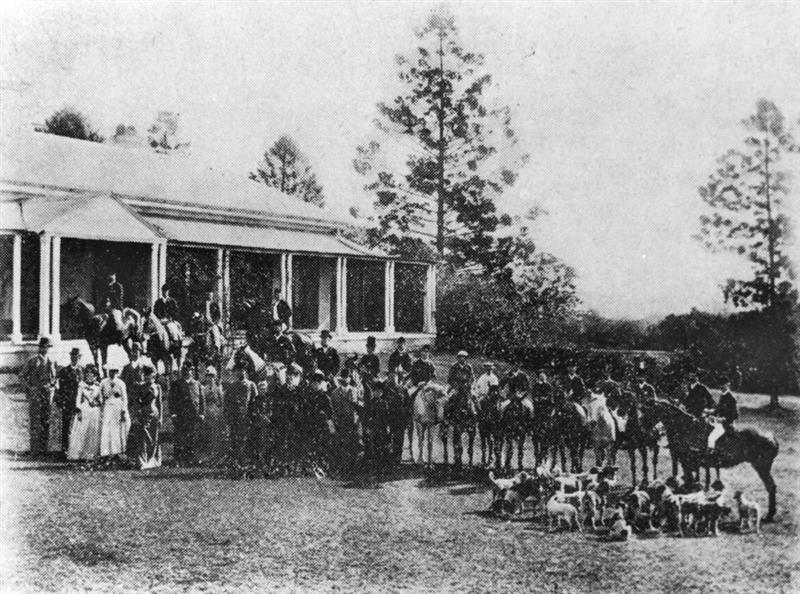 Brisbane Hunt Club outside George Thorne's residence, Claremont. John Oxley Library image number 173561
One Saturday in September 1889 the club set off for a meeting in Ipswich and a special train carried all the riders and their horses from Roma Street Railway Station. Spectators crowded the Ipswich station to see the riders in their red coats and the pack of hounds. The 250 horsemen were followed by 1000 spectators including over 300 on horseback riding in carriages, buggies and carts. The huntsmen were warmly cheered and described as "one of the greatest and best looking calvalcades ever seen in the city of Ipswich". The throw off took place just near the cemetary, across a number of paddocks including O'Keefe's and McGill's across Foote's to finish at the drag between Limestone and Booval Stations. The run lasted for eight miles over 24 fences with various spills but no damage to horse or rider, with the riders enjoyed tea back at the Hotel Royal before returning home on the special with some capital songs and recitations keeping the crowd entertained. (Brisbane Courier 9 September 1889 p 6.)
The Hunt Club was popular, often drawing large crowds and with prize money of 300 'sovs' up for grabs. The club continued for about ten years until it ceased in 1897 when falling numbers saw it close.
Karen Hind - John Oxley Library
Comments
Your email address will not be published.
We welcome relevant, respectful comments.