Brighton Heights, Sandgate, 1919 (Map of the Week)
By Myles Sinnamon - Engagement Officer, State Library of Queensland | 14 November 2018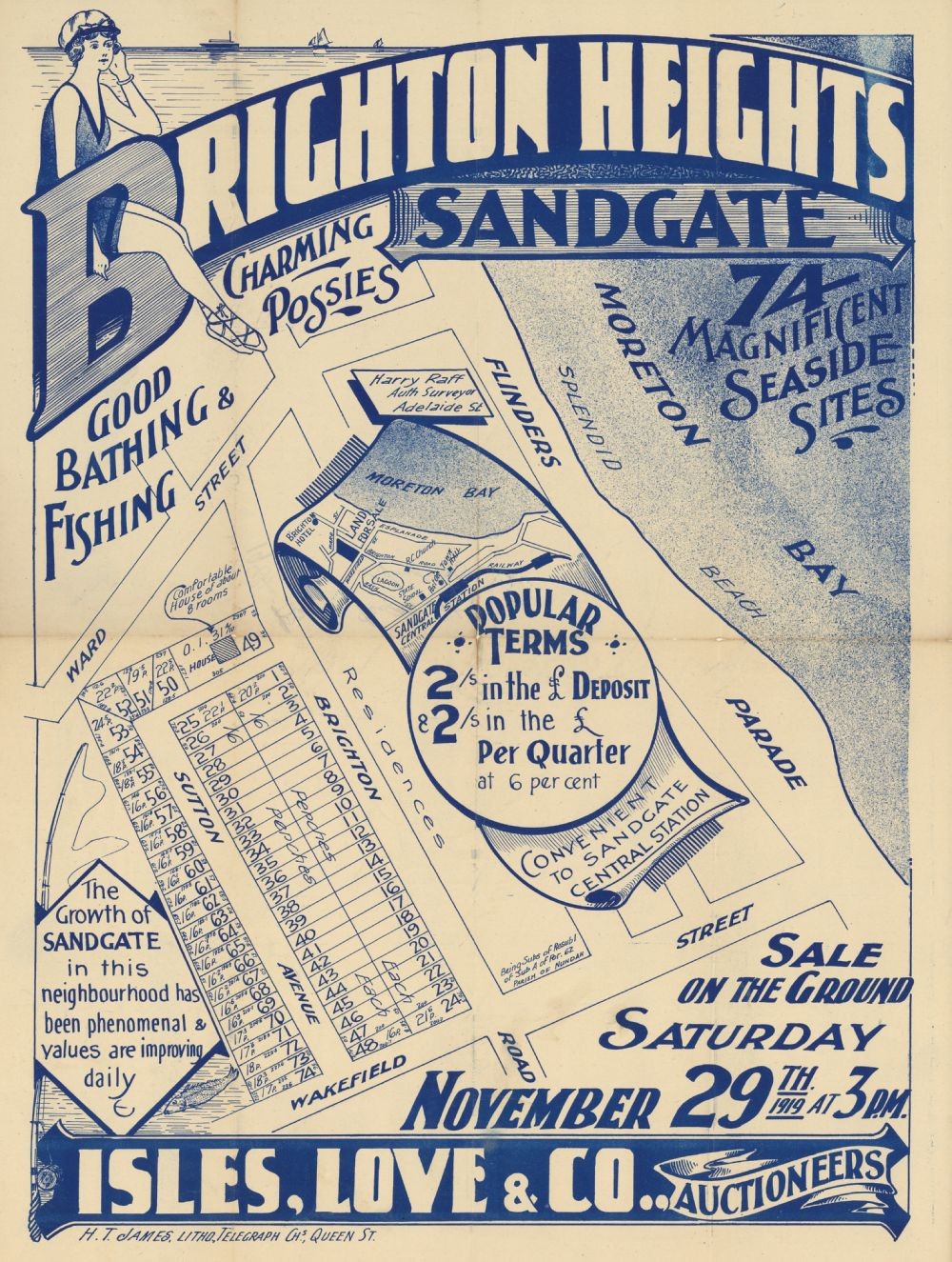 Brighton Heights, Sandgate, 1919. John Oxley Library, State Library of Queensland
This real estate map from 1919 advertises 74 allotments of land for sale at the Brighton Heights estate in the Brisbane suburb of Sandgate. The allotments were situated along Brighton Road and Sutton Avenue, part of which is now Jeay Street.
There is a discrepancy between the map and newspaper advertisements for the sale, which report 70 allotments being available.
Prior to the sale extensive publicity was published in Brisbane newspapers.
"On the heights of Brighton, Sandgate, just beyond the R.C. Church, close to Mr Geo. Agnew's, together with comfortable house of about 8 rooms. This charming hill has now been subdivided, and persons who wish to secure pure air, congenial surroundings, fishing and bathing facilities, &c., will find great attractions." (Brisbane Courier, 27 November 1919)
Advertisement for the Brighton Heights Estate published in the Brisbane Courier newspaper, 27 November 1919, p.12
A public auction was held at the ground on the afternoon of 29 November 1919. The results of the sale do not appear to have been published in Brisbane newspapers.
A higher resolution image of this map can be viewed through our One Search catalogue.
Prints of this map are also available through the Library Shop.
You can browse a compendium of our previous maps of the week on our blog.
Myles Sinnamon – Engagement Officer, State Library of Queensland
Comments
Your email address will not be published.
We welcome relevant, respectful comments.