The Black Hand
By A/Professor Mark Lauchs, 2021 John Oxley Library Honorary Fellow | 1 December 2022
In the 1930s the small sugarcane growing communities around Ingham became the target of extortion rackets that targeted the migrant Italian community. Locals received letters demanding money and threatening property damage and even death if funds were not paid. This brief, but violent period of Queensland history saw many deaths and extensive destruction before the "Black Hand Threat" was quashed.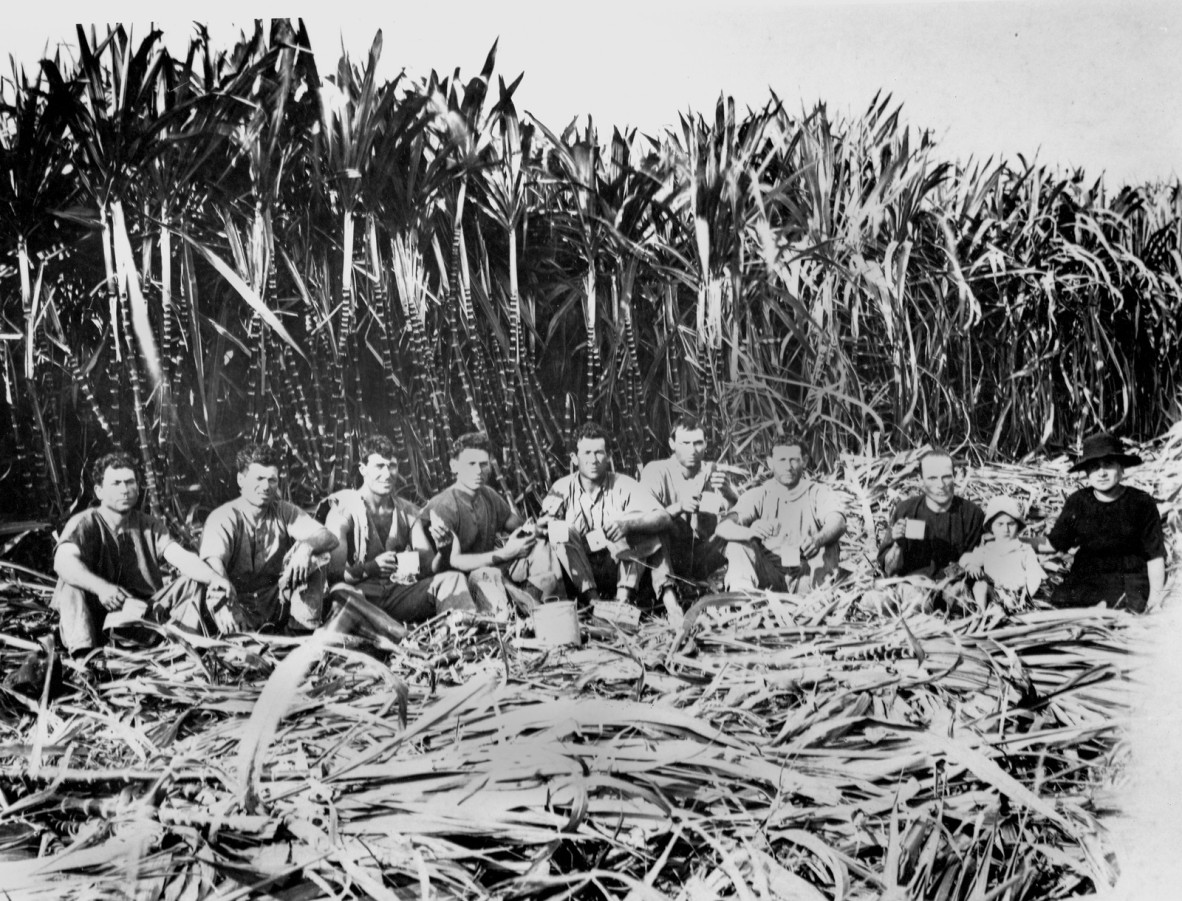 Italian sugar cane cutters, Innisfail District, Queensland, 1923. John Oxley Library, State Library of Queensland. Negative number 67809.
This was not the first or the last appearance of the Black Hand in Australia. The term "Black Hand" was common parlance for any organised and secret racket to extort money or deceive innocent people. Nor was this an Australian phenomenon with many instances of such activity occurring around the world. A 'Black Hand Society' even operated amongst German inmates of the Holsworthy Internment Camp in New South Wales, during World War One. However, the events in north Queensland lasted longer and resulted in more harm than any other Black Hand syndicates in Australia.
I had not intended to work on this topic when I obtained my Fellowship. However, the documents in the Dickie Collection contained many references to these events as the first, coordinated organised crime operation in Queensland. I had heard about the Black Hand through passing references in books and mentions in conferences but had never investigated it. Having grabbed my interest, I began some research through Trove of newspaper articles and was quickly hooked by this story. It is a human drama of migration, exploitation and recognition that is more than just a story of crime.
Too often organised crime is discussed in formal academic manner or overly dramatised true-crime adventure. These stories focus on the offenders with a presumption of guilt and often little consideration of victims or society. Fortunately, the scale and duration of the Black Hand events became a media sensation at a time when the press reported major occasions like court trials in detail. Having gathered all, I could find on Trove I visited the Queensland State Archives and discovered the police records are now open for examination. There are also many genealogical records of the individuals involved, both offenders and victims.
So, what will I do with this information? Obviously, I will write the obligatory academic articles, but I want to produce something for public consumption. I have settled on writing the story and publishing as a podcast but also providing a complementary interactive map of the events in the story. The final product will show the locations of events, the photos and stories of the people involved, but within the current map of the region. I want this to be something that lives virtually and can be added to by locals and descendants who can make the story more meaningful as a core part of Queensland history.
A/Professor Mark Lauchs, 2021 John Oxley Library Honorary Fellow.
Collections
Other blogs
Comments
Your email address will not be published.
We welcome relevant, respectful comments.