Bird's-eye view of Brisbane, 1881
By Myles Sinnamon, Engagement Officer, State Library of Queensland | 27 March 2018
In their June 11, 1881 edition, the Illustrated Sydney News and New South Wales Agriculturalist and Grazier advertised that the following month's edition would include a large illustrated supplement promising an artist's rendering of a bird's-eye view of Brisbane.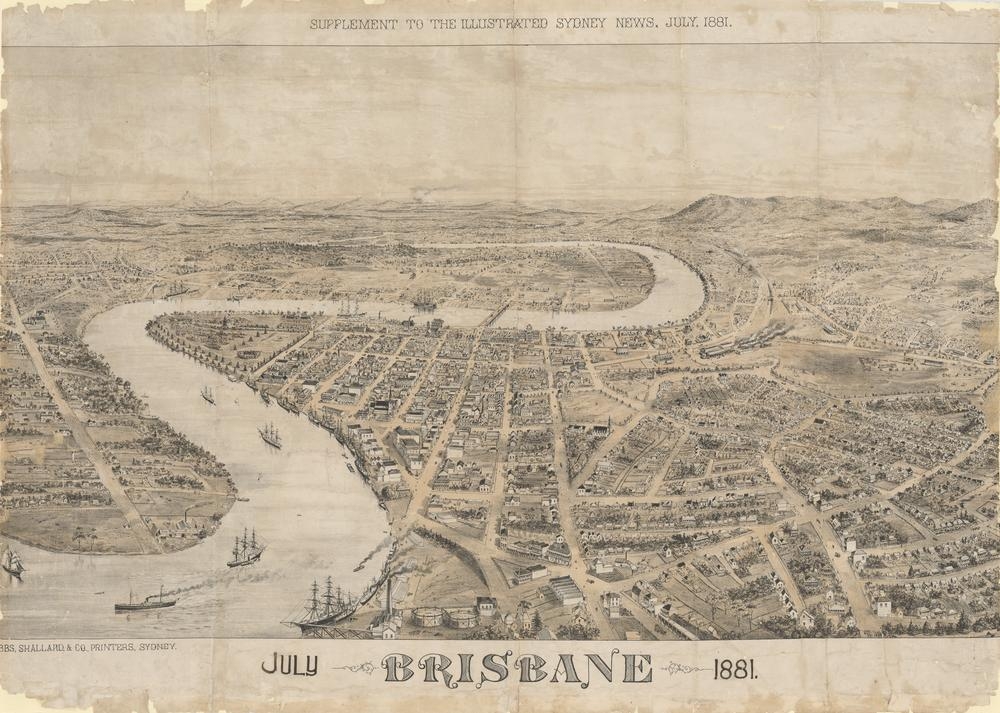 Brisbane, July 1881. John Oxley Library, State Library of Queensland
"From a sketch by our special artist, which has been several months in preparation. It is a splendid work of art, and is the most perfect representation of the rising metropolis of Queensland ever submitted to the public...", boasted the Sydney newspaper.
Advertisement for the supplement, Illustrated Sydney News, June 11, 1881
The supplement was included with the July 9 edition. The newspaper also printed a key to the supplement, showing the locations of specific buildings and landmarks, such as the Supreme Court, General Post Office, Botanic Gardens, Parliament House and Brisbane Grammar School.
Key to 'Bird's-Eye View of Brisbane'. Published in the Illustrated Sydney News, July 9, 1881
Advance copies were sent to numerous newspapers across Queensland for their review. Here are three reviews from Brisbane's Telegraph, Ipswich's Queensland Times and Roma's Western Star newspapers.
"BIRD'S-EYE VIEW OF BRISBANE - We have to acknowledge the receipt from the office of the Sydney Illustrated News of a very large coloured lithograph under the above title, which is issued as a supplement to the current number of the News. The picture is tolerably faithful as to details, but it fails to convey that charming picturesqueness which our city and suburbs present to the spectator who secures a good point of observation on any one of the hills in the neighbourhood." (The Telegraph, June 25, 1881)
"...Taking it as a whole, the picture gives a very fair idea of what the metropolis of Queensland is like, although Brisbane is much more densely-populated place than is conveyed to the mind by the representation given. However, it forms, if framed, a handsome picture, and many persons will doubtless secure them for this purpose..." (Queensland Times, Ipswich Herald and General Advertiser, June 25, 1881)
"...The view is apparently taken from Bowen Terrace just above the gas works, and not only gives a pictorial representation of the city, the buildings, wharves, shipping, the magnificent river, but of the country stretching far away to the Little Liverpool range..." (Western Star and Roma Advertiser, June 29, 1881)
Advertisement for the supplement published in the Brisbane Courier, July 9, 1881
State Library of Queensland has digitised this 1881 poster, which can be viewed via our One Search catalogueopen_in_new.
Myles Sinnamon - Engagement Officer, State Library of Queensland
Comments
Your email address will not be published.
We welcome relevant, respectful comments.