Belmont
By JOL Admin | 12 November 2008
A recent blog post about the 30th anniversary of Carindale Shopping Centre mentioned that Carindale was originally part of the suburb of Belmont.
Belmont itself has an interesting history.
The origin of the name Belmont is open to debate. In 1876 August Charles Frederick Bernecker purchased land and named his estate Belmont, with the name subsequently coming into common usage to describe the surrounding area. Another possible source for the suburb's name is that on 1 January 1900, the Boer War Battle of Belmont was fought at Sunnyside near Orange River. In this battle, the first Australian (Queenslander, Victor S. James) was killed. This high profile battle may have reinforced the awareness and use of Belmont as the suburb's name.There is also a Belmont in Lancashire, England.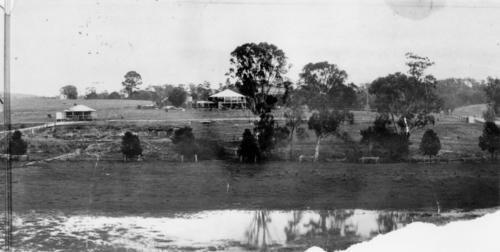 Early view of Belmont. Image No: 152087
Some early settlers, residents and businesses in the area include:
timber getting attracted the first Europeans to the area, following reports of good timber.
1860s – Colonel McKenzie built his residence and established a sugar mill on a site along the present Scrub Road. There were a number of springs on this property.
1865 – William Stevenson arrived aboard the Flying Cloud (1865) and took up land as the original settler on Mount Petrie Road. The purchase price for this land was £46.
the Salm family settled in the area in 1868. Carl Salm had been issued a timber licence. Also, Johannes Salm began making sausages and curing meat.
Baynes Limited (1910 and earlier) operated a woolscour and fellmongery on a site beside Bulimba Creek.
Thompson and Robinson – Cash Store.
Grassdale Cash Store (1939 and earlier) established by L.R. Bailey and situated in London Road.
Knox's wool tannery (1930s and earlier).
1920s – roadside stalls selling local produce.
Some important sites and buildings in the Belmont area include:
Belmont Shooting Complex. The Queensland Rifle Association was formed in 1877 with the first competitions held in Victoria Park. The Metropolitan Rifle Range was moved to Toowong in 1887, then Enoggera in 1910 and finally Belmont in 1964.
Mount Petrie. In 1838 Andrew Petrie (Works Foreman at the Moreton Bay Penal Colony) accompanied the Commandant, Major Cotton on a visit to the government sheep station at Redbank. On the return trip the party became lost in the area which is now Belmont. They eventually sighted a hill, Mount Petrie, which they climbed to regain their bearings.
San Sisto Secondary College, established 1 February 1961 by the Dominican order. This was originally located in Belmont but is now in Carina.
Belmont Congregational Church, originally on the corner of Pembroke Street and Old Cleveland Road. The church was originally built in 1890 and was destroyed in a cyclone on 19 December 1935.
Belmont Flyer Train. Up to 1910, the Council was unsuccessfully lobbying for a rail line to the area. The council eventually borrowed funds and built a railway line from Norman Park Station, through Seven Hills and Carina to Belmont. The Belmont Flyer line opened in 1912 but closed in 1924 due to non profitability. The line reopened briefly in 1926.
Some important dates in the history and development of the Belmont area include:
1876 – Belmont State School was established.
1894 – the Belmont Division split from the Bulimba Division and the suburb adopted the name Belmont on a formal basis.
1894 – Belmont Divisional Board was created.
1901 – Belmont Shire created.
1920s (and possibly earlier) – a Belmont bus service ran between Camp Hill tram terminus and Belmont Service Station.
1948 (August) – The extension of the tram line to Belmont was opened.
1950 – approximately 120 acres of bushland was cleared for Housing Commission homes.
1952 – Our Lady of Graces Catholic Church, Carina (once part of
Belmont) was established.
View more photographs of Belmont on our One Search catalogue.
Comments
Your email address will not be published.
We welcome relevant, respectful comments.