Behind the scenes: Collection Preservation
By Fiona Dixon | 24 August 2015
At State Library of Queensland we are often asked for advice on how to preserve books, images and other items. Our expert Collection Preservation team runs free bimonthly conservation clinics offering useful tips and advice on how to preserve and care for your collections at home. They also provide handy online "how to" guides, webcasts and FAQs, and can refer clients to expert conservators.
Of course the main task for our Collection Preservation team is to manage, treat and care for items currently in SLQ's collections, items that have been newly acquired by SLQ, and material that is required for exhibitions here or in other locations.
I recently spent time with Rachel Spano, SLQ Senior Conservator, who explained the type of work undertaken in the Collection Preservation area, and showed me some fascinating examples of items being treated, as well as the specialist equipment needed for particular tasks.
The Collection Preservation team comprises 12 people, all specialists in fields such as exhibitions, paper conservation or bookbinding. They are responsible for implementing preservation activities to minimise damage to, or deterioration of, our collections. SLQ's food and drink policy, temperature and humidity control, and pest management systems are crucial to maintain an optimum environment for precious items.
Fading, caused by excessive light (lux and UV) levels in artificial lighting, is also minimised by keeping material covered, or by limiting the length of time it is on open display. Custom made boxes house many items to provide protection from fading, handling, dust and to preserve them in storage.
Our information collection, much of which is now available for lending to patrons, needs to be monitored and mended when necessary. As these items can be borrowed, and are used more frequently, repairs need to be robust and may, for example, require whole bindings to be replaced.
On the other hand, heritage items, which remain at the library, are conserved in a condition that is as close to their original state as possible, so any repairs will be carried out while trying to maintain original bindings and other features.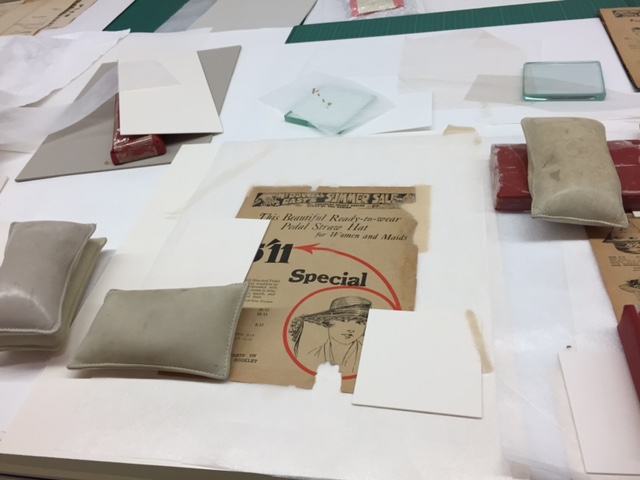 Paper conservation in progress. Image by SLQ staff.
Paper conservation in progress. Image by SLQ staff.
The Collection Preservation staff prepare material for SLQ exhibitions, such as the current Distant Lines exhibition, preparing items and advising on display conditions and lighting. Where items are going offsite for Exhibition Loan, SLQ staff provide support to appropriate organisations to ensure the well-being of Queensland's heritage material.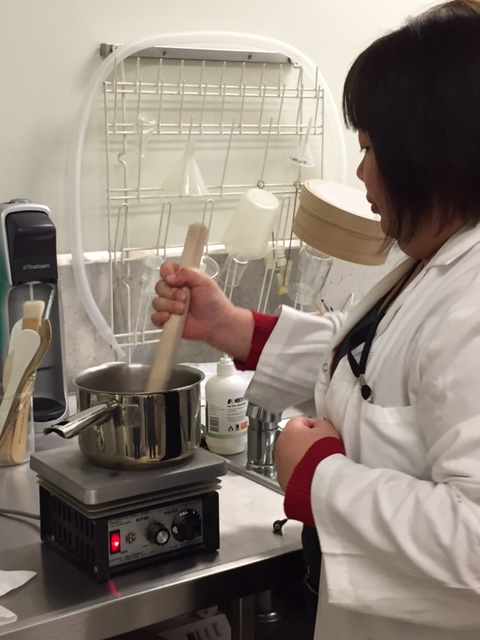 Making wheat paste for paper conservation. Image by SLQ staff.
Making wheat paste for paper conservation. Image by SLQ staff.
Touring the laboratory, I saw wheat starch paste being made for use in paper conservation. In this lab, staff carry out pH testing, use various adhesives for different purposes and chemical solvents to remove residue, such as old sticky tape, from items. The newly acquired "suction table" is an impressive piece of equipment, which is used for tasks such as solubilising and pulling out adhesive and heavy staining. With a large surface covered in small holes, the table sucks air through the holes, drawing liquid or solvent away from the item on the table onto blotting paper below, enabling evaporation of excess liquid. A large domed lid can be used to humidify items, such as brittle paper, so that it can be unfolded or unrolled without cracking.
The suction table. Image by SLQ staff.
The suction table. Image by SLQ staff.
New acquisitions and donations arriving at SLQ are assessed and taken to our quarantine area on Level 0. How material is managed there depends on where it has come from and its condition. Large chest freezers are used to eradicate pest infestations – items will stay frozen for about two weeks to kill any live insects and their eggs. Other items may be fumigated chemical free with nitrogen in a special sealed area. The quarantine area also houses masks, protective clothing and vacuum cleaners with HEP filters, used to clean articles.
Vacuum equipment and freezers in the quarantine area. Image by SLQ staff.
Vacuum equipment and freezers in the quarantine area. Image by SLQ staff.
When items are deemed safe, they are taken upstairs, where a full listing and description is made of the item and any parts. Staff determine if any conservation work is necessary, and what the housing requirements are. Material is then processed, catalogued and taken to the repositories for storage.
A huge ongoing task, shared by the Collection Preservation team and other staff, is prioritising conservation and restoration work. Priority is given to new acquisitions, which need a stable environment and suitable housing, for which prefabricated boxes or mylar sleeves may be used or custom made. The next priority goes to items that need to be digitised. Other items are then treated as necessary, depending on exhibitions, usage levels and the need to stabilise material for storage.
Seeing what goes on behind the scenes in our Collection Preservation area made me appreciate not just the specialist skills of this expert group, but their abilities to efficiently coordinate with other staff to prioritise and accommodate a never-ending, enormous and constantly changing workload.
To find out more about collection preservation, including how-to guides, or to book for one of our regular conservation clinics, visit our webpage at /resources/preserving-collections
Comments
Your email address will not be published.
We welcome relevant, respectful comments.