Beaumont Estate, Highgate Hill, 1884 (Map of the Week)
By JOL Admin | 20 June 2017
State Library of Queensland has an extensive collection of historical maps of Queensland, some of which have been digitised and can be viewed online.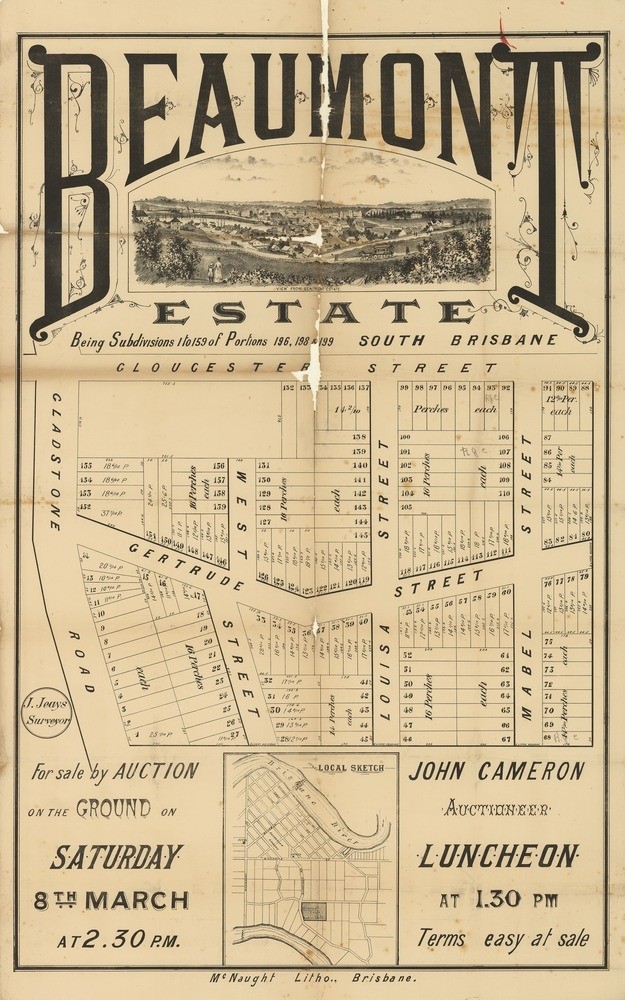 Beaumont Estate, Highgate Hill, 1884. John Oxley Library, State Library of Queensland
This real estate map from 1884 advertises 159 allotments of land for sale at Beaumont Estate in the Brisbane suburb of Highgate Hill. The allotments were situated along Gertrude Street, West Street, Louisa Street, Mabel Street, Gloucester Street and Gladstone Road.
Prior to the sale extensive publicity was published in Brisbane newspapers.
"This beautiful place is now being put into the market and offered to the public at auction. It is easy of access at all hours of the day, as the Highgate Hill Omnibuses make no less than 80 trips per diem to and from Queen-street and Highgate Hill". (Brisbane Courier, March 8, 1884).
Advertisement, Brisbane Courier, March 8, 1884
A public auction was held at the site on the afternoon of March 8, 1884. The Brisbane Courier newspaper reported the results of the sale.
"Mr John Cameron reports a highly successful sale at the Beaumont estate, Highgate Hill this afternoon. A large number of lots were sold, realising the gross sum of £1796. The highest price for one lot was £80". (Brisbane Courier, March 10, 1884)
A higher resolution image of this map can be viewed through our One Search catalogue.
Prints of this map are also available through the Library Shop.
You can browse a compendium of our previous maps of the week on our blog.
Myles Sinnamon – Project Coordinator, State Library of Queensland
Comments
Your email address will not be published.
We welcome relevant, respectful comments.