Baroona Estate, [Paddington/Auchenflower], 1885 (Map of the Week)
By JOL Admin | 28 November 2017
State Library of Queensland has an extensive collection of historical maps of Queensland, some of which have been digitised and can be viewed online.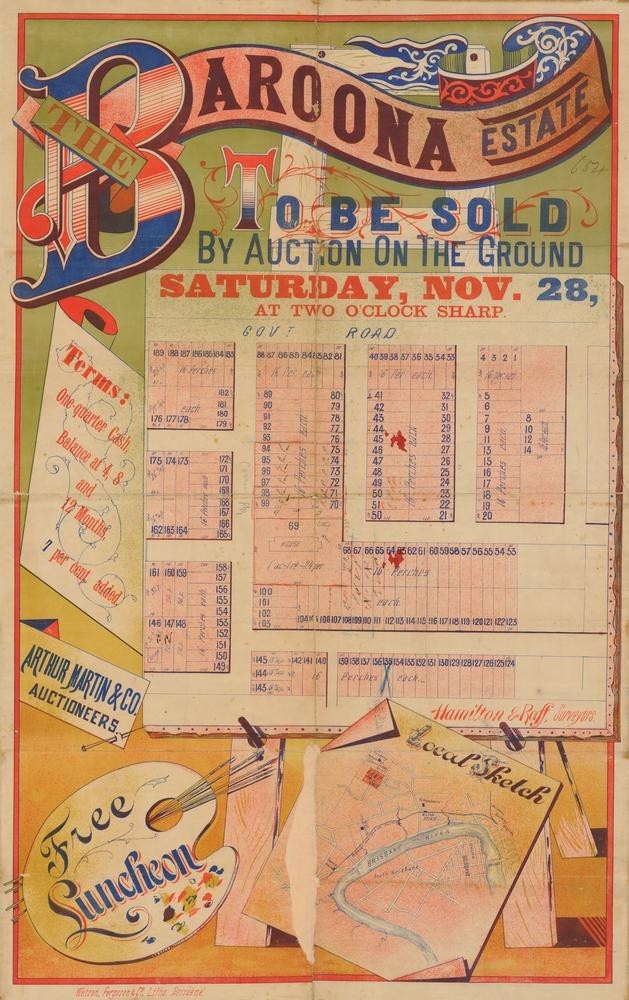 Baroona Estate, 1885. John Oxley Library, State Library of Queensland
This real estate map from 1885 advertises 189 allotments of land for sale at the Baroona Estate, which is today part of the Brisbane suburbs of Paddington and Auchenflower. There is a discrepancy between the map and newspaper advertisements for the sale, which report 215 allotments being available.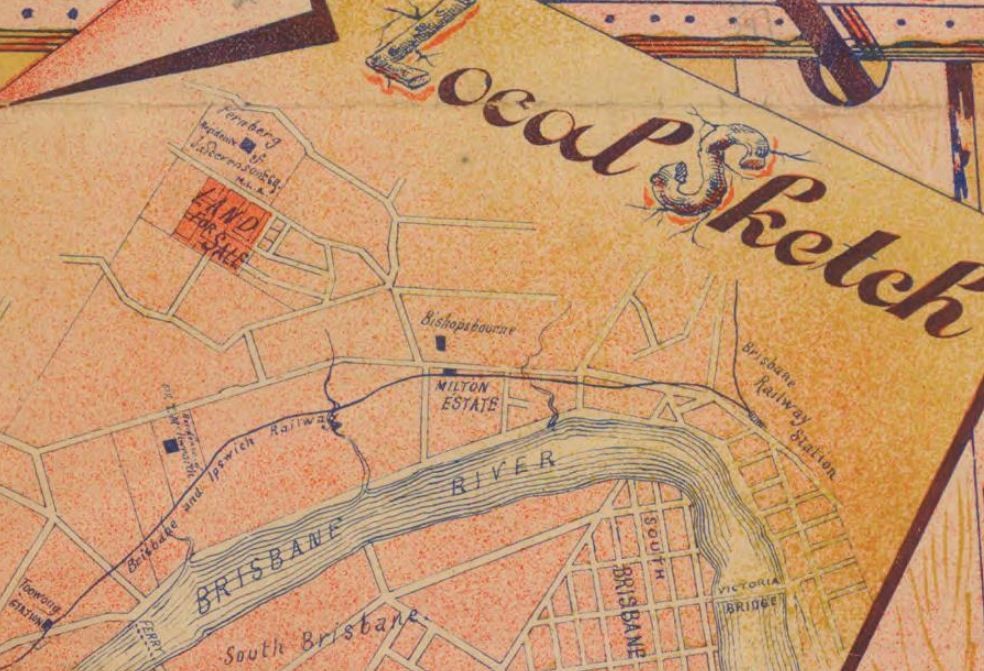 Although the estate map doesn't include street names, comparison with a contemporary map show the allotments to be situated on Baroona Road, Carrington Street, Howard Street, McNab Street, Bass Street, Thomas Street, Stewart Street and Dudley Street.
The auction also featured the sale of Baroona House (allotment 69) on Howard Street. This residence still stands today and was added to the Queensland Heritage Register in 1992.
Baroona, a residence in Paddington, Brisbane, 1886. John Oxley Library, State Library of Queensland. Neg 62754
Prior to the sale extensive publicity was published in Brisbane newspapers.
"Every allotment in the Estate has a gradual slope on account of the formation, which consists of a ridge inclining gently on each side thus possessing the inestimable advantage of natural drainage. Though of easy access the elevation which it attains enables the spectator to command a series of views which are extremely picturesque and charming" (Brisbane Courier, November 28, 1885).
Advertisement from Queensland Figaro, November 21, 1885
A public auction was held at the ground on the afternoon of November 28 , 1885. The Telegraph newspaper reported the results of the sale.
"Messrs Arthur Martin and Co. report the sale of 107 allotments in the Baroona Estate on Saturday afternoon for the sum of £6,986, and Baroona House, with 1 acre 2 roods and 24 perches of land attached, for the sum of £3,000. Total in this estate £9,986. The attendance was larger than usual, and competition keen, and price realised very satisfactory." (The Telegraph, November 30, 1885)
A higher resolution image of this map can be viewed and downloaded through our One Search catalogue.
Prints of this map are also available through the Library Shop.
You can browse a compendium of our previous maps of the week on our blog.
Myles Sinnamon – Engagement Officer, State Library of Queensland
Comments
Your email address will not be published.
We welcome relevant, respectful comments.