Barambah Pottery exhibition
By Sophia Sambono | 19 December 2016
kuril dhagun's new community exhibition Barambah<>Cherbourg<>Art<>Craft opened at the State Library on the 10th of December. Initiated by The Ration Shed Museumopen_in_new in Cherbourg the exhibition showcases the creative diversity and historic production of Barambah Pottery.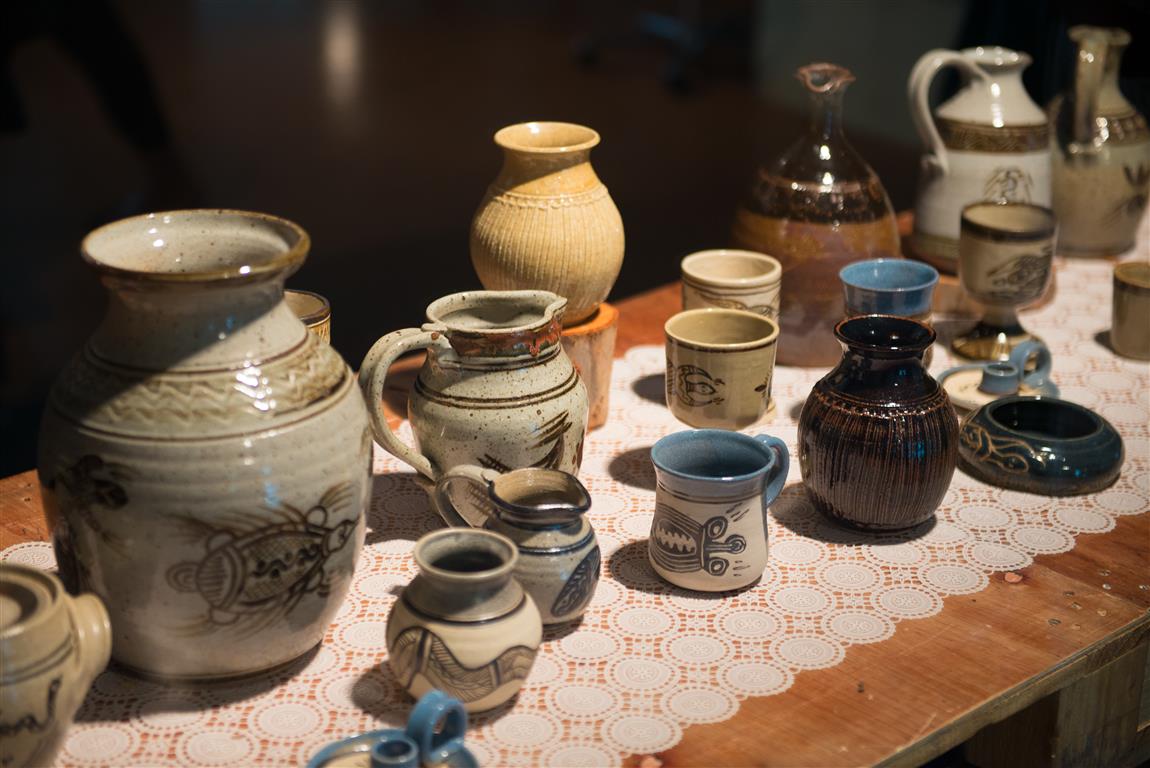 The Cherbourg pottery workshop utilised clay from the local Barambah creek and operated as a commercial venture from 1969 to 1987 when it was abruptly closed. The unique style of pottery ranges from elaborate vases to glazed goblets and was a well known tourist item during its lifetime. The remaining works of these tourist collectables are spread far and wide and the Ration Shed have slowly, piece by piece, built up an incredible representation of the pieces produced at Barambah. They have recently exhibited their collection on a smaller scale at Kingaroy and Childers.
From Cherbourg Mikayla Simpson, Aunty Ada Simpson, Mark Newman, Aunty Sandra Morgan, Aunty Jeanette Brown and SLQ's very own Willie Prince
Many of the pieces displayed here in kuril dhagun are from The Ration Shed Museum's historical collection, as well as rare items gathered from generous private collectors around Australia. Co-curator Matthew Wengert remarked at the opening that this is 'the largest gathering of Barambah Pottery in one place'.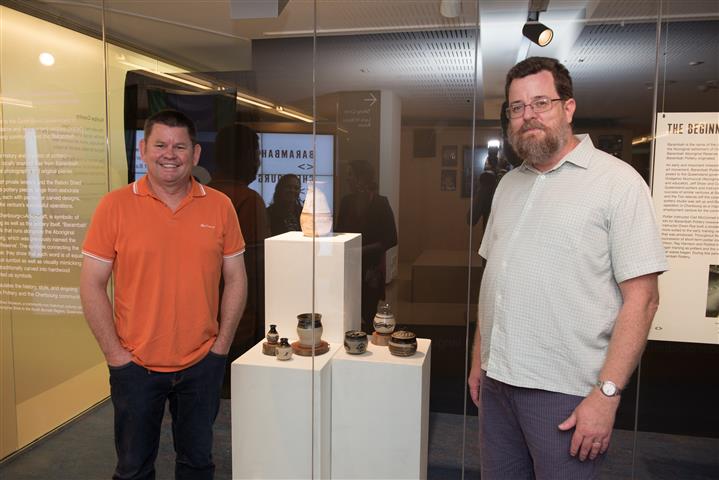 Private collector Stephen Mahoney, here with Matthew Wengert, lent works to the exhibition
Some of these private collectors, Stephen Mahoney, Anne Brosnan, Clare Shaw, and Rod Jensen came to celebrate the opening along with the Honourable Leeanne Enoch (Minister for Innovation, Science and the Digital Economy and Minister for Small Business), State Librarian and CEO Vicki McDonald, a strong Cherbourg community contingent and all those that helped bring this exhibition to fruition including Uncle Robert 'Rocco' Langton who was the last potter to work at Barambah.
The Ration Shed Museum chairperson Aunty Sandra Morgan officially opened the exhibition and made a special announcement that the museum has recently secured funding to re-establish pottery creation in Cherbourg again.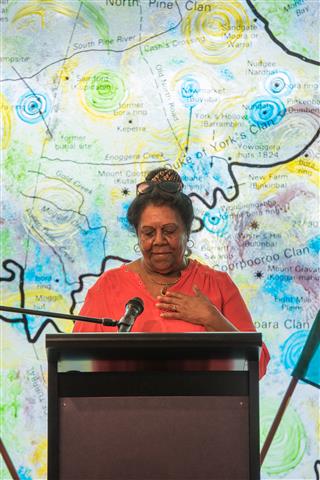 Aunty Sandra Morgan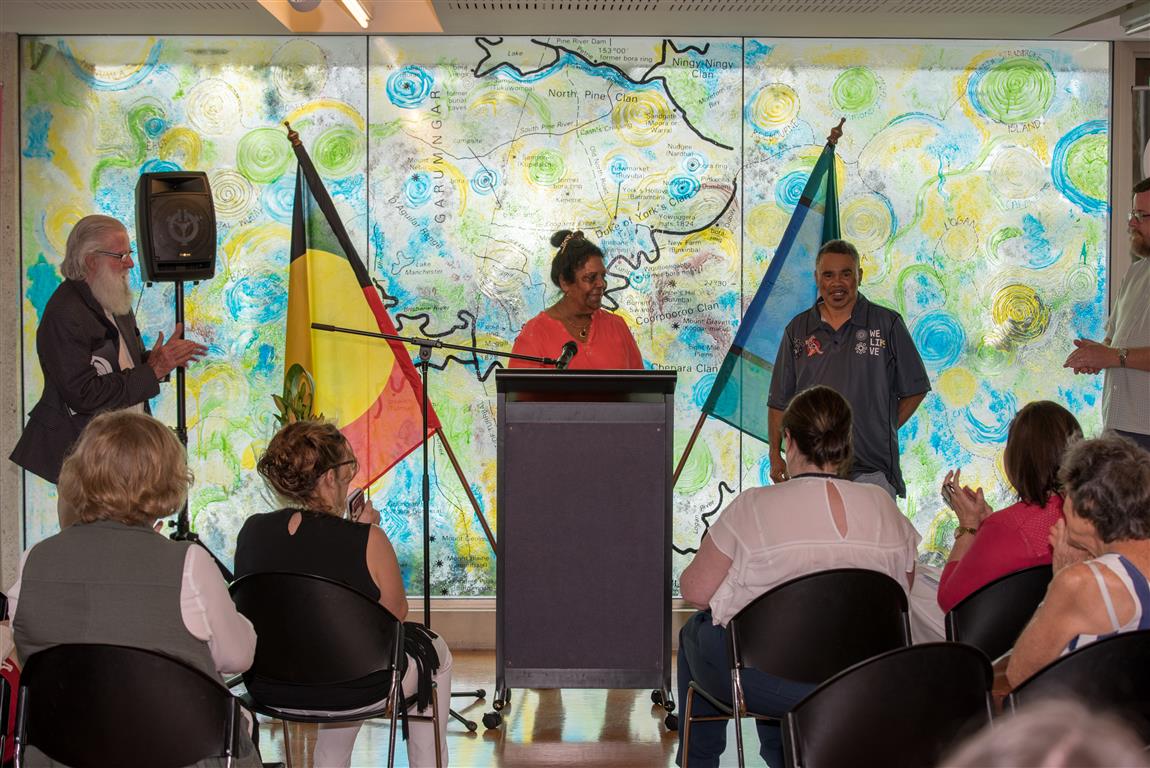 Kevin Grealy, Aunty Sandra Morgan, Uncle Rocco Langton, Matthew Wengert
Kevin Grealy, former pottery instructor at Barambah in the 1970s, lent his presence to this happy occasion as well as some striking colour images of the potters for our welcome wall. These images invite visitors into the space and take pride of place alongside the Cherbourg Memoryopen_in_new database on our large touch screen.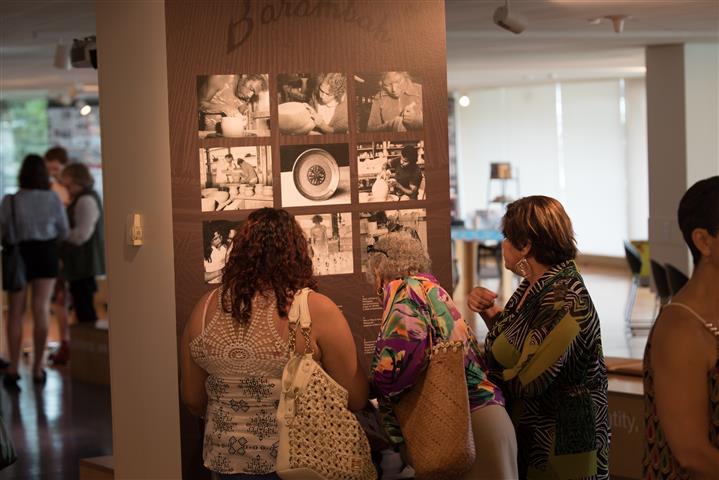 In acknowledgement of the continued innovation and excellence of Indigenous entrepreneurship, kuril dhagun is presenting a series of workshops across the library designed to help Indigenous arts practitioners create sustainable business models and become independently viable.
As part of the resources for these workshops and for the duration of the exhibition information videos and animations focused on Indigenous artists and business needs courtesy of Artists in the Black will screen in the kuril dhagun space.
The exhibition is open until the 16th of April and you can find more details here.
Comments
Your email address will not be published.
We welcome relevant, respectful comments.