Avenging the Nurses: Government's response to the sinking of 2/3 Australian Hospital Ship Centaur
By JOL Admin | 10 May 2016
Guest blogger, Madonna Grehan, John Oxley Library Fellow for 2015.
The Centaur Fund Series highlights Queenslanders' special acknowledgement of the nursing profession, in the years after World War II.
Saturday 14 May 2016 marks 73 years since the torpedoing and sinking of the 2/3 Australian Hospital Ship Centaur, by enemy fire. On that day in 1943, Centaur was on the way to Papua New Guinea, making its second voyage to retrieve injured soldiers and to resupply the field with ambulance officers. Centaur's conversion to a hospital ship had been completed only seven weeks earlier in March 1943. It had modern, portable X-ray equipment and operating theatres, and could accommodate 250 patients in double-decker cots.
Centaur embarked Sydney on 12 May with the ship's crew of Merchant Seamen, and personnel of the Army Medical Corps aboard. Among them were eight doctors, twelve Nursing Service nurses, a pharmacist, a Red Cross Representative, and 193 members of the 2/12 Field Ambulance. On the evening of the 13 May, there had been a birthday party for the senior nurse, Matron Anne Jewell. Jewell was a veteran, having served on several hospital ships since 1939.
On 14 May, at 4.10am, a torpedo struck Centaur without warning. The ship caught fire and sank in three minutes. Of the 332 people aboard, only 64 survived, many with severe injuries. Lt Col. Leslie Macdonald Outridge, a Queenslander, was the only Medical Officer to survive. Sister Ellen Savage was the only nurse to survive.

Site of the Greenslopes Repatriation Hospital, Brisbane, ca.1953 Unidentified ; H. B. Green & Co. John Oxley Library, State Library of Queensland | ca. 1953 picqld-citrix06--2009-01-19-09-39
Suvivor Sister Ellen Savage, Australian Army Nursing Serve (AANS), being interviewed at Greenslopes Army Hospital, 1943. Image from Australian War Memorial
In the days following, Prime Minister John Curtin vowed that Australia would avenge the deaths of the Medical Corps and the ship's crew. On Empire Day, 23 May 1943, Curtin made an impassioned plea for Australians to lift support for the war effort. He urged an end to industrial hold-ups in mines, workshops, factories and on wharves. Mr Percy Spender MP, United Australia Party member for Warringah, dismissed Curtin's efforts as limp, claiming that the Prime Minister's continuing message to Australian men, to either 'Work or Fight', was falling on deaf ears.
But by 25 May 1943, Curtin and his War Cabinet had devised a powerful missive. Newspapers reported that colour posters were being created, under the authorisation of Mr Ian B Hutcheson, Controller of Government Advertising. Hutcheson, formerly Advertising Director of Lever Bros. Ltd. in Australia, was appointed as War Publicity Director in 1941. The posters were to depict the bombing of the Centaur.
Taken from Sydney Morning Herald, 10 February 1941, p.12
Much research went into depicting the reality of the sinking in the posters. Bob (Arthur) Whitmore, a commercial artist of Sydney transformed Centaur survivors' reports into these two graphic posters. Sister Savage told that Centaur went down by its bow. Her account, accepted by Naval Intelligence, contradicted an earlier one that the ship had capsized and meant that the name Centaur was clearly visible on the ship's stern, so the posters retained their propaganda value.
Survivors also reported that the lighting went out immediately the ship was struck. 'Diesel engines, which drove the ship, do not smoke' so the posters depict Centaur's funnel without smoke. They show a fierce fire and people jumping from the ship. One of Whitmore's posters shows a solitary life boat near the sinking vessel. In the other poster, a woman and a man cling to debris in the oily sea.
'Work, save, fight and so avenge the nurses!'. From Australian War Memorial Collection, ID ARTV09088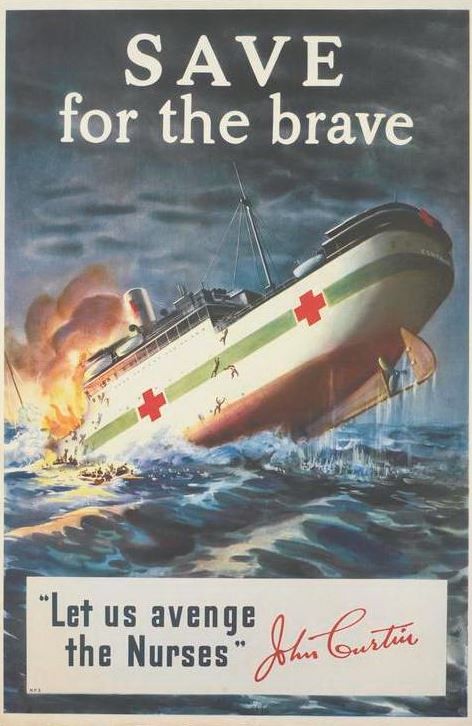 'Save for the Brave'. Taken from Imperial War Museum collection. ID Art. IWM PST 16681
Mr Curtin MP's message to Australian men to "work or fight" had been expanded. One slogan reads: 'WORK SAVE FIGHT and So AVENGE THE NURSES'. The other reads 'SAVE for the Brave "Let us Avenge the Nurses"' John Curtin.
The posters were sent to 'factories, workshops, wharves, coal mines, and business establishments', and other places of work. The eleven Australian Army Nursing Service nurses, clearly, were front and centre in this propaganda campaign. That may explain why their deaths are remembered much more so than those of the Merchant Seamen, the Field Army Officers, the Medical Officers, the Red Cross Representative, the Pharmacist and other personnel who were killed on the same day. Lest We Forget.
Dr Madonna Grehan was the recipient of the 2015 John Oxley Library Fellowship. Her research articles on the Centaur Memorial Fund can be found here:
References
1. Courier Mail, 12 March 1943, p.4
2. https://www.awm.gov.au/encyclopedia/centaur/
3. http://www.ww2places.qld.gov.au/places/?id=726
4. Warwick Daily News, 24 May 1943, p.1
5. Portland Guardian, 24 May 1943, p.3
6. Sunday Times, 6 February 1941, p.2
7. Newcastle Morning Herald and Miner's Advocate, 21 June 1943, p.3
8. Newcastle Morning Herald and Miner's Advocate, 21 June 1943, p.3
9. Telegraph, 25 May 1943, p2
Comments
Your email address will not be published.
We welcome relevant, respectful comments.