Australian Women at Work in WWII: Keep Cool and Carry On
By Elise Weightman, Visitor Services Assistant, Anzac Square Memorial Galleries, Visitor & Information Services | 18 October 2022
During World War II (WWII), Australia faced a dilemma: Many women were eager to do their bit and contribute their skills to the "war effort", but there was still widespread resistance to the notion of a woman doing a "man's job" – surely they could not handle the physical or mental exertion and maintain their "femininity"? Meanwhile, many able-bodied men were refused enlistment to the armed forces because their occupations were considered essential to civil defence or other critical services and industries. As the war progressed and came closer to Australia's shores, this need for more "manpower" grew even more pressing. Eventually it was conceded that women's services would be required, though one question was still perplexing some: what exactly could women do?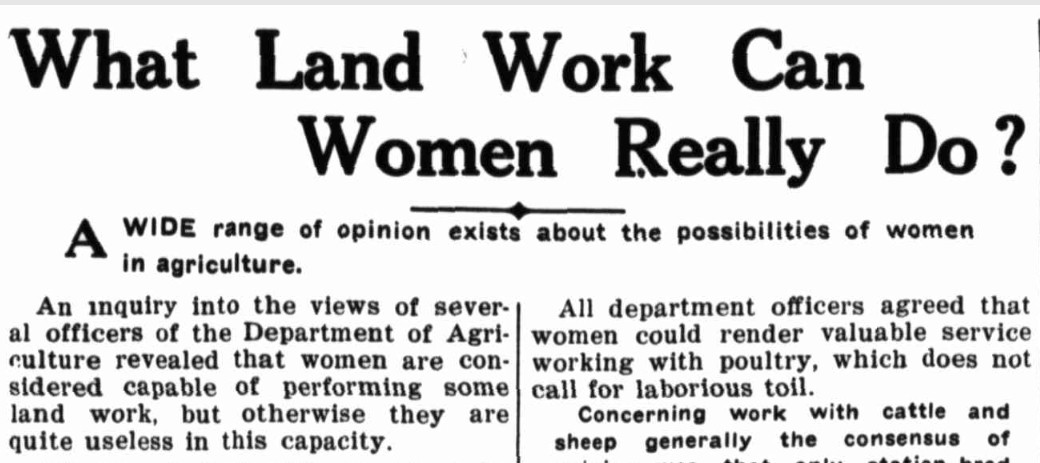 "What Land Work Can Women Really Do?" in Queensland Country Life, 21 May 1942, p.5.
When WWII began, the only women's unit in the Australian Army was the Australian Army Nursing Service. Within three years, women would grow their skills to meet wartime demands and register themselves for enlistment into several more auxiliary service units and dozens of voluntary groups and legions. By 1942, women's units had been formed across all arms of the defence forces: the Women's Australian Auxiliary Air Force (WAAAF), the Women's Royal Australian Naval Service (WRANS), the Australian Women's Army Service (AWAS) and the Australian Army Medical Women's Service (AAMWS). By the end of the war, 50,000 Australian women had served in these units, with women employed in over 70 different occupations in the WAAAF alone.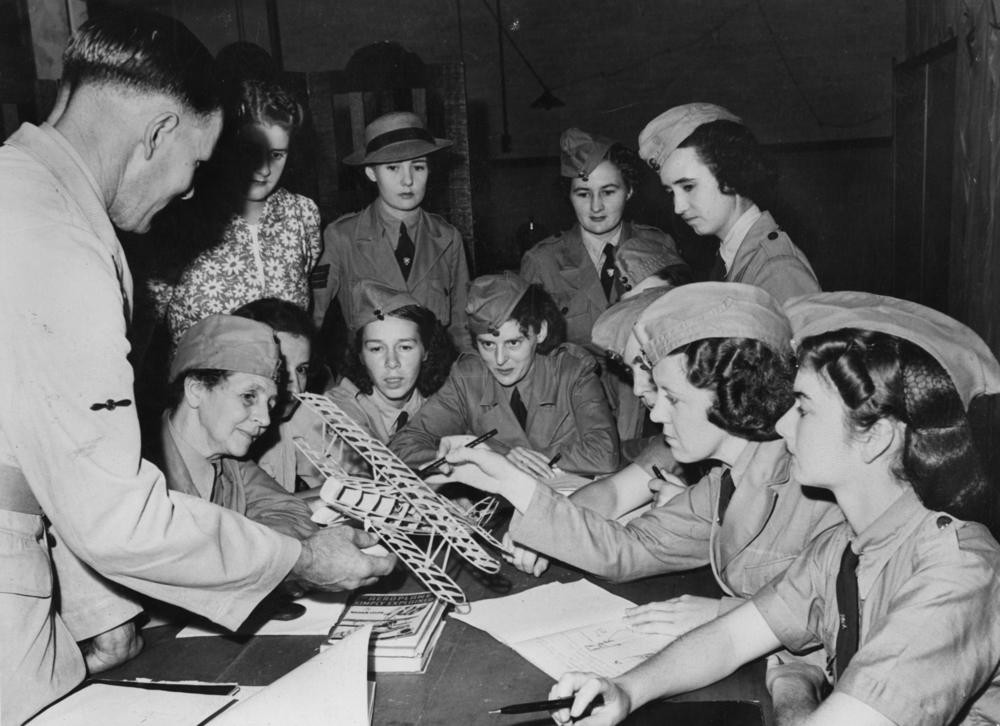 Aviation basics for the Australian Women's Corps, October 1941.
John Oxley Library, State Library of Queensland, Negative 102813.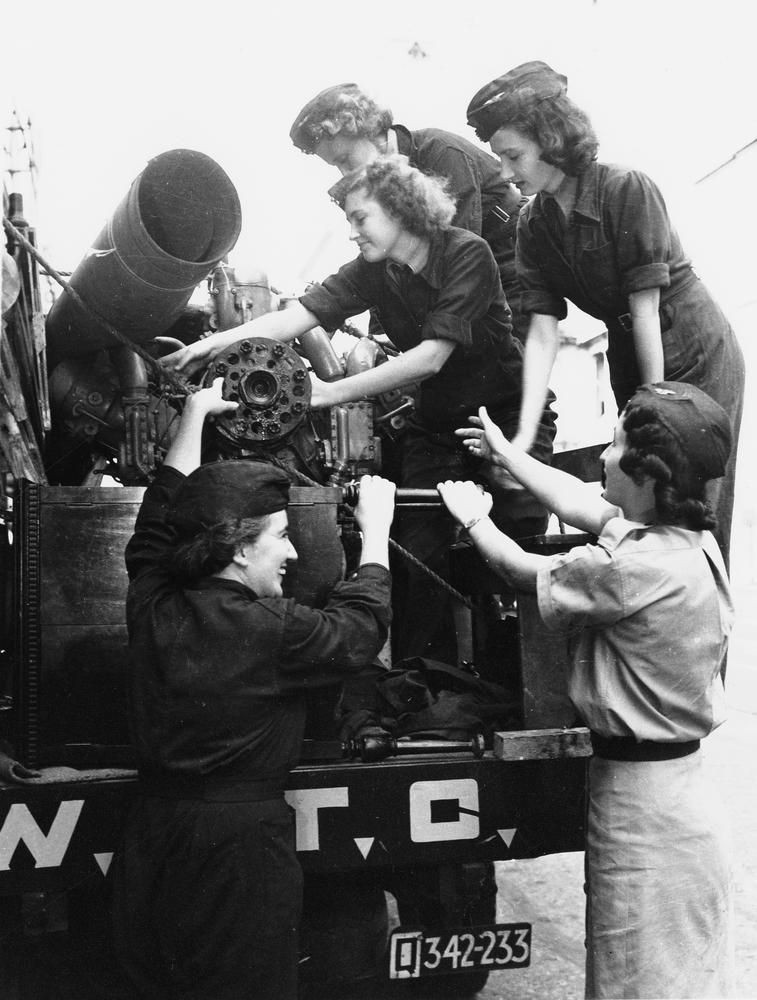 Women's Auxiliary Transport Corps with salvage metal, 1942.
John Oxley Library, State Library of Queensland, Negative 202644.
The Australian Women's Land Army (AWLA), which saw women taking up essential roles on farms and in land management, was another key unit, though it was not officially included as an army service unit. (To learn more, read this blog about the AWLA).
Other civilian occupations were also taken up, energetically. Almost a third of women of working age would participate in paid work during WWII, many in roles unavailable to them before the war. Valuable duties were also performed by women volunteers, often without any government funds or other subsidies for their work, let alone for them; some women who were keen and who could afford the expense bought their own uniforms and paid for their own equipment and costs. Whether remunerated at the rate of a man (women tram conductors achieved this milestone), or at the typical rate of half or two thirds that of a man, or not paid at all, many of these women proudly demonstrated they were more than capable of doing the job that was needed.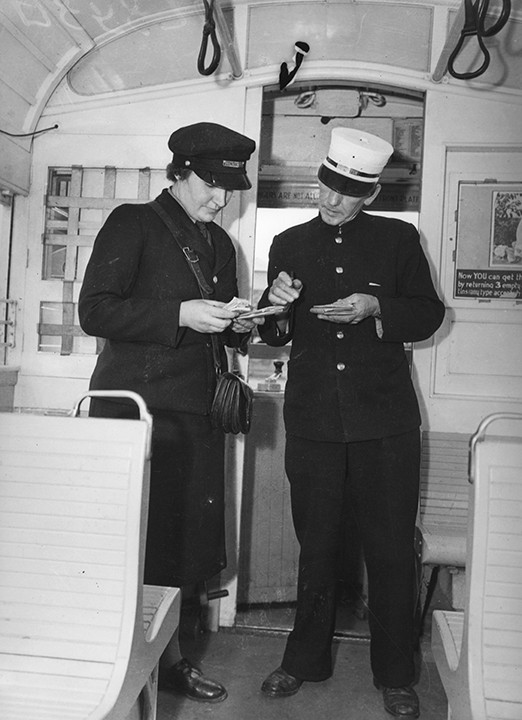 New tram conductor recruit (Mrs J. Burgess, left) in training, Brisbane, 1942.
John Oxley Library, State Library of Queensland, Negative No. 201036.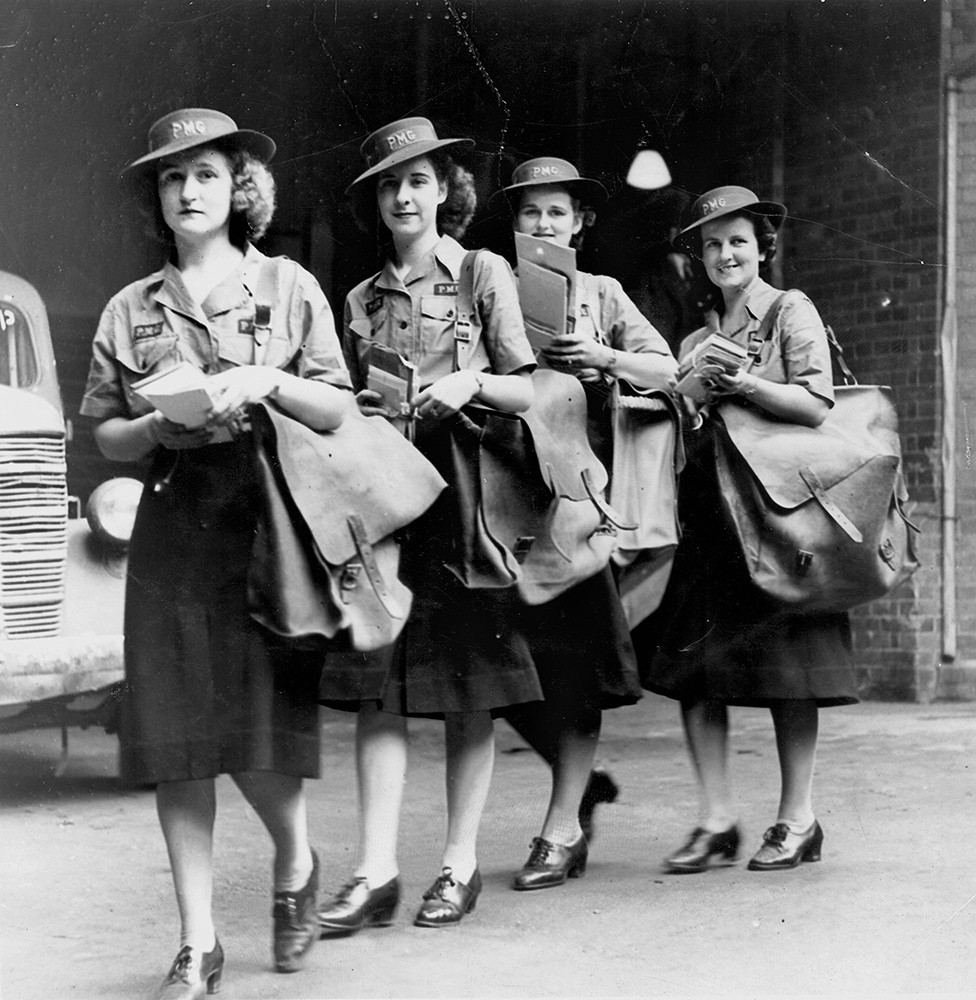 Postwomen with their mail bags and bundles of mail, Brisbane February 1943.
John Oxley Library, State Library of Queensland, Negative No. 161590.
One woman who took up the challenge of a "man's job" was Mary Emma Martin (nee Jackson). Before the war, Emma's husband Bob was an ice vendor, delivering blocks of ice to Brisbane's inner-northern suburbs, in the days before refrigerators when everyone relied on an icebox in their home to keep foodstuffs from perishing. Ice delivery was such an essential service that at first ice vendors were excused from military service; it was still quite a novel idea to think a woman could handle the job. However, when Bob Martin and other men enlisted for service, Emma took on the role, along with an estimated 50 other women ice vendors in Brisbane alone (including Emma's sisters Hannah and Amy shown in the last picture below). Amid wartime crisis, these women literally kept cool and carried on!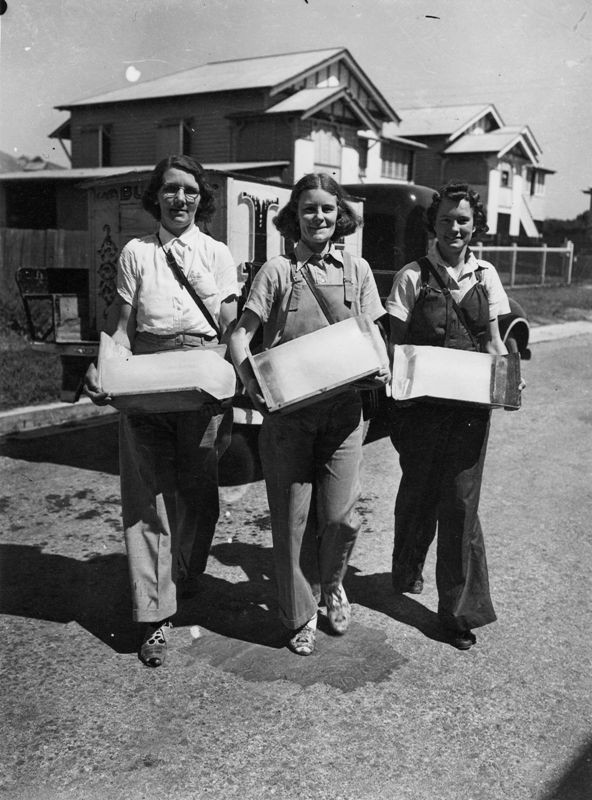 Women selling ice in the suburbs (L-R Mrs T. Quinn, Mrs R. Martin and Miss Margaret Briscoe), Brisbane, 1942.
John Oxley Library, State Library of Queensland, Negative No. 22136.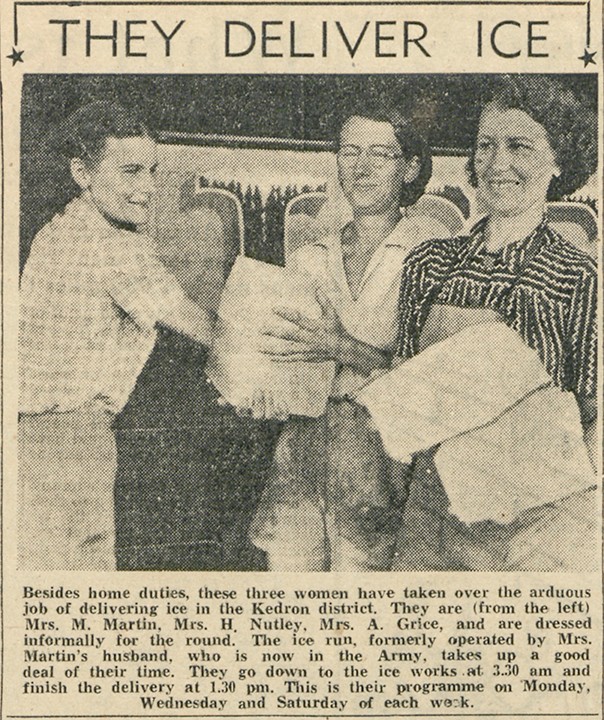 "They Deliver Ice", in The Telegraph (Brisbane), 29 Jan 1944, p.4.
For women more comfortable with "traditional" women's roles, there were other opportunities to work in hospitality or with fundraising and patriotic groups. Carrying on a proud tradition, women from the "Comfort Funds" knitted their way through the war, making socks, scarves and mittens, and gathering other items to package and send to the troops. Established service groups such as The Red Cross also enlisted women in new roles, including as part of the Voluntary Aid Detachment where they worked as medical orderlies.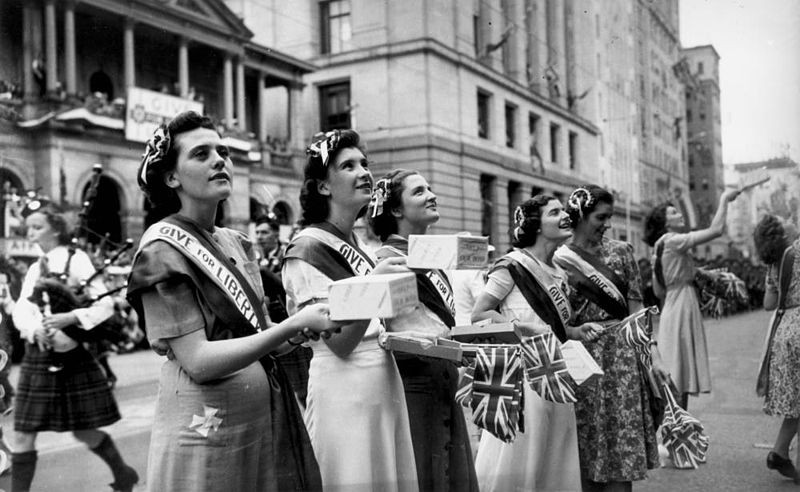 Women collecting for the Freedom Fund, Brisbane, ca. 1943.
John Oxley Library, State Library of Queensland, Negative No. 161594.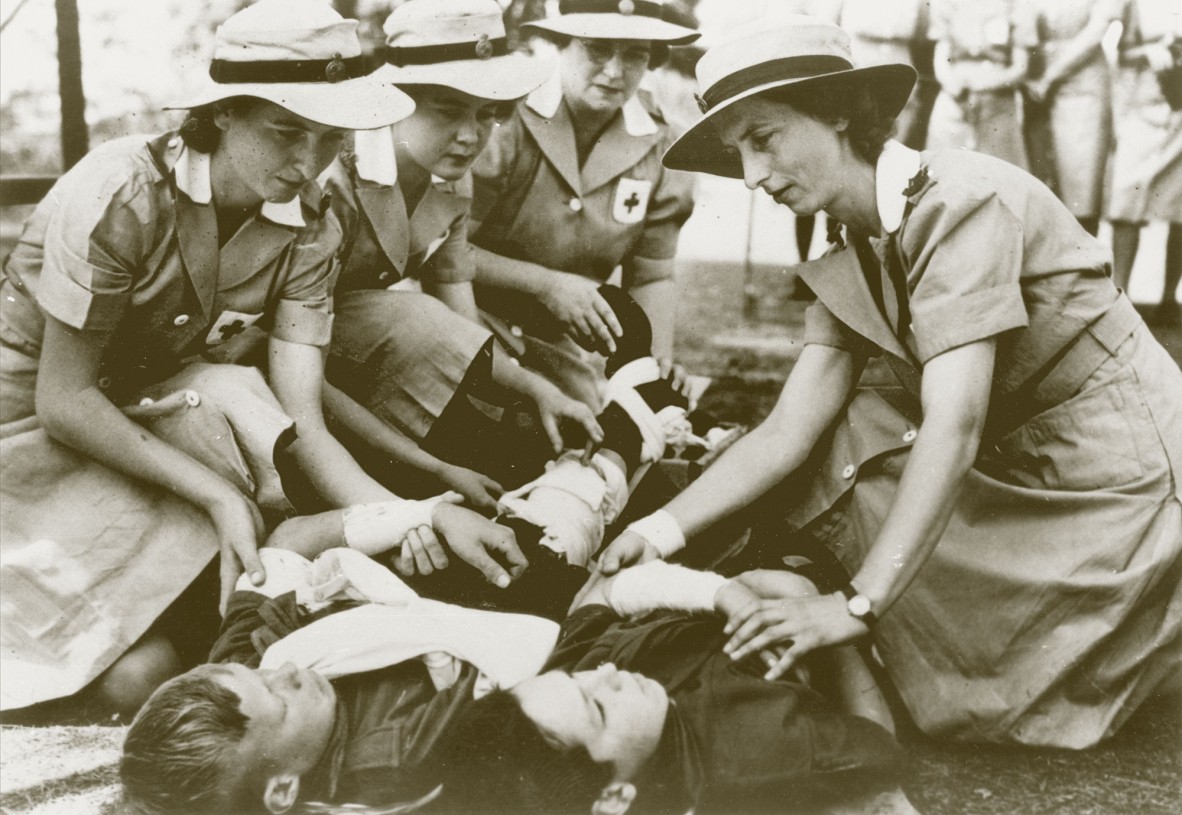 Voluntary Aid Detachment members in training, Brisbane, ca. 1942.
John Oxley Library, State Library of Queensland, Negative No. 4988.
Enterprising women also formed and operated their own associations, such as the The Silver Hut Free Canteen, which was installed near Anzac Square in Brisbane and provided free refreshments to service personnel, seven days a week, from morning until evening, from May 1941 until the end of the war, staffed entirely by women volunteers.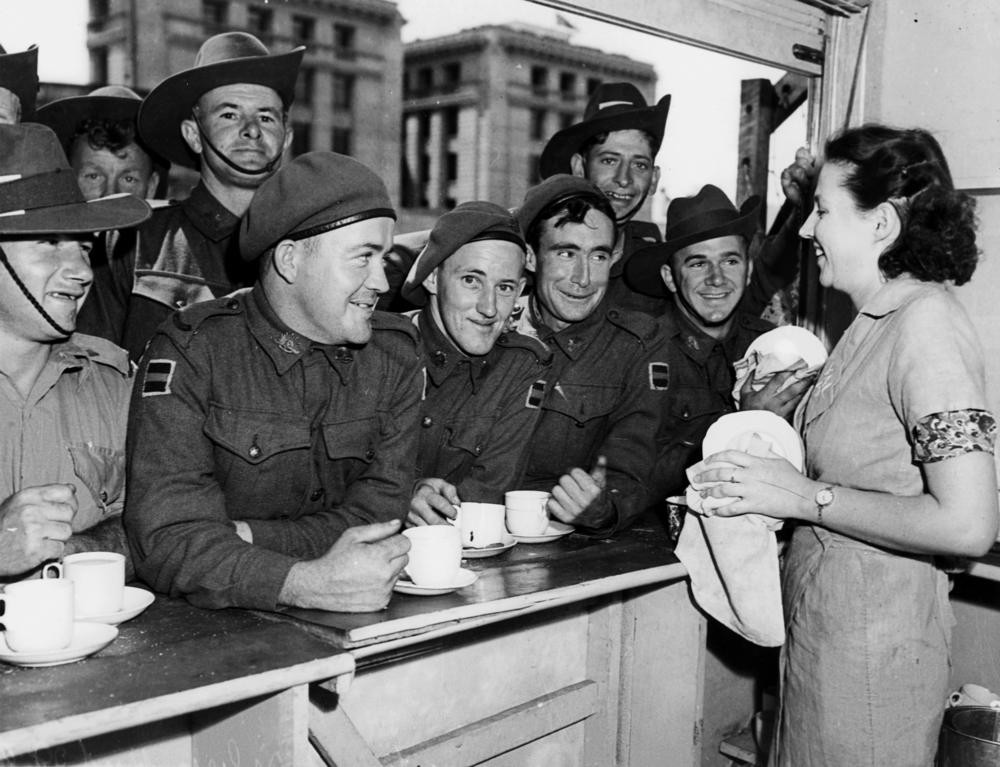 Soldiers enjoying a cup of tea at the Silver Hut, Brisbane, ca. 1942.
John Oxley Library, State Library of Queensland, Negative No. 195041.
After the war, many women would find themselves relegated to the home once again, as men returned to civilian life, and society returned to a new version of the old status quo. However, the example these women set during WWII ignited a confidence in their own and subsequent generations of women that perhaps they could and would like to do more, and that, more shockingly, perhaps they even deserved to be paid equally for their efforts!
It would be a few more decades after the end of WWII, and would require the efforts of many more generations of progressive women and like-minded men, before Australian women would achieve equal pay entitlements and their employment rights would be enshrined in legislation like the Sex Discrimination Act. Even today, equal pay and women's rights remain topical issues. But for all the battles yet to be fought, it is undeniable that the ingenuity, guts and resilience demonstrated by women during WWII impacted the course of history for the millions of Australians that followed in their footsteps.
Over 77 years since the end of WWII, we salute those women and thank them for the service they did for the nation, then and now. When asked, "what can a woman do?" they answered, not by doing a "man's job" but by doing their jobs and doing them as only they could.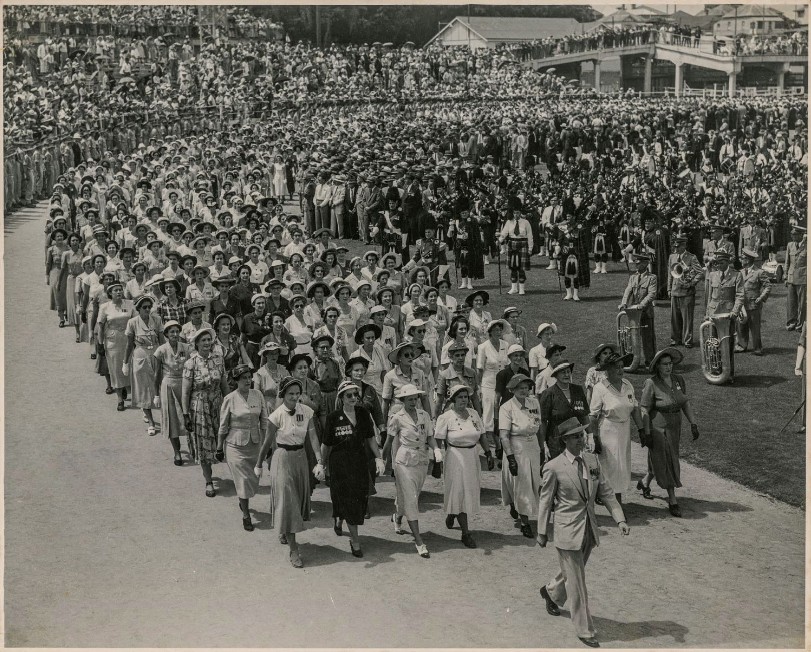 Ex-servicewomen marching at the Brisbane Exhibition Grounds, 17 March 1954.
John Oxley Library, State Library of Queensland, Image No. 4793-0004-0002.
Comments
Your email address will not be published.
We welcome relevant, respectful comments.