Australia Day 2013 - Government House
By JOL Admin | 8 February 2013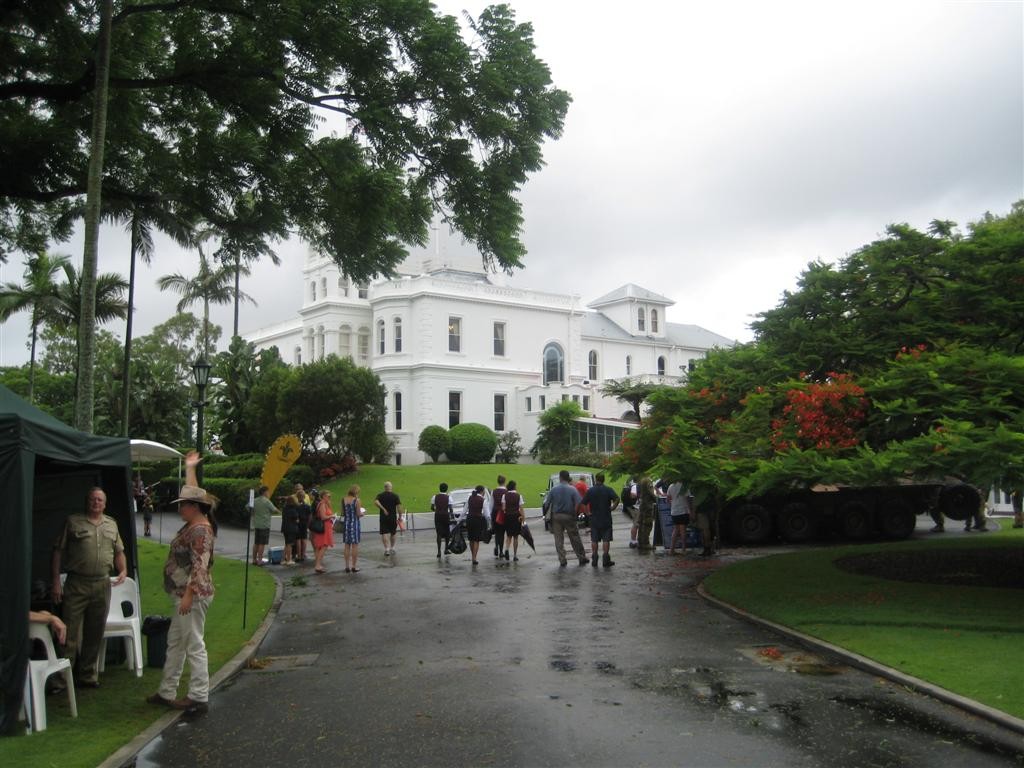 Australia Day Government House 2013
A small crowd of Australia Day devotees attended the celebrations at Fernberg, the magnificent home of the Governor of Queensland, Her Excellency Ms Penelope Wensley AC and Mr Stuart McCosker. The rain poured down, but it didn't deter representatives from the State Library of Queensland who set up their stall next to their good friends, the Queensland State Archives, in the beautiful Investiture Room. The room was also shared with the Australian National Flag Association of Queensland, the Queensland Branch of the Order of Australia and representatives of Government House.
We made some lovely connections with two amazing people in their 80's – Pixie Annat MBE OAM, and Mick Davis AM ASM FPA. Pixie, a former nurse, is the Patron for the Australian National Flag Assoc. of Qld. and has, and still does, hold many other titles, such as President of the Lady Musgrave Trust, Chair of the Anglicare Southern Queensland Human Research Ethics Committee (HREC) and the Hon. Secretary of the Centaur Memorial Fund for Nurses.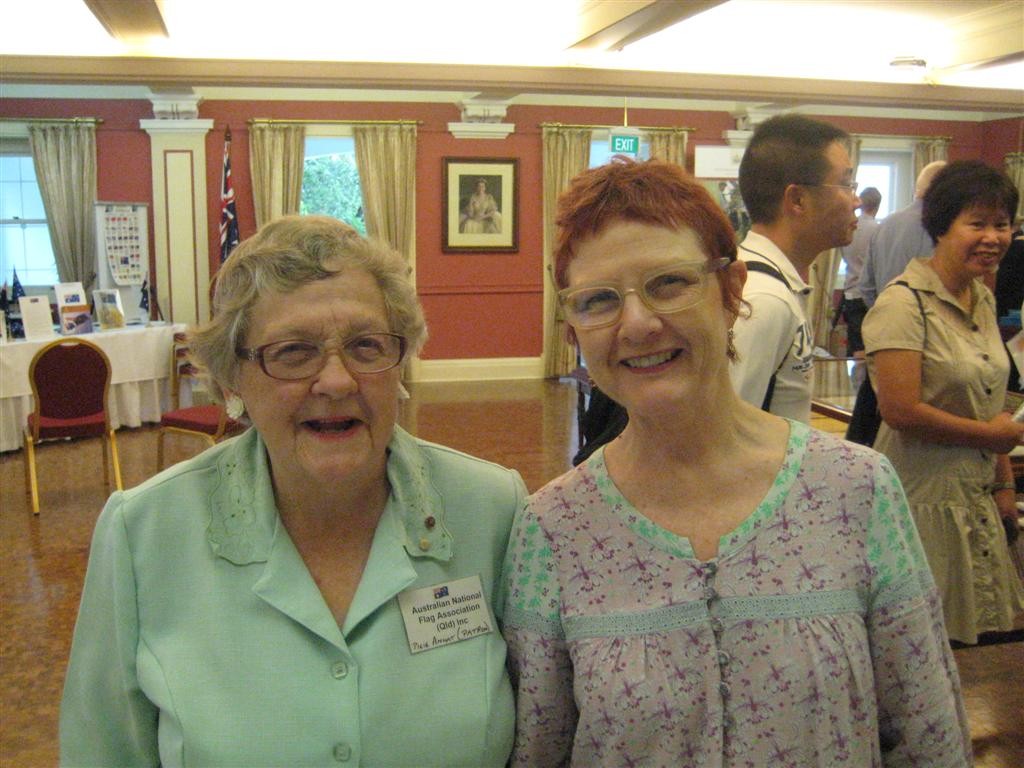 Pixie Annat MBE OAM and SLQ's Ruth Gardiner. Australia Day Government House 2013
Mick served in the Ambulance services for over 48 years. He has too many high level positions to list here, but suffice to say his list of awards speak for themselves! In 1999 he was awarded the National Medal – 2nd Clasp in recognition of long and dedicated service. In 2000, he was presented with an Order of Australia, for service to community health through the Queensland Ambulance Service and the former Institute of Ambulance Officers (Paramedics Australasia), particularly in the areas of education and training. In 2012, Mick was the recipient of 3 awards: an Ambulance Service Medal (for distinguished service by the men and women of Australia's ambulance organisations) the Surgeon-General John White Medal (Awarded in recognition of long and dedicated service to the sick and injured in the pre-hospital environment) and the Queensland Ambulance Service "Distinguished Service Medal" on his retirement, in recognition of exemplary leadership and professional contribution.
Pixie and Mick are two inspiring Queenslanders, and it was wonderful to share the day with them. We enjoyed informing visitors about State Library services and collections, and look forward to contributing to Australia Day celebrations again in 2014.
Ruth Gardiner and Catherine Cottle - Queensland Memory, State Library of Queensland
Comments
Your email address will not be published.
We welcome relevant, respectful comments.