'The Ascent of Mt Warning', 1914 account
By Myles Sinnamon, Project Coordinator, State Library of Queensland | 11 December 2015
Amongst the vast collections of personal papers held by the State Library of Queensland, is a detailed account of a Queensland artist's quest to climb Mount Warning in 1914.
Tweed River looking towards Mount Warning, ca. 1923. John Oxley Library, State Library of Queensland. Neg 202277
Peter Smith Templeton was at the time a senior artist for the Queensland Government Printing Office in Brisbane. He was an especially talented watercolour artist, later exhibiting his works with the Royal Queensland Art Society. In 1932 he was made a life member of this Society.
Templeton's account, entitled The Ascent of Mount Warning, is a fragile bound typescript with several photographs pasted in. According to an annotation this account was read to the Wynnum South Literary Society during their winter session in 1914.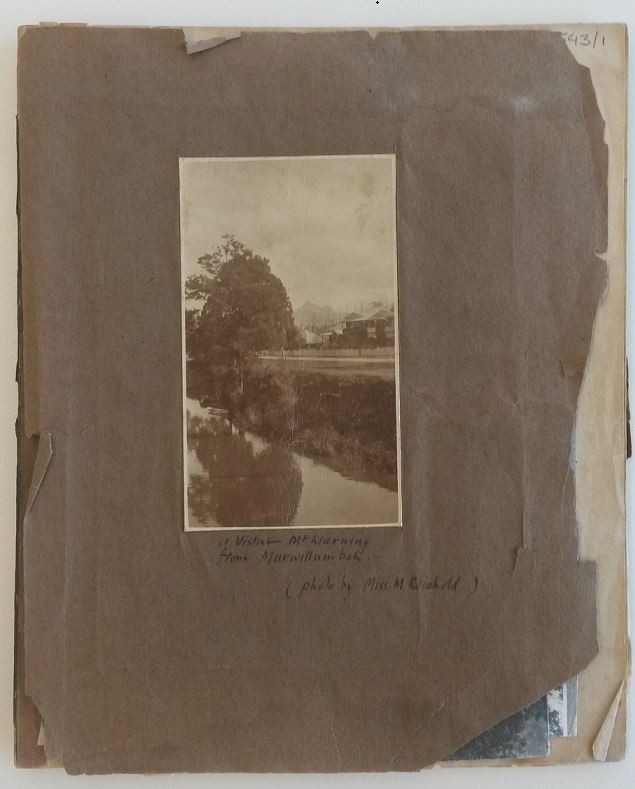 Front cover of Peter Smith Templeton account of climbing Mt Warning in 1914. John Oxley Library, State Library of Queensland.
Templeton's account amusingly starts whilst on holidays with a friend, swimming at a beach at Tweed Heads.
"While in good holiday fettle last Christmas, disporting ourselves in the breakers at Tweed, a suggestion came from a fellow bather, a kindred spirit of long-standing friendship; conversation followed, subsequently more dips, the briny washing round those same twin-thinking headpieces with vigorous swish; more enthusiasm, more consideration, then a resolution, - What was it? That Mount Warning be investigated. Both thinkers being musical, it was fittingly decided that we scale the Mountain!"
Setting out on New Year's Day 1914, Templeton and friend set off from their camp site at Shark Bay at 7 a.m. and caught a steamer which travelled along the Tweed River. The pair then arrived at Murwillumbah at around 10:30am and made their way to the Livery Stables to hire a sulky to take them to Mount Warning.
'En route' - from Peter Smith Templeton's Papers. John Oxley Library, State Library of Queensland
"Emerging from overhanging shrubbery into open, clear country, we approached the entrance to the Mount Warning Valley, commanding a fine view of the Mountain towering high above the adjacent ranges. The path leads in winding fashion through level country, with a continuation of deep ruts..."
The pair stopped at a place called Board's Farm, where they were graciously provided with biscuits and raspberry cordial. Mr Board drew a rough map of the route, which has been carefully pasted into Templeton's account. Board and his dog accompanied the travellers for a short distance providing directions before turning back. Board's dog, however, decided to stay with the travellers, with Templeton comically proclaiming, "Henceforth we are three!".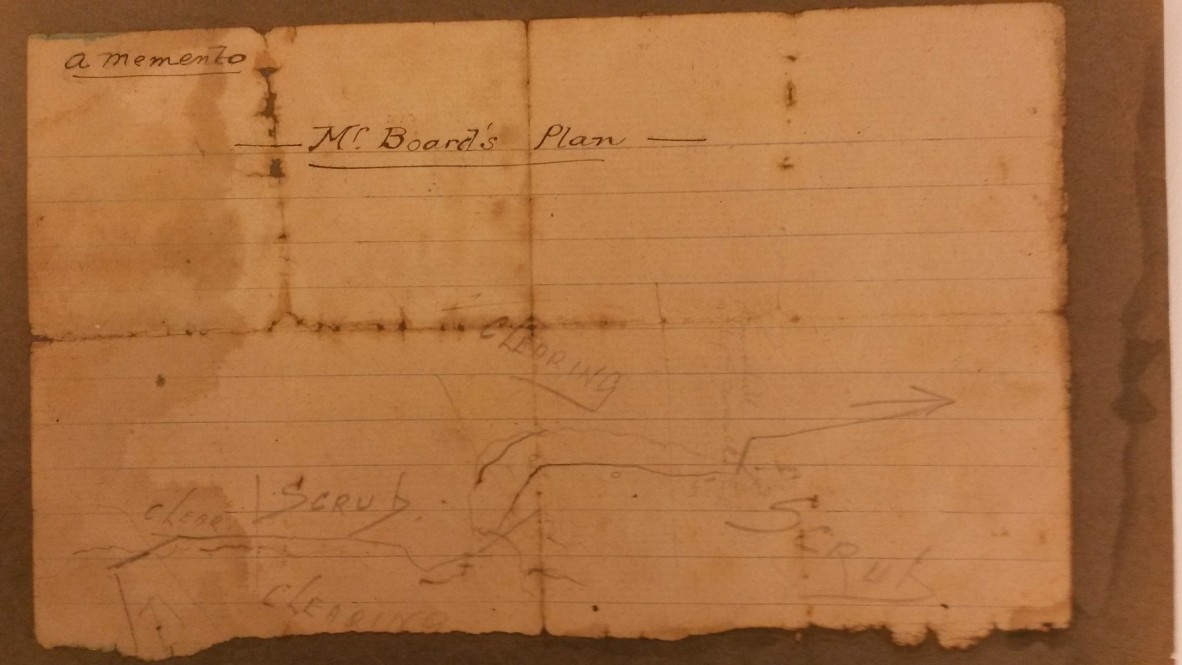 Board's map to Mt Warning. From Peter Smith Templeton's Papers. John Oxley Library, State Library of Queensland
The trio then wasted several hours after getting lost and following the wrong track, before discovering the correct path just before dark. After making camp for the night, they started their ascent at 5 a.m. the next morning.
The novelty of the ascent was soon overtaken by monotony -
"Later on it becomes purely a matter of business, and the sentimental barometer falls considerably. The heart cries out "How long, Oh! how long!?" as the half-hours go by, and we are still ascending. We had some tough problems in getting over and under huge fallen trees. Thus, zigzag after zigzag never ending, giving ourselves three minutes' walk and a minute's rest (as advised by some experienced hands) we ascended. Upward! Ever upward!
"...Walking around the spiral bend which ends the zigzag, we are conscious of dizzy heights. The high mountains have all retired. We are above them. The Tweed River is a silver thread stretching down the middle of a sunlit, distant valley. Strange sensation!! We look over the Southern side, and although the path is perfectly free from danger, we feel "gie heich" (very high)".
Conditions became more difficult as they neared the summit, with Templeton and his fellow climber proceeding slowly on their hands and knees. During the last part of the ascent they discovered to their amazement that the dog had somehow already made its way to the summit.
"We began to doubt the wisdom of allowing our canine friend the distinction of being the third member of the party. Instead of taking 'the lowest seat', here he is, with glaring impertinence sniffling down upon us, as much as to say, 'I'm first up after all'."
'Summit' - From Peter Smith Templeton's Papers. John Oxley Library, State Library of Queensland
Finally at 8:05am, they achieved their goal - "We are on the top. Stepping freely out on the slightly curved surface an accomplished fact."
'Last Lap' - From Peter Smith Templeton's Papers. John Oxley Library, State Library of Queensland
The 4543 Peter Smith Templeton typescript and paintings collection also contains a hand bound album containing watercolours by Peter Smith Templeton, relating to the Mount Warning trip, pasted onto brown card.
Mount Warning's traditional Indigenous name is Wollumbin and is a sacred site for the Bundjalung people.
Myles Sinnamon - Project Coordinator, State Library of Queensland
Comments
Your email address will not be published.
We welcome relevant, respectful comments.