Artworks donated by Mr John Bingham
By JOL Admin | 10 November 2009
John Oxley Library staff member Dianne Byrne visited Pialba last Saturday to meet a very special donor. He is Mr John Bingham 95, author and artist who for many years has been a popular resident of the Fraser Coast.
Mr John Bingham at home with his artworks.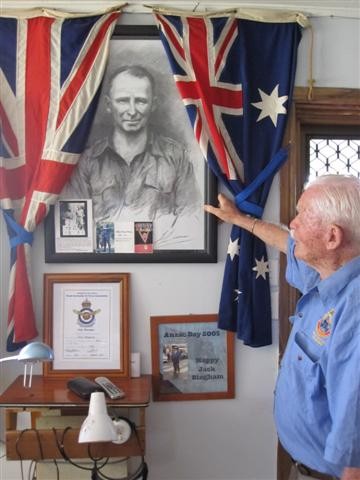 "Jack" Bingham served with the RAAF during World War Two and was captured by the Japanese in Batavia (Dutch East Indies). He was imprisoned in Changi and sent to work on the Burma Railway. The story of his time as a POW and his courageous escape is recounted in his book My Life (2008).
Now in retirement after a long career as an engineer John Bingham devotes his time to producing vivid and expressive landscape paintings. Two of these have been generously donated to the John Oxley Library by their creator and the Library is honoured to accept them. They are full of the great charm, good spirits and love of life of the extraordinary man who made them.
Comments
Your email address will not be published.
We welcome relevant, respectful comments.