Archival layering in the 21st Biennale of Sydney
By JOL Admin | 21 May 2018
Guest blogger: Tess Maunder – 2017 Mittelheuser Scholar-in-Residence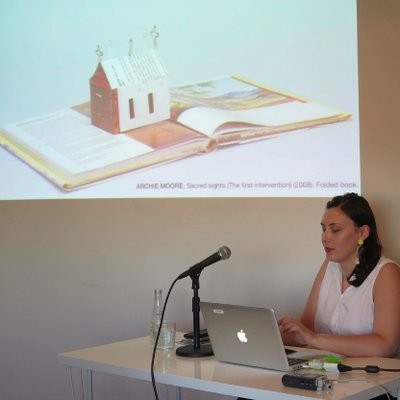 Tess Maunder, 2017 Mittelheuser Scholar-in-Residence
Tess Maunder, 2017 Mittelheuser Scholar-in-Residence
As the 2017 Mittelheuser Scholar-in-Residence, my research has focused on the intersection of contemporary curatorial practice, digital futures and archives. As I've spoken about in previous blog posts, curatorial practices today have a wide variety of formats.
Today for this post I am focusing on the role of archives within Australia's longest running biennale - the 21st Biennale of Sydney. The most recent iteration of the biennale is called SUPERPOSITION: Equilibrium & Engagement (ongoing until 12 June 2018) and is curated by Tokyo based curated Mami Kataoka. Kataoka and her team have worked with 70 artists and artist collectives from 35 countries across seven different venues in Sydney to present an exciting curatorial presentation, which this year includes an archival element on display at the Art Gallery of New South Wales.
The Biennale of Sydney Archive project began in 2015 when over 40 years of records were donated to the National Art Archive at the Art Gallery of NSW to be organised, edited, indexed and digitised. The archive includes a wide array of material including artists' files, images, correspondence, media clippings and photographic and video documentation that stretches back to the inaugural biennale exhibition in 1973.
Since 2015, the Gallery and the Biennale have been working in partnership on this project. Selected documents have been included as part of the official 21st Biennale of Sydney exhibition at the Art Gallery of NSW this year. The outcome of bringing the archive into the exhibition is a self-reflexive platform for the biennale. It is a moment to display contested histories and to open-up a frank discussion about every aspect of the biennale to the public. It gives audiences a chance to see 'behind-the-scene' aspects of the making of the biennale.
I believe this is a strong curatorial move by the biennale because it is taking ownership of its own history, and through the placement within the exhibition itself, it demonstrates the indeed the archive is active, and is growing. It gives agency to the audience because they can appreciate the role they play within a larger historical context, and it might encourage them to keep visiting future iterations, making a long-term audience body. Other recent biennales that have used this strategy include the 7th Edition of the Asia Pacific Triennial (2012-13) in Brisbane (which I wrote about in eyeline magazine in 2013).
Overall archival displays do not have to follow the standard musicological approach, which I believe is often dull and boring. On the contrary when approached with a little creativity and collaboration, displaying archives can be vibrant, meaningful and responsive method of audience engagement.
Biennale of Sydney Archive, Art Gallery of NSW, photo courtesy Tess Maunder
Biennale of Sydney Archive, Art Gallery of NSW, photo courtesy Tess Maunder
Biennale of Sydney Archive, Art Gallery of NSW, photo courtesy Tess Maunder
Biennale of Sydney Archive, Art Gallery of NSW, photo courtesy Tess Maunder
Comments
Your email address will not be published.
We welcome relevant, respectful comments.