Anzac Day at the Brisbane Synagogue (1930)
By JOL Admin | 24 April 2014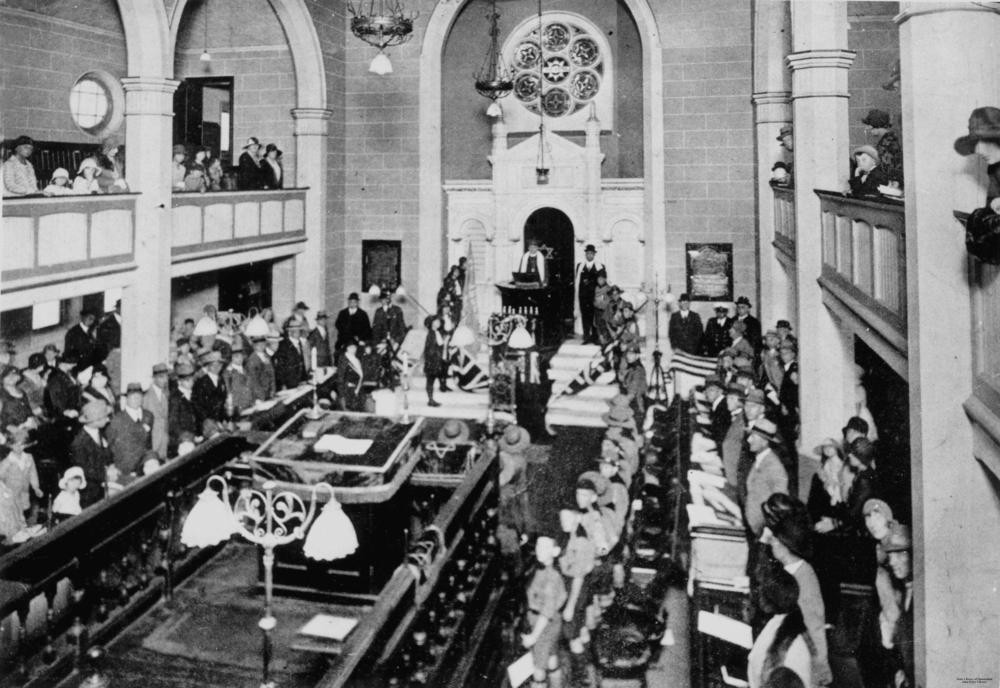 Anzac Day ceremony in the Synagogue, Brisbane, 1930
Anzac Day ceremony in the Synagogue, Brisbane, 1930
On Anzac Day, 1930, a memorial service was held at the Margaret St Synagogue in Brisbane's CBD. A guard of honour was mounted, consisting of members of the First Judean Girl Guides and First Judean Boy Scouts, through which the 32 ex-servicemen in attendance, along with other dignitaries, passed on their way into the Synagogue.
According to The Hebrew Standard of Australasia, the chaplain, Reverend Nathan Levine, "placed a tallit on the Chair of Remembrance, symbolic of our fallen Jewish brothers and after the sounding of the Last Post by a bugler… there was one minute silence". This was followed by a Memorial Prayer and the lighting of Memorial Lights by members of the Scouts and Guides.
Levine took as his text, "I will give them an everlasting name, which shall not be cut off", from Isaiah. He addressed the congregation about the sacrifice made by all those who had fought in the Great War, before going on to highlight the specific contributions made by Jews, stating that "the Jews had provided the army with one of the finest of generals, Sir John Monash,and Jewry also had to its credit five Victoria Crosses, 50 Distinguished Service Orders, 242 Military Crosses, 80 Distinguished Conduct Medals, 308 Military Medals and 374 Mentioned in Dispatches".
Reverend Nathan Levine. Rabbi of the Brisbane Synagogue from 1926 - 1936
Reverend Nathan Levine. Rabbi of the Brisbane Synagogue from 1926 - 1936
Levine also consecrated the flag of the First Judean Girl Guides. At the conclusion of the service, a luncheon was given for the ex-servicemen at the Rooms of the Council of Jewish Women, with the Guides waiting at tables.
Myles Sinnamon - Project Coordinator, State Library of Queensland
Comments
Your email address will not be published.
We welcome relevant, respectful comments.