Allies in war, rivals in the ring
By Myles Sinnamon, Project Coordinator, State Library of Queensland | 12 February 2014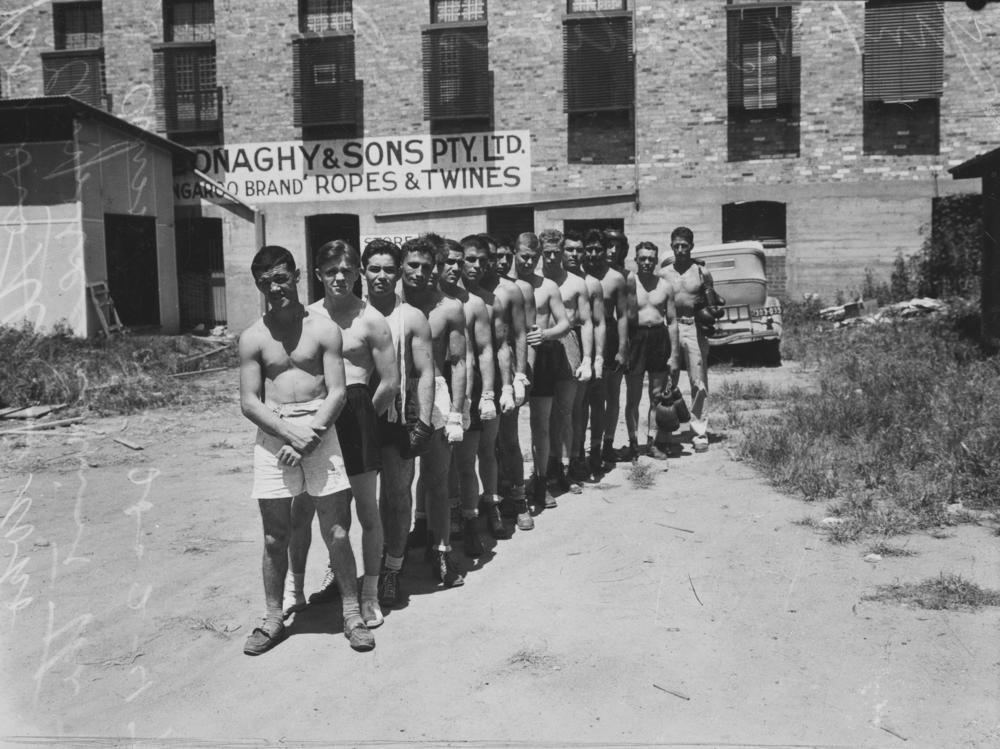 Members of the US servicemen's boxing team, Brisbane, February 1943. John Oxley Library, State Library of Queensland. Neg 102776
On February 27, 1943, two allies in war became rivals in the ring, as the Australian and American servicemen came together for a night of boxing. This inter-Allied competition was held at the old Brisbane Stadium (which stood on the corner of Albert and Charlotte Streets in Brisbane's CBD). There were an estimated 5,000 people in attendance, including the Governor of Queensland, Sir Leslie Wilson and the Brisbane Lord Mayor, Alderman Chandler.
On the previous evening the Australians held an "elimination series" between the Army and the Air Force to decided who would make the final team. In the end the Australian team featured several experienced and professional boxers, including Fred Corton, Lionel Orreal and Bill de Blein.
American born Tod Morgan was the trainer of the United States boxing team, himself a former world lightweight champion. Morgan was confident, describing his team of sailor and soldier boxers as being "pretty hot".
American servicemen boxers in Brisbane. John Oxley Library, State Library of Queensland. Neg 104178
There would be 14 fights in total, each bout would be awarded points - 3 for a win, 2 for a draw and 1 for a loss. The Australians had an extra impetus to win; in a previous stoush back in May 1942, they suffered a bruising defeat against the Americans, winning only 4 of 12 bouts. This time around the Australian fighters proved too strong for the Americans, who despite fighting valiantly, won only 5 of the 14 bouts, finishing with 24 points compared to Australia's 32. The biggest upset of the tournment, according to The Sunday Mail, was when Colin Moody defeated "the star of the American team" Eddie Markham, a light heavyweight.
The tournament raised £1626 for the Queensland Patriotic and Comforts Funds.
Myles Sinnamon - Project Coordinator, State Library of Queensland
Comments
Your email address will not be published.
We welcome relevant, respectful comments.