Aerial pageant in Brisbane, 1927
By Myles Sinnamon - Engagement Officer, State Library of Queensland | 21 November 2017
On November 12, 1927, an estimated crowd of 6000 gathered at Brisbane's Eagle Farm to watch an aeronautical extravaganza.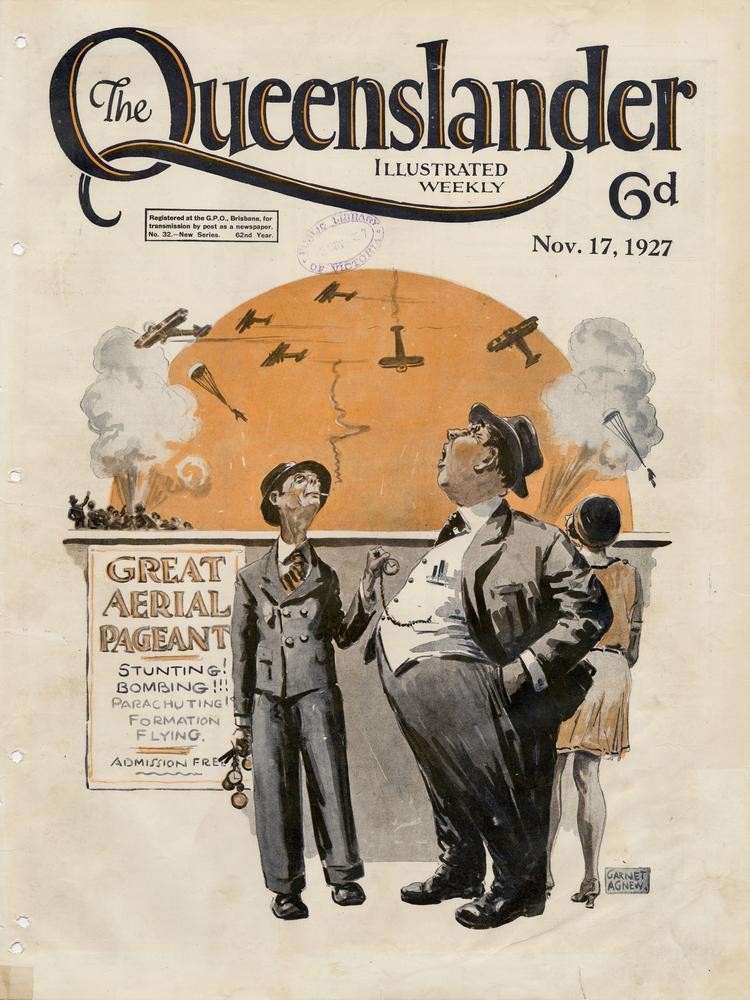 Illustrated front cover from The Queenslander, November 17, 1927. John Oxley Library, State Library of Queensland. Image 702692-19271117-s001b
Organised by the state branch of the Australia Aero Club and touted as its first annual Aerial Pageant, the event promised thrills including an aerial derby, a bombing display, mock air battle and a parachute jump. Advertisements promised "the largest concourse of machines ever witnessed in Queensland", with 16 military and civil aircraft taking part.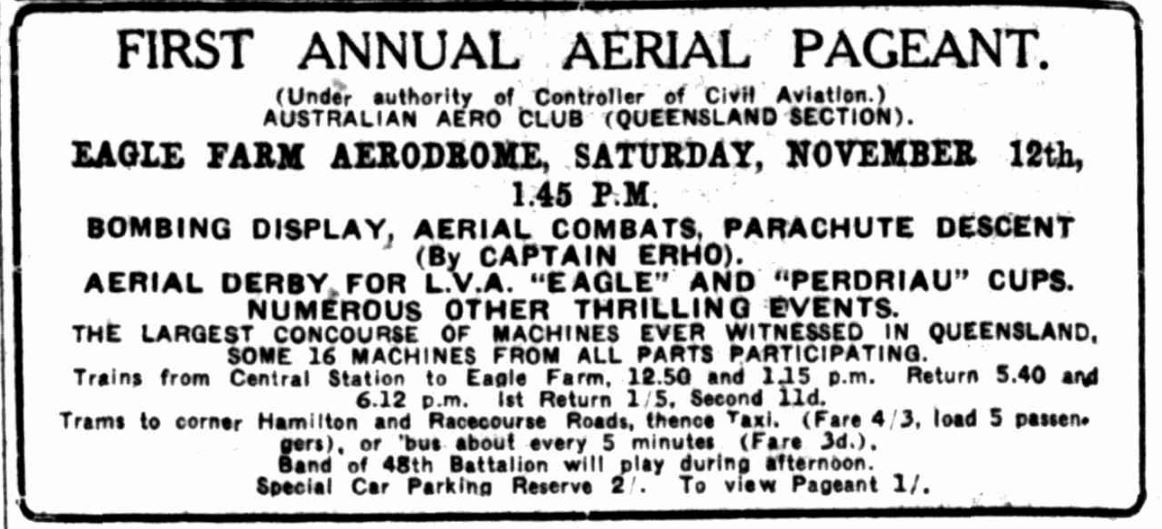 Advertisement from Brisbane Courier, November 11, 1927. (Trove newspapers)
Not all went according to plan; bad storms the previous day delayed six aeroplanes travelling to the pageant. Although four of them eventually arrived as the afternoon wore on, they were unable to participate in some of the main events. Nevertheless, the crowd were treated to many exciting spectacles.
Following the opening parade of machines flying in formation, there followed a balloon strafe where three planes repeatedly flew through 20 red balloons aiming to pop them with their propellers. Their success rate was just under 50 per cent. Two RAAF pilots performed low-altitude bombing, their target an "enemy" ammunition dump.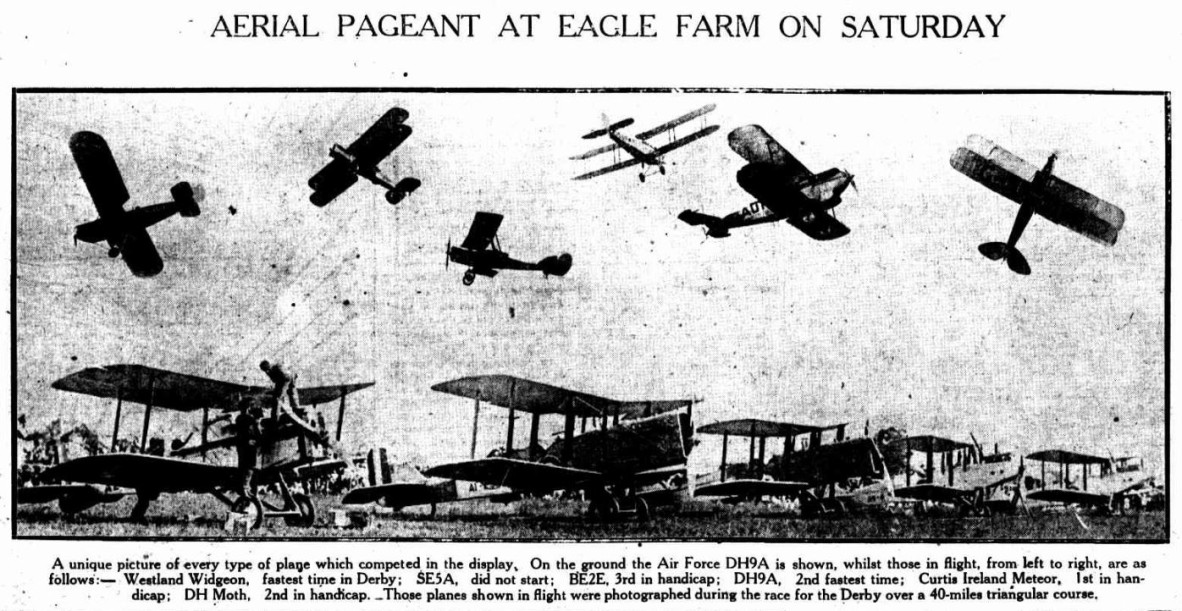 From Telegraph, November 14, 1927, p.34. (Trove newspapers)
Qantas pilot Lester Brain awed spectators with stunt flying, during which "spectators held their breath at times until the machine was righted, and its behaviour become more normal", according to the Sunday Mail. A highlight of the pageant was the parachute descent of Captain E. Erho, of the Air Force of Finland. From 5000 feet, Erho executed his jump perfectly to land just within the boundary of the aerodrome, avoiding the barbed wire perimeter fence.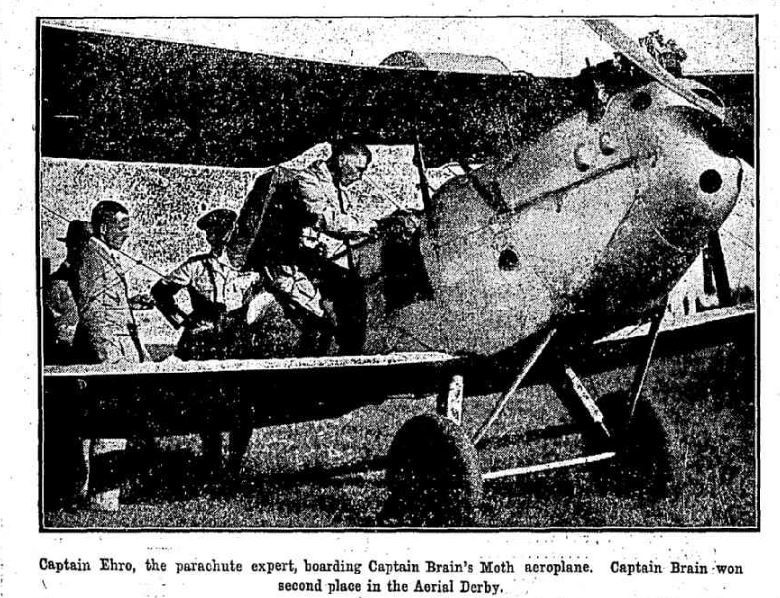 From Brisbane Courier, November 14, 1937, p.18 (Trove newspapers)
Myles Sinnamon - Engagement Officer, State Library of Queensland
Comments
Your email address will not be published.
We welcome relevant, respectful comments.