ABBA, Joh, his deputy and the Brisbane concert that never was
By Myles Sinnamon, Project Coordinator, State Library of Queensland | 18 April 2013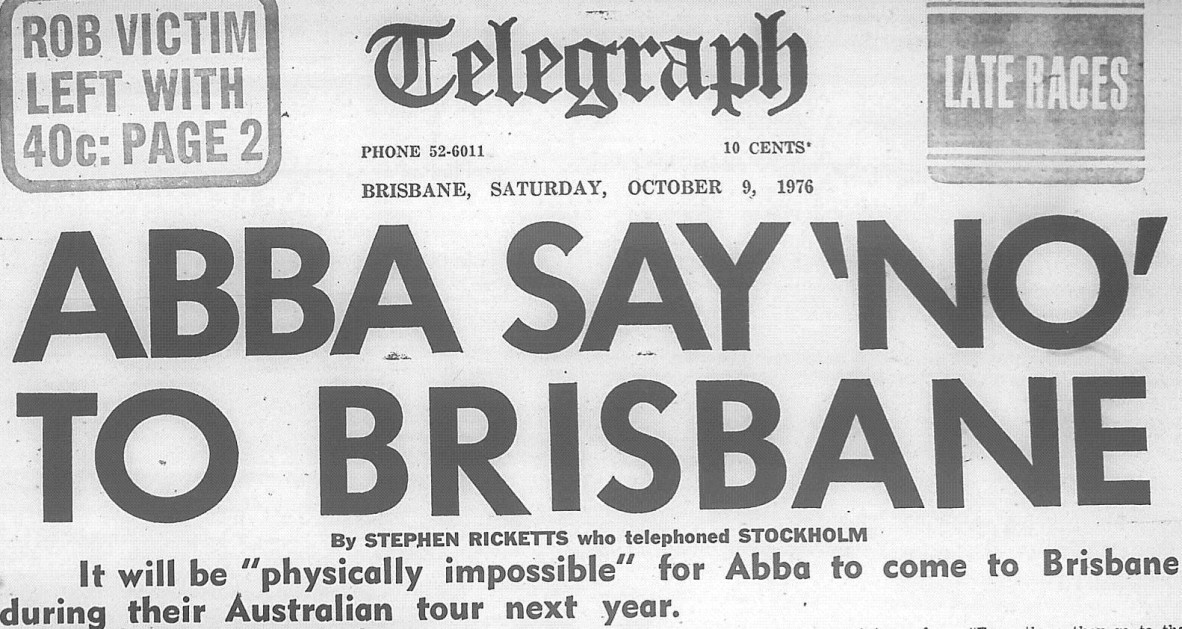 Front page of the Brisbane Telegraph newspaper, 9 October 1976
In October 1976 news came from Stockholm that Swedish pop group ABBA were heading Down Under in March 1977. There was one noticeable exclusion from their tour itinerary - Brisbane. To the disappointment of Queensland fans, ABBA would only visit Sydney, Melbourne, Adelaide and Perth.
On the same day as the sad news was conveyed to Queenslanders, hundreds were attending a "Bring ABBA to Brisbane" rally in King George Square. The organisers of the "ABBA Bring Them to Brisbane Association" rally (or "ABBA" for short) vowed to continue fighting. "If we give up now we will let a lot of people down" said a spokesperson for the group.
According to the band's agent, Tom Johansson, it was "physically impossible" to come to Brisbane, as "time and technical difficulties of putting such a big show on the road are the biggest problems". One reason for the tight schedule was that Bjorn and Agnetha didn't want to leave their young daughter Linda for more than 2 weeks.
There was evidence that Brisbanites were bigger die-hard fans than their southern counterparts. According to newspaper reports ABBA cassette sales were higher in Brisbane than in Melbourne. A "Get ABBA to Brisbane" petition had managed to muster over 30,000 signatures.

Front page of the Brisbane Telegraph newspaper, 13 October 1976
It wasn't long before Queensland's conservative politicians decided to weigh-in to the debate. Deputy Premier William Knox's young daughters, Fiona and Kerrith were big ABBA fans. According to Knox they had been hassling him to bring ABBA to Brisbane. Knox told the Brisbane Telegraph, "They have been on my back about it for the past few days. They asked what I could do about it and if the State Government could intervene"
On 13 October 1976, Knox sent the band a telegram urging them to come to Queensland. ABBA at that time were in Los Angeles making a series of television specials. In the telegram Knox said the band would be given a "warm welcome by the Government and people of Queensland" and that "You have a tremendous number of fans in Queensland who will be extremely disappointed if the state is not included in the tour".
The subject of ABBA was also raised during a sitting of the Queensland Parliament. When Knox informed the House of his actions and said "I hope it has the support of all members", the members replied, "Hear! Hear!"
The next day, 14 October 1976, in an editorial the Courier-Mail blasted Knox stating that "the Deputy Premier makes himself and the Queensland Government look foolish when he takes time off from matters of state to plead with a pop group to come to Brisbane. One would have though that Mr Knox had his hands full with a vital by-election and a disgruntled Liberal Party rank-and-file".
A day later the Premier Joh Bjelke-Petersen shocked Queenslanders by publicly announcing that he hoped ABBA would change their minds and endorsed Knox's telegram to the group. In an article published in the Courier-Mail on 15 October 1976 titled "Joh Digs ABBA Too!", the Queensland Premier remarked, "I don't have any ABBA records but it is a wholesome group and not associated with drugs. I have had lots of telegrams asking for my support in bringing the group to Queensland".
Letters to the editor column published in the Courier-Mail on 18 October 1976.
However there were a few Queenslanders who had moral objections to ABBA touring Queensland and were upset by Premier Bjelke-Petersen's approval and endorsement of the band, as can be seen in the letters to the editor column published in the Courier-Mail on 18 October 1976.
"I was shocked and disgusted to read of our Premier's support for the Swedish pop group, ABBA", wrote "a concerned Christian mother of 5". She went on to say that she supported Joh's "Christian stand against drugs, immortality and pornography" but that he must have been misled by the "Communistic press". "These people with their indecent costumes have freely admitted that two of them are living together without the blessing of God's holy matrimony".
Another letter-writer stated that it was distressing for him that the Government was courting ABBA, who were "products of a socialist country".
Despite the press attention and Government intervention a Brisbane concert did not materialise on the group's tour itinerary. Queensland fans had to be content with either travelling down to one of the southern concerts or listening to ABBA through their record or cassette players.
This story was compiled from newspaper reports published in The Courier-Mail and The Telegraph which are available on microfilm at the State Library of Queensland.
Myles Sinnamon - Project Coordinator, State Library of Queensland
Comments
Your email address will not be published.
We welcome relevant, respectful comments.