75th Anniversary of Victory in Europe - Celebrating VE Day
By JOL Admin | 7 May 2020
On 7 May 1945 German General Alfred Jodl, representing German High Command, signed a document unconditionally surrendering all German Military forces. This surrender was closely linked to the death of Adolf Hitler on 30 April, during the Battle of Berlin. Moreover, while German forces had put up a fierce defence in the beginning of 1945, they had rapidly lost territory to allied forces and had run out of essential supplies. A military act of surrender was signed at 02.41am at the Supreme Headquarter of the Allied Forces (SHAEF) at Reims, in North-Western France. This surrender document was formally accepted on 8 May 1945, which is known as Victory in Europe (VE) Day. After five years and eight months the war in Europe was finally over.
The cost of World War Two in Europe was immense. It resulted in the dislocation of millions of people from their homes and countries and extensive destruction of physical property. The cost to governments has been estimated at more than $1,000,000,000,000. Current data indicates that between 15-20 million people perished in Europe, twice as many as in the Great War. There are no statistics that can adequately convey the human misery, suffering and deprivation that occurred in Europe during World War Two.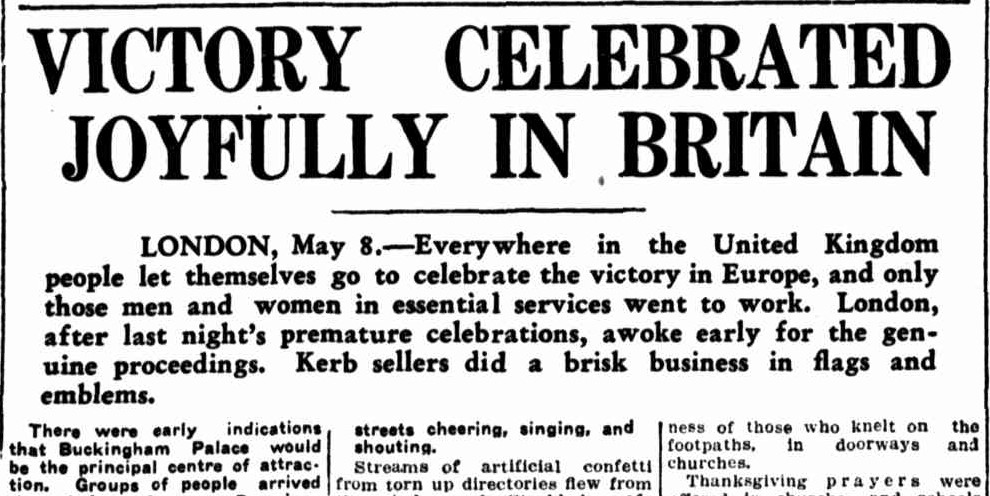 'VICTORY CELEBRATED JOYFULLY IN BRITAIN', Queensland Times, 9 May 1945, p. 1.
Upon Germany's defeat celebrations erupted throughout the Western world. People flocked to street parties and parades across allied Europe as relieved citizens finally looked with reborn optimism to a future beyond war-time privations. Celebrations in Australia were somewhat muted as fighting in the Pacific would continue until August. Nevertheless, in Brisbane, church bells rang out across the city at noon (on 9 May, our time). Anzac Square was described as one the brightest contributions to the celebrations, ablaze with floodlights for services held in the evening, which attracted an estimated 10,000 people.
'V-E DAY CELEBRATED BY THOUSANDS IN BRISBANE', The Courier-Mail, 10 May 1945, p.3.
Procession aftermath in Brisbane During World War Two, ca. 1945; John Oxley Library, State Library of Queensland, Negative no. 168381.
This year, 8 May 2020 marks 75 years since the end of World War Two in Europe. In Europe and the United Kingdom huge celebrations had been planned for this important anniversary of an historically significant event. Unfortunately, due to the current social distancing regulations in place throughout the world, it has been necessary to come up with some alternative ways to celebrate VE Day.
With so many of us staying in our own homes, members of the public have been encouraged to participate in several home-based activities. Many people will fly their national flags and those of the Allied countries outside their homes. Buglers, trumpeters, and cornet players are invited to play the Last Post at 2.55-3pm in the country they are in and then at 3pm for bag pipe players to play Battles O'er.
Image courtesy of State Library of Queensland
In the UK people are invited to take part in the Nation's Toast to the Heroes of World War Two at 3pm by standing in their homes or gardens and raising a glass of their preferred beverage and using these words, "To those who gave so much, we say thank you." They will also have the recorded speech of former Prime Minister Winston Churchill broadcast on the BBC and Town Criers crying out for peace at 6.55pm.
In Australia we too can take some time to participate in these activities, listen to wartime tunes like Vera Lynn's "We'll meet again" or read about the history of those who have served our country in times of war. To learn more about the War in Europe and VE Day explore our suggested reading list.
Pauline Gordon
Visitor Services Officer, Anzac Square Memorial Galleries, Visitor & Information Services
Suggested Reading:
Visit the Anzac Square website for more information.
Comments
Your email address will not be published.
We welcome relevant, respectful comments.