70th anniversary of the bombing of Townsville during World War II
By JOL Admin | 24 July 2012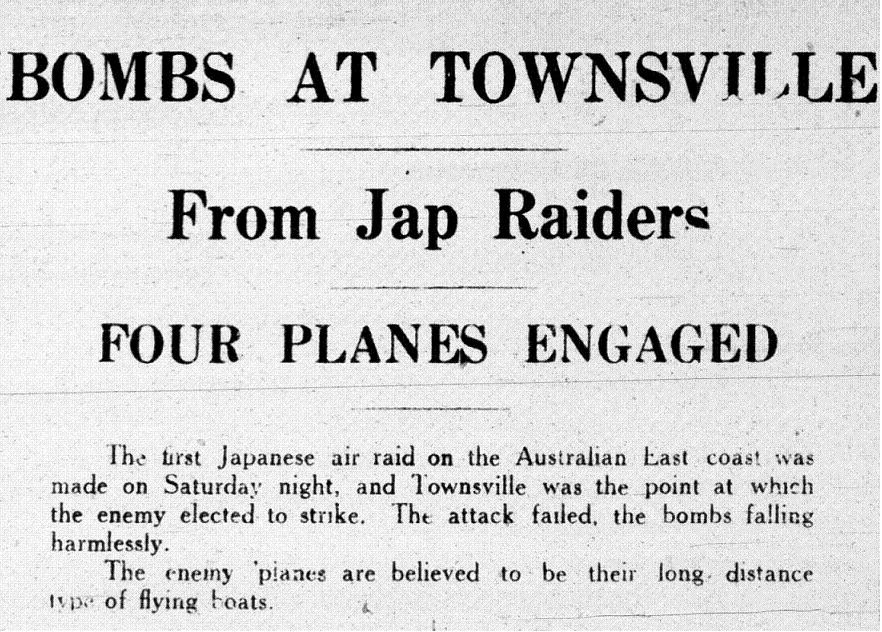 Headlines reporting the 1st bombing of Townsville during World War Two. Published in the Townsville Bulletin on 27 July 1942
When we think of Japanese air-raids on Australia during World War II we immediately think of the bombing of Darwin on 19 February 1942, when 242 Japanese aircraft bombed the town killing at least 243 people. It was the first and largest single attack against Australia and 2012 marks the 70th anniversary of this tragedy. However many may not realise that the Japanese military also conducted three small air-raids on Townsville and one on Mossman during late July 1942. These four raids were definitely not on the same scale as the 64 separate bombing raids the residents of Darwin suffered between 19 February 1942 and 12 November 1943.
Garbutt Airfield Townsville, July 1942. State Library of Queensland. Negative number: 171030
At the time Townsville was the most important air base in Australia. The first raid on Townsville occurred around midnight on the night of the 25-26 July 1942 - various reports mention between 2-4 Japanese flying boats dropping six bombs, all of which apparently landed in the sea. The second raid occurred at about 2 am on the morning of Tuesday, 28 July, carried out by a single airboat dropping eight bombs which landed near Many Peaks Range outside of town. The third raid occurred the following night, 29 July, about midnight, again by a single airboat, in fact the same pilot as the previous night's raid. During the third air-raid six allied aircraft unsuccessfully attempted to intercept the Japanese aircraft which jettisoned its bombs, seven of which landed in Cleveland Bay. An 8th bomb landed near the Animal Health Station at Oonoonba.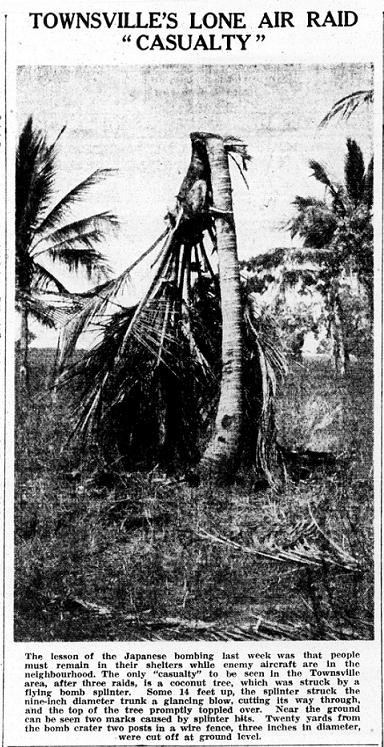 Taken from the Townsville Bulletin newspaper, 3 August 1942
The only casualty of the three air-raids on Townsville was a coconut tree when a bomb from the 3rd raid hit Oonoonba. The Oonoonba Bombing Memorial was dedicated near the site of impact to commemorate the 50th anniversary in 1992.
ABC war correspondent Chester Wilmot witnessed the third raid and recorded and described the bombing as it was happening. An audio file of this recording is available online.
Myles Sinnamon - Project Coordinator, State Library of Queensland
Comments
Your email address will not be published.
We welcome relevant, respectful comments.