50th anniversary of the closing of the Peel Island lazaret
By JOL Admin | 14 August 2009
While this year holds a number of significant anniversaries in Queensland history, one of the more poignant is that 2009 also marks 50 years since the closing of the Peel Island lazaret.
Situated in Moreton Bay off Cleveland Point, and now named Teerk Roo Ra (Peel Island) National Park, the island has a unique history. Once a feasting and ceremonial site for the Indigenous people of the area, Peel was also used as a quarantine station in the late 1800's, and a home for inebriates in the early 1900's. From 1907 to 1959, the island functioned as a lazaret, where sufferers of Hansen's disease (or leprosy) were separated from society and isolated under the Leprosy Act 1892.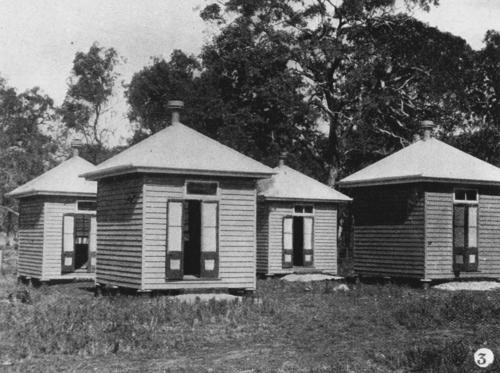 Huts for leper patients on Peel Island, 1907.  Image No: 36682
 Caretaker's cottage, ca. 1913.  Image No: APE-045-001-0028
Now heritage listed, the island's historic remains are being preserved and the park is managed by the Queensland Parks and Wildlife Service. The John Oxley Library continues to contribute to the preservation of the documentary history of the island.
Researchers wishing to delve into this past can find numerous resources available through our reading room including published items and original materials such as photographs.
A recent addition to the preservation of the island's history is the Friends of Peel Island Association website - captured by State Library and archived in PANDORA - a national digital archive where copies of Australian websites of significance are held and available online. Additional versions of this website will be captured over time, and these will remain as another resource available to future generations of researchers interested in Peel Island's history.
To view the preserved versions of the Friends of Peel Island Association website, see http://nla.gov.au/nla.arc-84386
For more information about the PANDORA archive go to http://pandora.nla.gov.au/
Comments
Your email address will not be published.
We welcome relevant, respectful comments.