2016 Queensland Memory Awards announced
By JOL Admin | 16 June 2016
The State Library of Queensland recently announced the recipients of the Queensland Memory Awards at a ceremony held on site and hosted by award winning journalist Trent Dalton.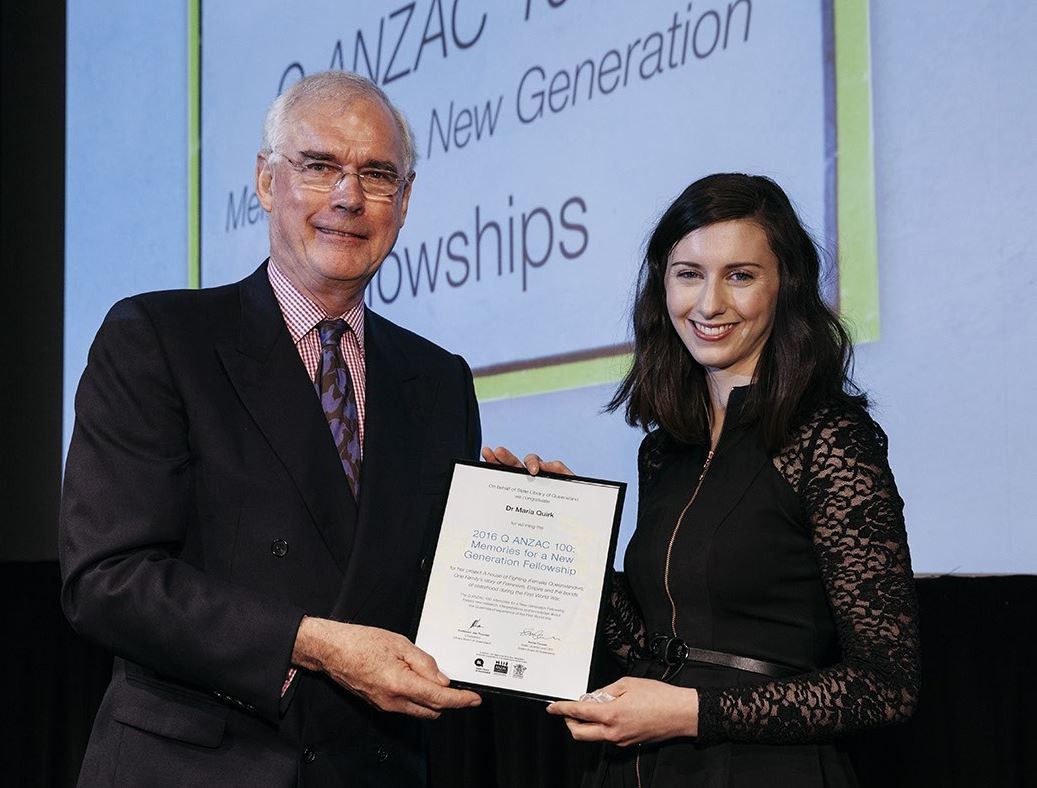 Q ANZAC 100 Fellowship recipient Maria Quirk. Queensland Memory Awards 2016, State Library of Queensland
Q ANZAC 100 Fellowship recipient Maria Quirk. Queensland Memory Awards 2016, State Library of Queensland
CEO and State Librarian Sonia Cooper said: "The Queensland Memory awards which are proudly supported by the Queensland Library Foundation are celebrated each year to acknowledge excellence in research and the creation of new knowledge about Queensland's history. The seven awards or fellowships collectively offer a prize pool in access of $100,000."
The 2016 Award winners are:
2016 John Oxley Library Award ($5,000) – Kim Wilson
This award recognises excellence and innovation in the recording of Queensland history by individuals and was awarded to Ms Wilson for initiating and leading the Brisbane Art Deco Project.
2016 John Oxley Library Community History Award ($5,000) - Cairns Museum and Historical Society
Through its museum programs, library and archive, photographic collection, Society publications and newly developed web portal, the Cairns Museum and Historical Society is committed to bringing the stories of Cairns and the region to life. The Society operates the Cairns Museum, the Cairns Historical Society Research Centre and the History on the Move School Trailer program.
Letty Katts Award ($5000) – John Willsteed
Through the resources in the John Oxley Library, Mr Willsteed's project Street Life: Posters and their role in the Brisbane music scene 1975-1995 will contribute new knowledge to Queensland's music heritage. Posters lend themselves to being both background to stories and memory triggers for audiences allowing development of bigger stories about the music scene – about bands and audiences, about Brisbane and South-east's cultural history.
John Oxley Library Fellowship ($20,000) – Lorann Downer
Ms Downer was selected from a strong field of over 40 applicants and will focus her research around political ephemera in Queensland from 1915 to 2015. She will offer a fresh perspective on politics in Queensland while showcasing some of the rich collections of the John Oxley Library.
Q ANZAC 100: Memories for a New Generation Fellowships (4 x $15,000)
Victoria Carless, a playwright and novelist will research the untold stories of Australian deserters during the First World War.
Ursula Cleary will bring the iconic story of Annie Margaret Wheeler, known as the 'Mother of Queenslanders', to a wider audience. As a Queenslander abroad 'Mother Wheeler' corresponded with thousands of Queensland soldiers and their families during the First World War giving them comfort, hope and reassurance.
Mark Cryle aims to fill a gap in the historical record of memorialising the First World War as he explores the written artefacts of women experiencing grief and loss during the war years.
Maria Quirk will focus on one family's experience of the First World War to tell the broader and more significant story of Queensland's early feminist movement and our pioneering women.
Queensland Business Leaders Hall of Fame Fellowship ($15,000) – Dr Toni Risson
Dr Risson's research project spans a 100 year period from 1880 to 1980, when Greek migrant families operated thousands of shops in city streets and country towns right across Australia. These shops evolved from late nineteenth-century oyster saloons to the modern milk bars of the 1960s and 70s. Although most have long since disappeared they undoubtedly left a legacy of success.
Minister for Innovation, Science and the Digital Economy and Minister for Small Business, Leeanne Enoch said State Library of Queensland through the John Oxley Library offered fantastic opportunities for further research into our history.
"These research initiatives play an important part in shaping our future and revealing new things about our identity as people and communities living in Queensland," Ms Enoch said.
"The winners of these awards are to be congratulated and indeed celebrated for their contribution to Queensland's memory."
"Very often historians and researchers' work go unnoticed by the general public, but through these awards we hope to open more doors into our rich and varied history and invite people to come in and join us."
Letty Katts Award recipient John Willsteed. Queensland Memory Awards 2016, State Library of Queensland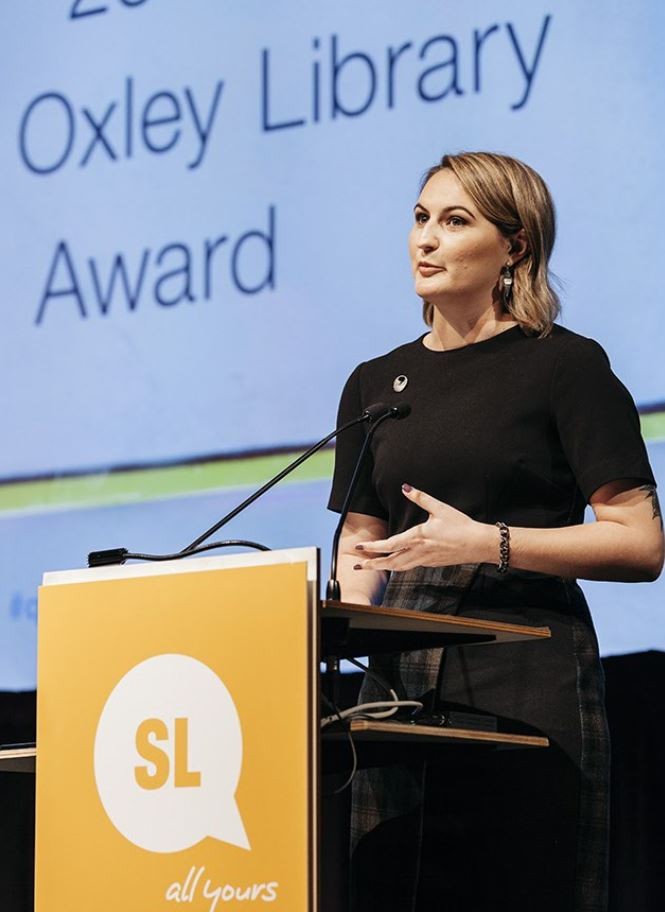 John Oxley Library Award recipient Kim Wilson. Queensland Memory Awards 2016, State Library of Queensland
Reception on the Queensland Terrace following the 2016 Queensland Memory Awards at State Library of Queensland
Comments
Your email address will not be published.
We welcome relevant, respectful comments.