19th Century Queensland immigrant's ship-kit
By Stephanie Ryan, Research Librarian, Information Services | 28 August 2020
A persistent concern for a number of researchers is the missing Queensland shipping lists of the 1860s, lost in the 1893 flood. This period marked the beginning of the State of Queensland when population growth was seen as an essential way to promote development. It is a significant loss because many people took advantage of a free passage and travelled "'tween decks" as assisted immigrants.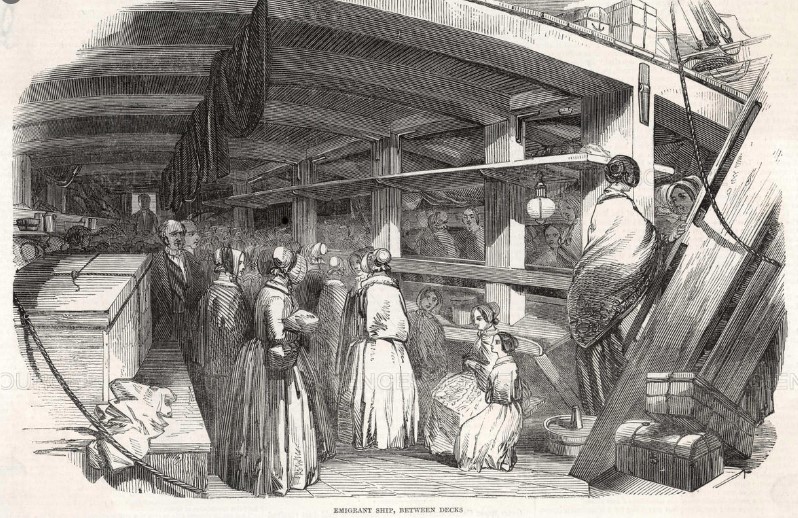 Emigrant ship, between decks where assisted passengers travelled.
Illustrated London News, 17 August 1850.
There are, however, substitute records for some missing ship lists. There is, for instance, a small collection of 1865-66 Colonial Secretary's documents which detail payment for ship kits ahead of the journey. These include the name of the ship and names of passengers but often, in relation to families, only the head of the family is named with the additional words 'and family'. These payment statements have not been digitised but can be located at State Library as part of a collection on microfilm using the microfilm index, of Queensland immigration records from 1848 to 1915open_in_new.
Why were kits and government stipulations necessary?
Some immigrants had no idea of what would be needed for the long journey or simply would not have been prepared for the varying conditions to cross the world and commence work. There were implications for a trouble-free trip as well as the immigrants' health and safe delivery. The cost of a ship kit and suitable clothing meant that setting out on the sea voyage was a considerable expense for many of the immigrants, even if their passage fare was without personal cost. Free passage was also a significant investment for the Queensland Government that wanted a return on its human cargo.
What was the ship kit and what were other conditions?
The Colonial Secretary of the time, Henry Jordan informs us: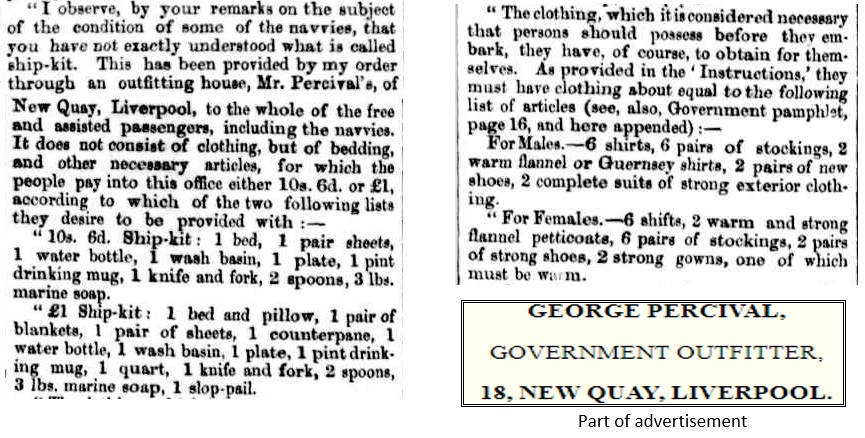 How good were the ship kits?
In 1875 a check was undertaken of the quality of Percival of Liverpool's outfitting supplies to the Queensland Government when the vessel "Tim Whiffler" was about to leave port for Maryborough. Their contract had been a lucrative one since the 1860s. The Toowoomba Chronicle and Queensland Advertiseropen_in_new, 18 September 1875 p.5, reported the discovery that a kit bought independently of the Government order was of better quality than that supplied to the Government. It was however, similar to that which had been originally submitted as a sample of what Percival would supply for the immigrants. A rug for which the government was paying £1 was actually valued at 12 shillings, 60% of the government charge. It was much lighter than the item the assisted immigrant received.
Immigration conditions
While paying cabin passengers might be comfortably accommodated on the top deck, the assisted, non-fare paying passengers were placed in very cramped bunk conditions between decks as can be seen in the illustrations. They ate and amused themselves in the same packed quarters where they slept, a severe 'lockdown'. We can see items from the ship kit in use and on display.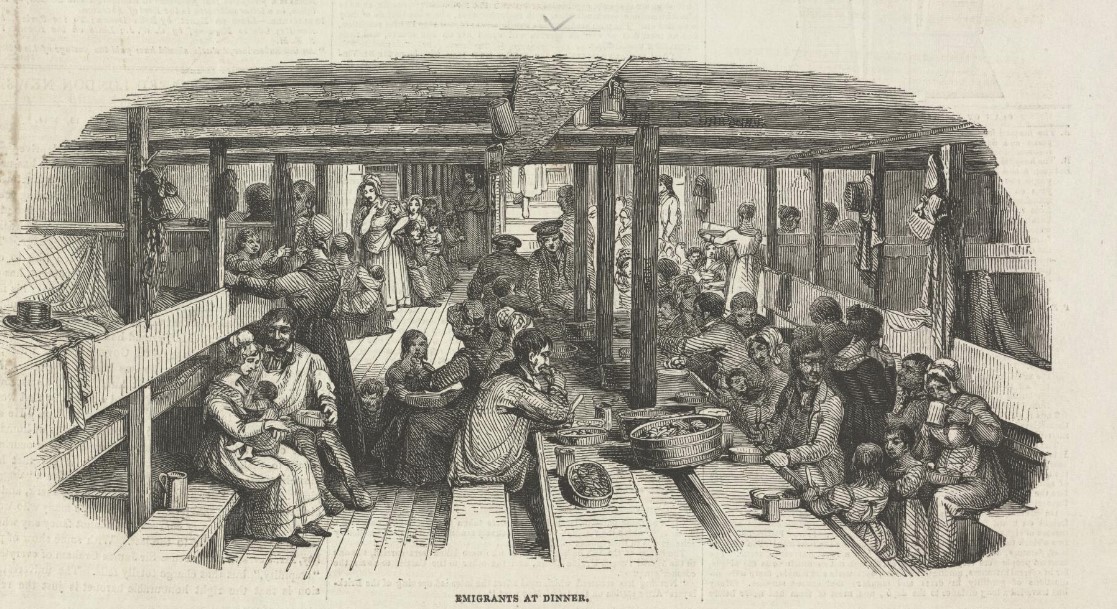 Emigrants at dinner, Illustrated London News, 13 April 1844.
The Illustrated London News
The Illustrated London News has numerous stories and images of immigrant ships and journeys. In order to capture onboard activity, illustrators would sometimes board the ship and perhaps travel to another English port, getting off before the vessel left on the overseas voyage. State Library has an index of images from the Illustrated London News, Maritime illustration indexopen_in_new compiled by Vaughan Evans Index 2, 'Illustrated London news : index to illustrations of ships, ports and places, and other items of general maritime interest, 1842 to 1891 inclusive' (FAMHIS 387.50994 1990). The Illustrated London News is held on microfilm and may also be accessed online by State Library members via One Search using title search.
Finding out about immigrant journeys, stories and images can be challenging. Resources which may assist include Queensland immigration records from 1848 to 1915 (MFL 929.3943 1987) and its index. It has a couple of extra sources, compared to the online alternative. These include records from the Colonial Secretary such as this limited run of payments for ship kits 1865-1866. Check out the pictures and stories of the Illustrated London News as well as those of the Australian illustrated and daily papers on Trove. If you want help Ask us.
Comments
Your email address will not be published.
We welcome relevant, respectful comments.