WWI Poem Donated to the State Library of Queensland
By JOL Admin | 24 April 2014
Arts Minister, The Honourable Ian Walker MP today added to our collection a poem written by his Great Uncle Glanville Henry George Rolls titled "Australia as a Nation".
"My Great Uncle was a run-of-the-mill bloke from country Queensland, but he never came home. He died during the Battle of the Somme in 1916, having last been seen in No Man's Land before action at Mouquet Farm. How many other young Queenslanders were lost in the mud of Flanders? We'll never know definitely."
"If families have got mementos of their lives, the State Library's QANZAC100 Memories for a New Generation project is your opportunity to share their story with generations of younger Queenslanders who won't know about the Anzacs unless we tell them. History will stay alive if we share the stories, personal accounts, memorabilia, diaries and oral histories, preserving it through digital records."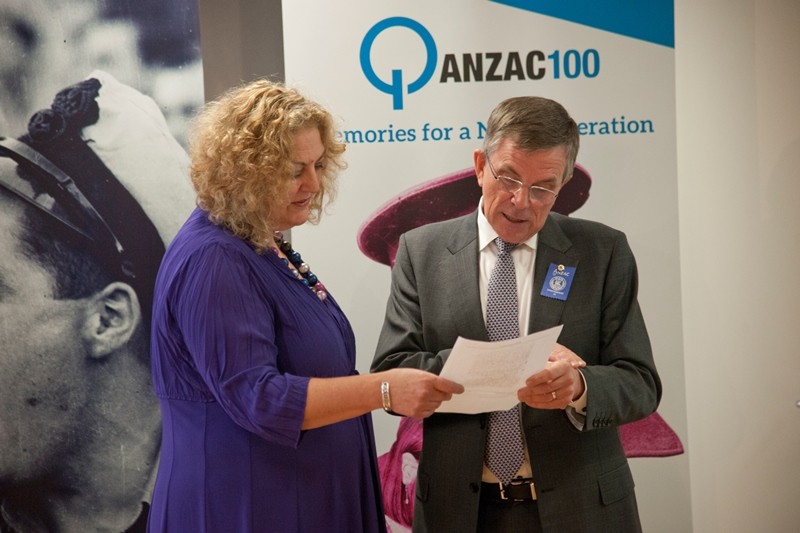 We thank Minister Walker for his generous donation to the John Oxley Library Collection. The text of the Poem reads:
Australia as a Nation
The Emden o'er the sea was slowly steaming,
The wind was fair, the morning warm and bright,
The Captain's face with joy was brightly beaming
The Cocos Island Station was in sight;
The Sydney from the distance opened fire,
Her shooting soon outclassed the German foe
The Emden's guns grew weak and soon did tire,
And sinking fast it made the Germans know.
All eyes on Australia have turned,
For a lesson from her has been learned,
Her strong able sons,
have stood by the guns,
And a foe like the Germans have spurned,
But the Kaiser to wrath has been churned,
For his anger towards us has turned,
But Australia unknown,
To a nation has grown,
And her place in the Empire well earned.
Old England in the present war is needing
The bravest men to fight her battles all,
Her ships from lands across the sea are speeding
With men in answer to her urgent call;
Australians to her aid are boldly going,
Such men as those who fought for her before,
And daily at the front brave deeds are showing,
Australia's name will live forevermore G.H. Rolls
As part of the many Anzac Day commemorative activities on offer at South Bank, the State Library has contributed to a display of images and quotes from original diaries held in the John Oxley Library at the Courier-Mail Piazza over the weekend. Visitors will hear live readings of Anzac journals, letters and newspaper stories on Saturday and Sunday on the hour from 10am to 3pm.
Simon Farley
Curator, Military Collections - State Library of Queensland
Comments
Your email address will not be published.
We welcome relevant, respectful comments.