Women's words and voices #IWD2021
By Reading and Writing | 5 March 2021
Three brilliant Queensland writers – Sara El Sayed, Anna Jacobson and Amanda Niehaus – were named winners of the 2020 Queensland Writers Fellowships. Over the next twelve months, they'll further their writing projects, travel for research, work with mentors and edge closer to publication.
In honour of International Women's Day, and the work of women authors and creatives everywhere, we interviewed Sara, Anna and Amanda about their writing. What inspires them? What did they read when they were small? How do they see themselves in the work they produce now?
Read on! And solidarity this #IWD2021.
Remembering your childhood reading, who is the first woman author who had an impact on you?
Sara: Jacqueline Wilson got me hooked on reading – particularly through the Tracy Beaker books. I was about seven years old when I read her. It was the first 'gritty' story I'd come across. The lively, illustrated covers made it an inconspicuous read for a child, but some of the content was pretty heavy. Wilson's ability to write so cleverly about difficult topics that affect children and families is admirable.
Anna: There are at least two women authors who had an impact on me as a child and made me want to be a writer and illustrator: Judith Kerr, who wrote The Tiger Who Came to Tea and Alison Lester – I loved her book Yikes! where you could choose which character you'd like to be and discover their fortunes and mishaps in verse on the following pages.
Amanda: I was obsessed with the Nancy Drew detective books — I idolised this smart, independent young woman who didn't give up until the mystery was solved. Reading these books taught me how to consider evidence and weave a narrative from disparate clues, which are my favourite things about both science and writing. It's interesting now to read about the series, which was actually created by publisher Edward Stratemeyer as a means to capitalise on the success of the Hardy Boys series with girls and was ghostwritten by Mildred Benson and other writers under the pseudonym, Carolyn Keene. Does it matter that he was in it for the money? That his values were conservative regarding women in the world? He sketched the stories but Mildred Benson, never named on the books or in them, made Nancy a 3-dimensional hero.
Anna Jacobson with the beautiful classic by Judith Kerr, published in 1968 (and Yikes! by Alison Lester)
Can you describe a female creative you admire?
Sara: Dr Randa Abdel-Fattah's work has always spoken to me. Does My Head Look Big in This? was the first book I read with a Muslim female protagonist, and I absolutely loved it. I even did a book report on it at school. Even now, Randa's work, both critical and creative, continues to be both exceptional and essential.
Anna: I admire my writing mentor Felicity Plunkett. She is generous, insightful, and shines light. Her poetry and essays are also brilliant.

Amanda: I admire Krissy Kneen so much! She is always working ideas like clay, and she shape shifts so elegantly and bravely among forms to tell stories – memoir, novel, poem, play, screenplay – while remaining grounded, embodied, corporeal. She pushes against the membrane of 'possibility' to show us all how fragile it actually is. Plus, she writes with so much science! I'm so excited for The Three Burials of Lotty Kneen to come out in May.
A shelf full of Krissy Kneen books: yes please
What is your favourite female character you've written?
Sara: Recently my characters have been real people (as I just finished writing a memoir). Out of those, I would say my grandma is my favourite. She's difficult, and doesn't care what anyone else thinks, and we love her for it. She's the type of person who would do something purely because she was told not to do it. She doesn't have a driver's licence, and never has, which is a relief, because I cannot imagine her following road rules. She is instruction-averse, at all times, and that's really fun to write.
Anna: I've illustrated some unpublished picture books, written with my mum that are based on her grandmother, and my great-grandmother. I loved illustrating the larger-than-life character of Mrs Magnolia, the grandmother figure, who learns to drive and bakes cakes for her driving instructor, among other adventures.
Amanda: Oh, that's hard! Every character I write has so much of my own heart inside them; they are like guides I use to interrogate my own place in the world. I love Elise (from my novel The Breeding Season, and the story it was based on, here) for all her struggles to survive loss and make something 'big' of her life. I love teenage Tess (in my story "Eclipse", here), who transcends her own confused grief when her mother dies. And my Fellowship novel-in-progress, "Relativity", considers the effects of trauma on women over generations, through protagonists Sarah (mother) and Hana (daughter). Because I'm writing, I'm falling deeper in love with them every day.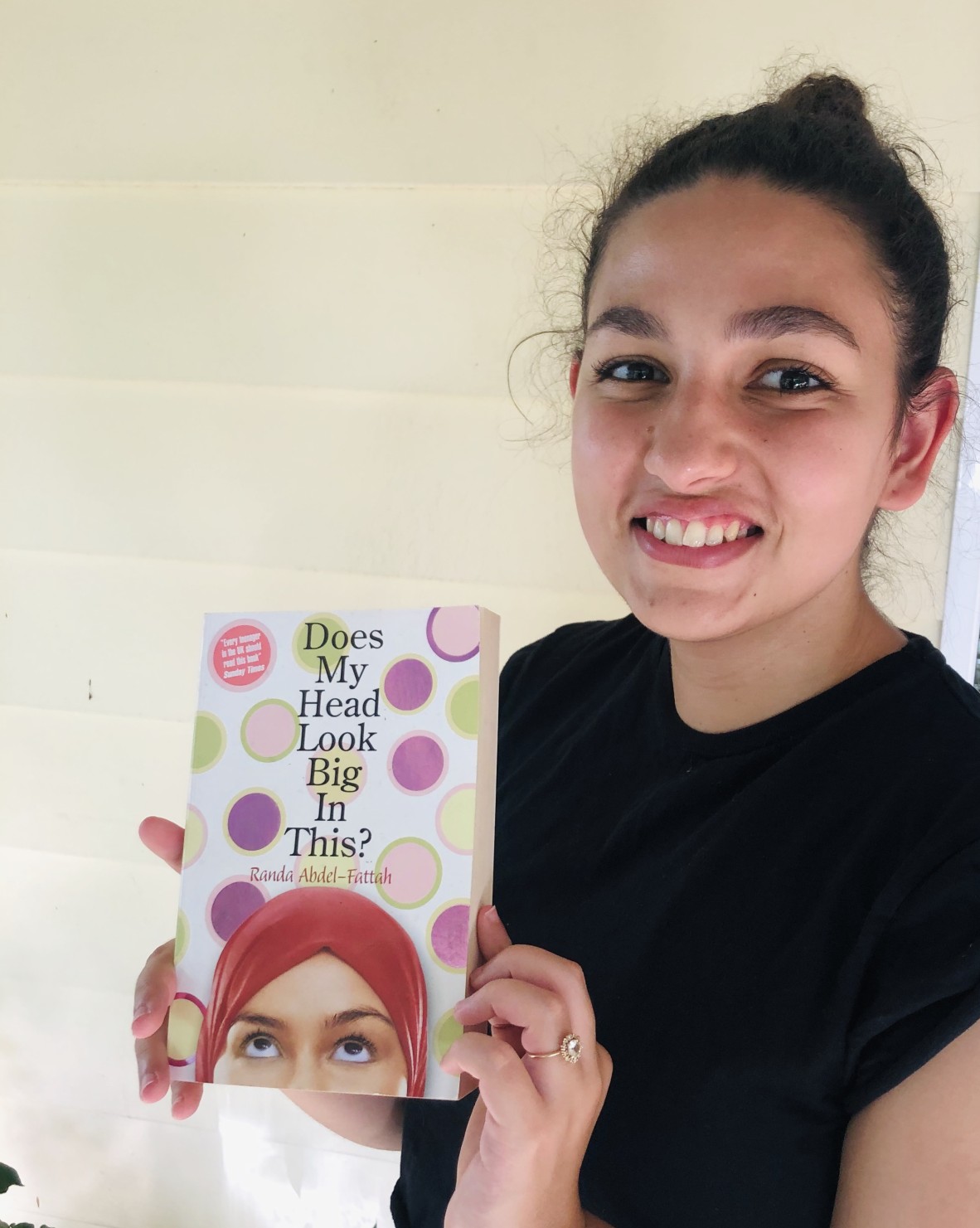 Sara with one of her faves, 'Does my head look big in this?' by Randa Abdel-Fattah
Amanda's Fellowship project is informed by 'Lifespan' by David A Sinclair
My Queensland Writers Fellowship project
Sara: My Fellowship project, "The Blind Pussy Cat", is the book I thought I would write first. I pitched it in class in my final year of uni almost four years ago, and I remember my tutor saying that if they were a publisher, they'd pick it up straight away. Of course, that did wonders for my ego. My big head is what has driven me to pursue this project. The book is inspired by a line in Egyptian feminist Nawal El Saadawi's The Hidden Face of Eve, "Parents … encourage ignorance in their daughters, and want them to be simple and naive, to remain 'blind pussy cats', as the Egyptians would say. For a 'blind pussy cat' is what an average Egyptian man would consider the kind of girl best suited to be a wife". I want the book to explore this naivety – particularly how women use strategic ignorance to maintain men's delusion of control. This did not end up being my first book, but it is one that is close to my heart, and one I am still ridiculously keen to write.
Anna: I am obsessed with capturing memory in poetic ways. My writing often draws on food, my Jewish culture, and family. My Fellowship project, a poetry collection called "anxious in a sweet store", traverses these key themes too, while also tackling my lived experience with generalised anxiety disorder. When I want to have a particularly good writing day, my writing superpower is to have a bubble tea. It means I won't sleep for half the night as I'm very sensitive to caffeine, so I don't do this often, but when I'm writing on those bubble-tea-days I feel like I'm flying. Coffee is my kryptonite. I can't even go there.
Amanda: I love science, and I'm always looking for ways to integrate scientific ideas or the lives of scientists into my writing. I want to inspire curiosity and maybe a little knowledge and understanding, but in a seamless way, like how the best historical fiction makes us feel we missed so much in high school history. For my Fellowship project, I'm studying the physics of time and the epigenetics of ageing, and it's like trying to catch moths in a jar in the dark, but I'm getting there. (Books like Lifespan by David A Sinclair and The Order of Time by Carlo Rovelli help!) I am also the co-founder of Science Write Now, exploring creativity in science and science in creativity.
Thanks to Sara, Anna and Amanda, and happy International Women's day, friends.
Comments
Your email address will not be published.
We welcome relevant, respectful comments.