Winton Lads, 5th Light Horse
By Marg Powell, Specialist Library Technician, Metadata Services | 16 July 2016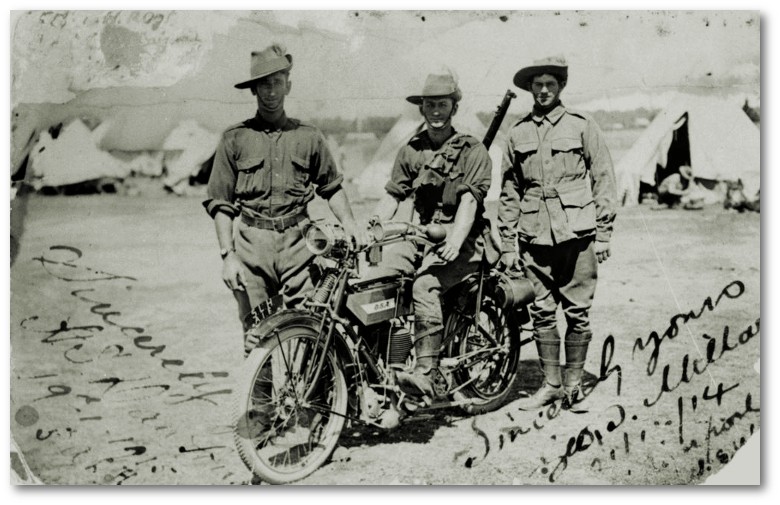 Signed by four mates who enlisted together, their fortunes were mixed, two did not return.
Signed by four mates who enlisted together, their fortunes were mixed, two did not return.
"This I thought you would like. The boys were handy when sending this so they signed, wishing you luck. We are in the red sea a hope to enter the Canal tomorrow. Where we land I don't quite know, somewhere in Egypt I think. Will let you have some news ere long. Tom."
The author, Trooper Herbert Selwyn (Tom) Dawson, was one of four brothers that had taken up a selection at Mount Landsborough, south of Winton. Two stayed behind on the land but Tom, Justin and Rupert (another brother from NSW) enlisted with the A.I.F.
The 5th Light Horse were stationed in Maadi Camp, while they waited for their orders to join the troops now in Gallipoli. When they finally embarked they left their mounts behind, and landed on the Peninsula in May 1915.
Dawson was a strapping man, aged 27 and over 5ft 9in tall, but he succumbed to the appalling conditions the men were asked to endure during this campaign. He died of heart failure after falling ill with diarrohea and most likely dysentery, on 28 June 1915.
Pictured next to Tom Dawson, astride the motorcyle, is Trooper Walter Alexander Young. He and his young brother William, enlisted at the end of October 1914 and embarked with the 5th Light Horse, after first training at Enoggera Camp, Brisbane then Holsworthy Camp, Liverpool, NSW. With his mates, he landed in Gallipoli in May 1915 but met his fate on the same day that Tom Dawson died.
Walter was killed during an operation that was staged to divert the Turkish troops' attention, from a British attack on their forces from Achi Baba near Cape Helles.
Troopers Tom Dawson and Walter Young are buried almost side by side at the Shell Green Cemetery, Plot 2, Row K.
Corporal William James Gregor Young, was just 18 when he enlisted with his brother Walter. After landing on the Peninsula with his comrades, William served May through July, but stricken with influenza he was evacuated via the hospital ship Ascania, first to Malta, then England in August 1915. Corporal Young absented himself without permission whilst in England for almost 9 months. William was court martialed and sentenced to 6 months detention, which was later remitted.
William returned to active service with the 2nd Infantry Battalion in France, in January 1917. He was wounded in action twice - in May 1917 he was hit with a shell to the face, foot and arm and was hospitalised in France - later in April 1918, again wounded by a shell to his right arm, and face, he was evacuated to England.
As the war drew to a close, William was granted extended leave in England to attend Wool Classing training in Bradford. He also took this time to marry his girl, Alice Hambly Parker, in Paddington on 26 November 1918. William Young and his bride returned to Australia in November 1919.
Not included in the postcard, but his signature is clearly visible on the front, Lieutenant George Simpson Millar, also served with his Winton mates on Gallipoli. Millar scalded his hands badly in August 1915 and was evacuated to England. During this time he secured a commission as 2nd Lieutenant with the Royal Field Artillery Brigade, where he served until late 1917. Millar re-enlisted with the A.I.F. as a Lieutenant and served with the 5th Division Artillery & 14th Field Artillery Brigade. He returned to Australia in January 1919 where he married Maude Lilian Kennett in 1928.
George Millar's family donated a photograph album to the Museum of Victoria, it contains over 100 photographs of his time with the 5th Light Horse Regiment, and is available online.
Comments
Your email address will not be published.
We welcome relevant, respectful comments.