William THOMPSON #10786
By Marg Powell, Specialist Library Technician, Metadata Services | 31 August 2017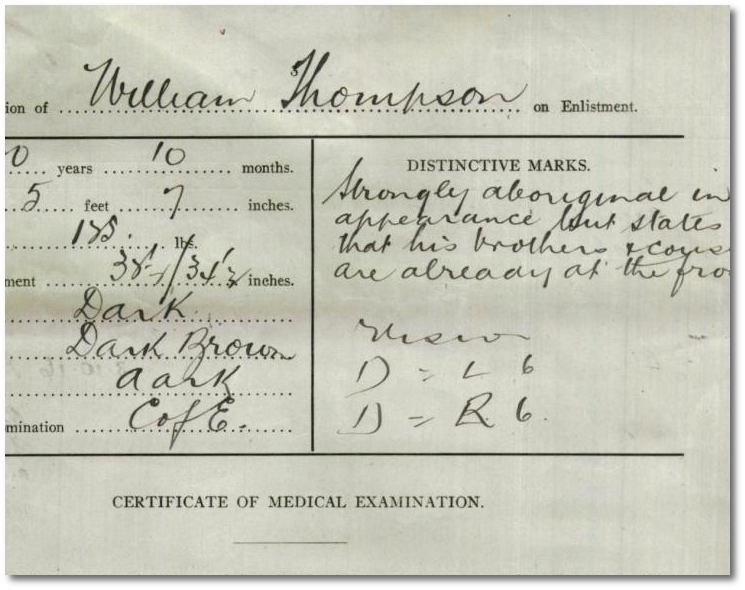 Indigenous Australian, William Thompson, 34th Infantry Battalion
William Thompson was born in Goondiwindi in 1896, and worked as a labourer in Walgett. He was keen to volunteer to serve with the first AIF and enlisted at Narrabri in July 1916, just 20 years of age.
His service record notes that both his parents were deceased and he named his next of kin to be a friend 'Tracker William Ryan', who worked for the Narrabri Police.
When Thompson was medically examined the officer noted that he was 'strongly Aboriginal in appearance' but that Thompsons 'brothers and cousin were already serving at the front'. 10 days later he was transferred to the training camp established at the Armidale show grounds and assigned to the infantry.
As Battalions gathered strength for service in France recruits were sent to the Rutherford Army Camp north of Maitland, NSW. Thompson joined them, to form the 34th Infantry Battalion B Coy in August 1916, but after two months his voluntary service was rejected, not on the basis of his abilities, but on the basis of his heritage.
'Not substantially of European origin' is written on his service record, he was discharged 3 October 1916. Seven months later, his offer of service would have been keenly accepted when the regulations for Indigenous enlistments were amended.
Read more ...
Watch ...
The information in this blog post has been researched by State Library staff and volunteers, it is based on available information at this time. If you have more information that you would like to share or further research uncovers new findings, this post will be updated.
Comments
Your email address will not be published.
We welcome relevant, respectful comments.