William Bert BROWN #2422
By Marg Powel & Des Crump | 11 July 2017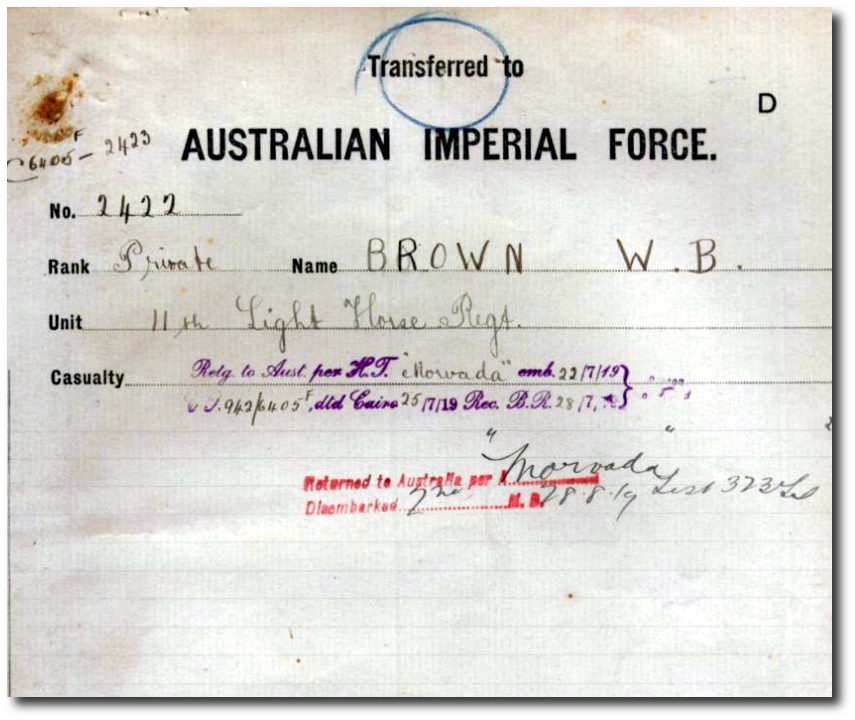 Indigenous Australian, William Brown, 11th Light Horse Regiment
William Bert Brown was born at Boompa, via Gayndah, Qld in 1899 to Mataquil Ettie Brown. Just 18 years old, he was working as a stockman when he enlisted in Maryborough in July 1917.
William Brown embarked from Brisbane 19 December 1917 in the company of a number of other identified Indigenous soldiers, including Frederick Burnett, Harry Doyle, Frank Fisher, John Geary and James Lingwoodock. They arrived in Egypt January 1918 and were encamped with the other reinforcements at Moascar. This group of reinforcements the 20th for the 11th Light Horse, later became known as the Queensland Black Watch, and trained at the 4th Light Horse Training Depot before joining their comrades in the field.
Brown served for 6 months before being admitted to hospital, suffering from the effects of the harsh conditions. He later rejoined his regiment and returned safely to Australia in July 1919. William Brown married Daisy Malone in 1922.
William Bert Brown was also known as Sydney Brown - Maryborough Chronicle 27 August 1947 p. 4open_in_new
Read more ...
The information in this blog post has been researched by State Library staff and volunteers, it is based on available information at this time. If you have more information that you would like to share or further research uncovers new findings, this post will be updated.
Comments
Your email address will not be published.
We welcome relevant, respectful comments.