Who will you remember?
By JOL Admin | 9 November 2017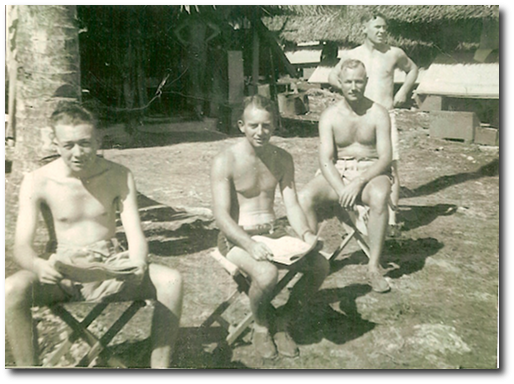 Sergeant Alan Hardwick, Australian Army Ordnance Corps, New Britain, 1945
November 11 is a day for reflection, on lives lost, damaged or forever effected by war. The QANZAC100 team at State Library delved into the collections held in its repositories and identified over 260 stories of service from the First World War, both overseas and at home.
We were briefed to collect 100 more and we more than met that target. We met some fabulous Queenslanders along the way, thanks so much to everyone who contributed. From Ingham to Ipswich, Boonah to Barambah, families have allowed us into their lives to help them preserve their ANZAC's story and we continue to tell their stories.
Who will I remember ?
My Dad and my Uncles Ivan and Charles all served in the Second World War. For the most part their stories remain untold, because they died with them. My Dad served in New Britain in 1945, following the aftermath of the Japanese occupation, and execution of hundreds of Australian POWs.
My mother's brother Ivan, serving in Singapore at the time of the Allied Surrender in 1942, was imprisoned at Changi, and later in northern Korea until liberated by the Americans in 1945.
Uncle Charles was a radio operator in Milne Bay. What he experienced effected him so profoundly he was never able to return to his former life and family, and he died an inmate of a mental asylum, almost 25 years later.
For all those who served ...
Image supplied
Marg Powell | QANZAC100 Content Technician State Library of Queensland
Comments
Your email address will not be published.
We welcome relevant, respectful comments.